VOX
VOX SOUNDBOX MINI ORANGE Multi-Purpose Modeling Amplifier
Don't Pay RRP $359 plus Postage and Handling – OUR PRICE is only AUD$199 and includes . . .
240VAC Adaptor
One Year Australian Warranty
Postage and Handling
Tracking
Choose from FOUR Colours
Only While Stocks Last!
Another RED HOT deal from southcoastmusic!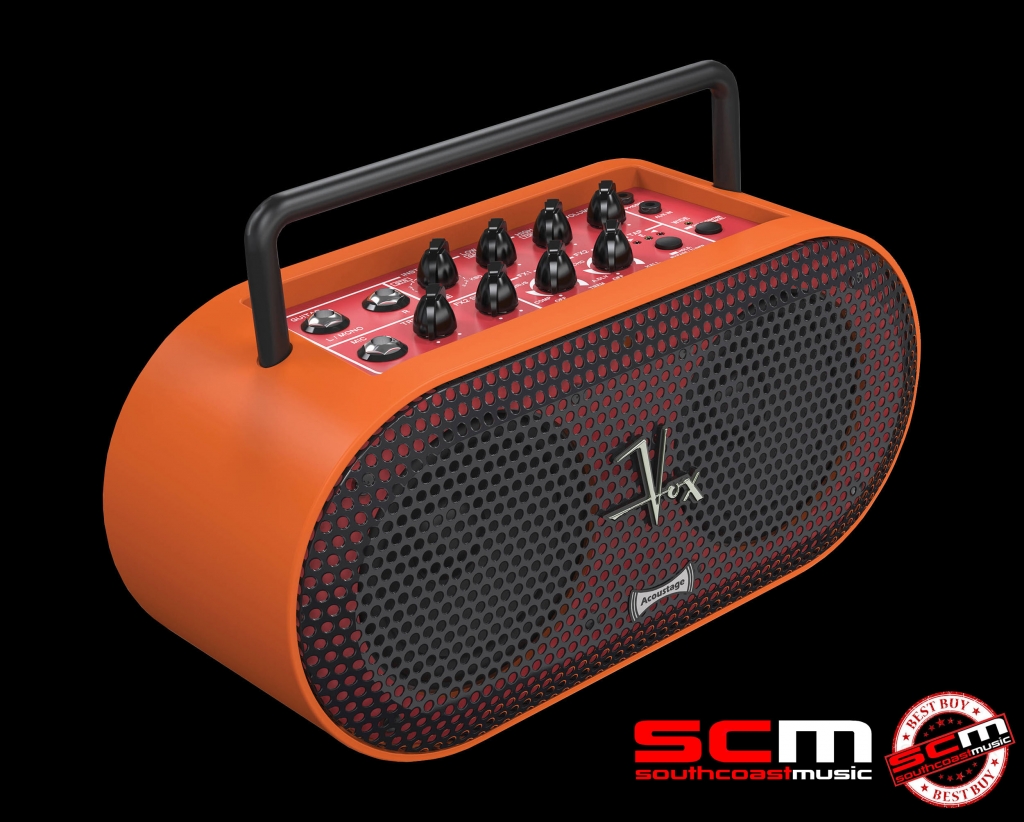 There is nothing else quite like the VOX Sound Box Mini. It's much more than just an electric guitar amp, the SoundBox Mini from VOX was designed to amplify multiple instruments including bass guitar, acoustic guitar, ukulele, keyboard, vocals and more!
Utilising Acoustage technology, SoundBox Mini is also a hi-fi stereo music playback system that offers rich, room-filling sound.
Powered by AA batteries, or the included 240VAC adapter, the SOUNDBOX Mini from VOX is the perfect addition to any home, office, studio or streetscape for Buskers! The SoundBox Mini is also a great tool for the School Music Room!
VOX SOUNDBOX MINI Specifications:
Amp Models: 11 types (Bass Guitar x 2, Electric Guitar x 4, Acoustic Guitar x 2, Keyboard x 3)
Effects: 8 types
Tuner Detection Range: E1–E6 (41.2 Hz – 1318.5 Hz)
Audio Inputs: GUITAR (L/MONO), R, MIC, AUX IN (mini jack)
Audio Output: Headphones (3.5mm TRS mini jack)
Amp Output: 2 x 2.5 Watts
Speakers: 2 x 4″ (8 Ohms)
Signal Processing A/D conversion: 24-bit
Signal Processing D/A conversion: 24-bit
Power supply: 12V DC AC Adapter (included), Six AA-size / (alkaline batteries or nickel hydride batteries)
Battery life Maximum: Approximately 7 hours
Dimensions: W281 x D115 x H181 mm / 11.06 x 4.53 x 7.13 inches
Weight: 2.4 kg / 5.29 lbs. (Excluding batteries)
Warranty: One Year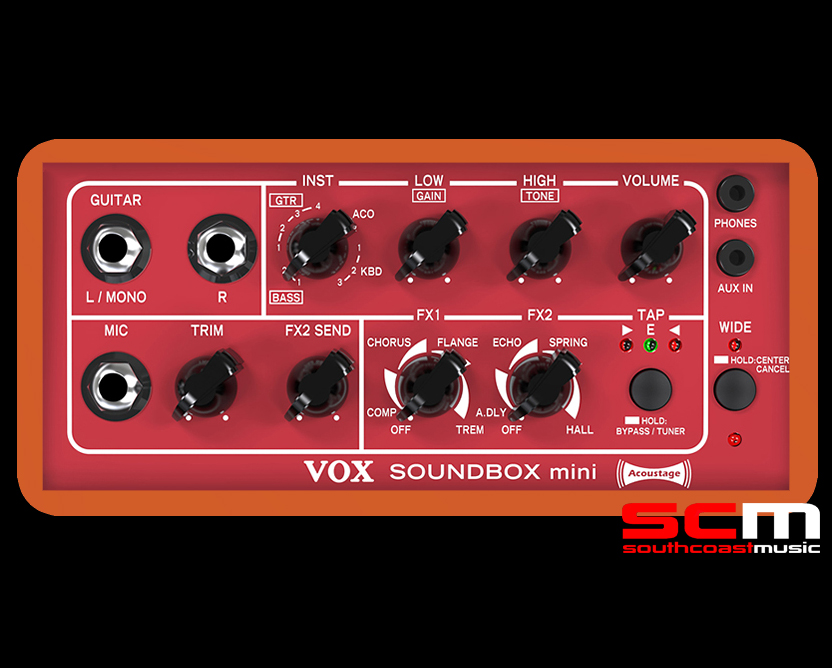 The VOX SoundBox mini Mobile Multipurpose Amplifier is a mobile media player designed for use with ukuleles, guitars, bass, keyboards, vocals and auxiliary sources such as MP3 players. Based on VOX Guitar Amplifier and Korg's Acoustage technology, the SoundBox Mini punches well above !ts weight.
The amplifier features a built-in effect section to help you dial in a variety of sounds. Its instrument, microphone, and aux inputs can be used simultaneously, allowing you to play and sing along with backing tracks from your MP3 player. The SoundBox mini can be mounted on top of a standard microphone stand, and is powered by 6 AA batteries (not included) for up to 7 hours of operation or by the included AC adapter.
KORG ACOUSTAGE TECHNOLOGY
As its name suggests, the VOX SoundBox mini is a small amp, but it features a wide switch that activates Korg's "Acoustage" technology, enabling the two internal speakers to project an expansive sound field that you would expect to hear only from two widely separated speakers.
VOX AMPLIFIER MODELING
The amplifier input section of the VOX SoundBox mini offers you a choice of 11 amp models that are suitable for a variety of input sources. At the turn of a dial you can select from a clean tone for electric guitar, amps suitable for hard rock and metal, modeling amps for bass or acoustic guitar along with amps with a flat response suitable for keyboards or audio devices, this is Versatile with a capital "V"!
STUDIO QUALITY EFFECTS
As well as amp modeling, the VOX SoundBox mini provides four effects FX1 (compressor, chorus, flanger, tremolo) and four types of delay/reverb effects (FX2). Use the TAP switch to easily set the delay time. Simply connect your guitar, turn on the effect, and then turn on the WIDE to add the surround effect; you won't want to stop playing
MULTIPLE APPLICATIONS
The VOX SoundBox mini is much more than just a Guitar Amplifier supporting a wide variety of input sources. On board are an AUX IN socket as well as a MIC input and you can use them both at the same time.
While listening to music played back from your portable audio player, you can connect a microphone plus your guitar, keyboard or other instrument and hear all of your sound through this magnificent little unit. The MIC jack input has a dedicated knob for adjusting the amount of FX2 sent to the delay/reverb effect.
CENTRE CANCEL FUNCTION
If the music source that you are listening to through the AUX IN socket has the vocal or main instrument recorded in the centre of the mix, you can minimise the volume of the vocal or solo part from the music source which is a convenient way to obtain a minus-one practice setup for your vocal or guitar…handy!
PORTABLE DESIGN
The VOX SoundBox mini features a cool design that beckons to the retro look of a cassette tape recorder or radio player unit from our analogue past! Some have described the VOX SoundBox mini as a Boom Box for Guitar!
A sturdy aluminium handle makes it easy to transport the lightweight 2.4kg VOX SoundBox mini and it can be powered by (optional) batteries or the included 12V DC adaptor! It can be mounted to a microphone stand and it has proved popular with buskers too!
southcoastmusic is an authorised Australian Reseller of VOX Products
Australia-Wide Delivery with Tracking is INCLUDED!