VOX

amPlug2

AP2-AC30

Guitar Headphone Amp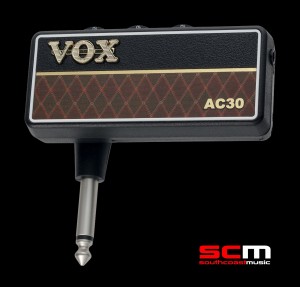 With VOX amPlug 2, the crucial analogue circuit has been dramatically improved, and each model now provides three modes. The amPlug2 AC30 now also has multi-effect functionality.
Additional features include a foldable plug mechanism that rotates 180 degrees and an auto power-off function that contribute significantly to improved convenience and ease of use.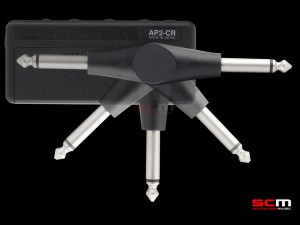 Your VOX amPlug2 can be used in numerous ways…
With up to seventeen hours of battery life, VOX amPlug2 has to be the most convenient way to get great guitar sound…virtually anywhere!
In addition to practicing at home, it's a great way to warm up before a live performance or on the road. There's also an AUX input jack so you can jam along with your CD/MP3 player…and how about this…plug your VOX amPlug into your guitar or bass, plug in your favourite Headphones then connect your laptop, iPad, Tablet or smart phone via the headphone output straight into the amPlug2 AUX input jack and start playing!
The headphone guitar amp that lets you enjoy serious guitar sound, fast.
Jamming late at night? Don't want to wake the neighbors? The amPlug2 Series of palm-sized headphone guitar amps make it easy to enjoy great guitar sounds at home, in your room, or anywhere. Simply plug the amPlug2 directly into any guitar, attach a pair of headphones, and you're ready! Use the AUX input jack to plug any CD/MP3 player right into the amPlug2 and jam along. Connect the optional amPlug Cabinet (sold separately) to create a miniature amp stack to share the sound with friends.
You want to play guitar right now. amPlug2 is the answer.
Crank up the intensity and enjoy playing your guitar any time, any place.
The VOX amPlug2 AC30 is the simplest way to get serious sound; occupying virtually no space, it's an ideal choice for any guitarist! Available online here or instore at SCM!
VOX amPlug 2 AC30: Provides the classic AC30 top boost sound.
Connections: Headphone Out, AUX In
Power Supply: AAA batteries x 2
Battery Life:
11 hours (With alkaline batteries, FX on)
17 hours (With alkaline batteries, FX off)
4 hours (With zinc-carbon batteries, FX on)
9 hours (With zinc-carbon batteries, FX off)
Dimensions: W86 x D80 x H31 mm (3.39" x 3.15" x 1.22")
Weight: 40g (1.41oz.) (excluding batteries)
Accessories: AAA alkaline Batteries x 2 (For verifying functionality)
amPlug is your fastest ticket to great tone – anytime, anywhere!
OUR PRICE INCLUDES AUSTRALIA-WIDE POSTAGE AND HANDLING  WITH TRACKING