The Tycoon Percussion Master Fantasy Tiger Djembe has been carved and handcrafted from a single piece of sun-dried exotic Mango Wood. The fruit of the Mango tree not only tastes sweet, the timber itself makes a sweet sound and has become a highly sought after Tonewood used in the manufacture of Drums and Stringed instruments.
Tycoon Djembes are beautifully handcrafted in Thailand, built to last and sound absolutely incredible! The level of detail is impressive and with Tycoon's handmade artistry, perfection is found in even the smallest nuances of these totally professional hand drums. This is up there with the best of them.
The Master Fantasy Tiger Djembe is 24″ tall and has a head diameter of 12″. Designed to produce deep, loud bass tones and high, sharp slap tones, this drum has been made to be played. The drum features a distinct short cut faux fur tiger wrap which looks and feels luxurious. An extra strong 5mm diameter non-stretch rope has been utilised to facilitate easy and lasting tuning.
Extremely rugged and beautifully constructed, the Tycoon Percussion Master Fantasy Tiger Djembe is sadly no longer available. We are fortunate to have a small number of these wonderful hand drums which have are on sale while they last.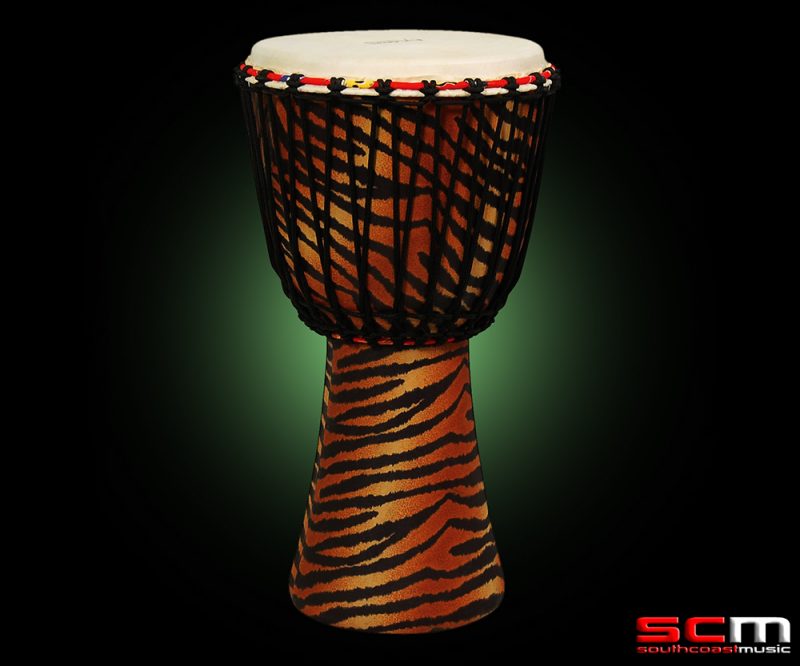 • Brand: Tycoon
• Series: Master Series
• Handcrafted from a single piece of sun-dried Mango Wood
• 24″ tall with a 12″ (30.5cm) diameter hand-picked quality goat skin head
• Incredible looking tiger wrap finish
• Deep, loud bass tones and high, sharp slap tones
• 5mm extra strong non-stretch rope for easy and lasting tuning