TASCAM DP008-EX
THE "MUST HAVE" TOOL FOR REAL SONGWRITERS
POCKETSTUDIO THE PERFECT MUSIC SKETCH PAD
BUILT-IN MICROPHONES FOR MULTI-TRACK RECORDING ANYTIME, ANYWHERE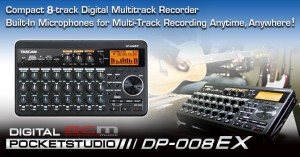 "Music Sketch Pad" – A Songwriting Tool That Anyone Can Use
BATTERY POWERED COMPACT MULTI-TRACK RECORDER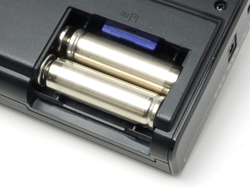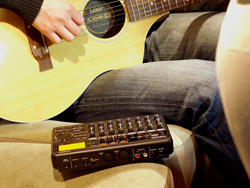 Song ideas can happen anywhere. With the TASCAM DP-008EX you'll be ready. Jot down ideas for your songs using these professional sounding multi-track recorders. For extra battery life, you can add TASCAM's BP-6AA external battery pack.
BUIL-IN HIGH QUALITY STEREO CONDENSER MICROPHONES – For Easy On-the-Spot Recording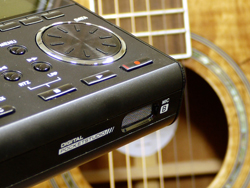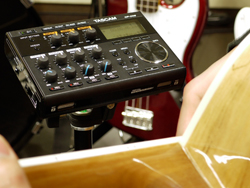 The DP-008EX has two condenser microphones built into the front of the unit. Record vocals or acoustic guitar anytime without the need for extra equipment or set-up time. TASCAM carefully chose the best sounding microphones modeled after the top-selling DR series microphones…you can be assured high-quality sound. The DP-006 even includes a tripod mount for versatile set-up and placement.
SIMPLE EASY TO USE INTERFACE
Designed Like an Analog Cassette Multi-Track Recorder, the TASCAM DP-008EX has been optimised for easy on-the-spot recording. No unnecessary features were included that might complicate the recording process ensuring easy functionality. Dedicated knobs make recording faster than digging through menus.
Designed with Portastudio functionality, the TASCAM DP-008EX is the easiest songwriting scratchpad you can buy.
ULTRA LIGHT-WEIGHT FOR EASY PORTABILITY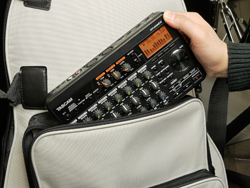 The DP-008EX features an ultra light-weight design to ensure portability. The DP-008EX is only 21.5 oz. (without AA batteries)
BUILT-IN DIGITAL TUNER AND METRONOME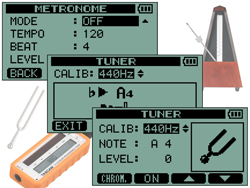 The TASCAM DP-008EX includes a fully functioning chromatic tuner and a metronome.
TWO ANALOG INPUTS FOR EXTERNAL MICS or ACOUSTIC ELECTRIC GUITARS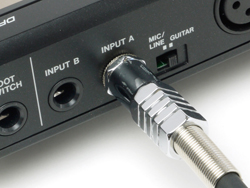 The TASCAM DP-008EX includes two inputs with 6.3mm (1/4″) phono jacks. These terminals allow you to connect an external microphone, an electric-acoustic guitar and a line-level device like a synthesiser. With Optional cables (sold seperately) you can also connect an iPad or other sound device.
FLEXIBILITY FOR MUSIC PRODUCTION
Record to SD/SDHC Card (up to 32GB) With High-Speed Data Transfer via
HIGH SPEED USB2.0 DATA TRANSFER & RECORDING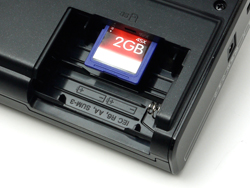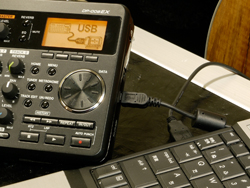 The TASCAM DP-008EX records to widely available SD/SDHC card media (2GB card included). In addition, it can connect to PCs via USB2.0 for high-speed data transferring. All song ideas can be transferred via USB or SD card readers to and from the unit at any point in the recording process. Files can be used in DAW software for further editing and production.
QUICKLY FIX/RE-RECORD TRACKS WITH THE UNDO/REDO FUNCTION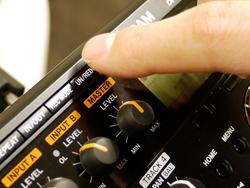 Fix performance errors using the Undo and Redo functions. Instant Undo frees you to try new ideas without worrying about erasing your last take.
WAV FILE IMPORT AND EXPORT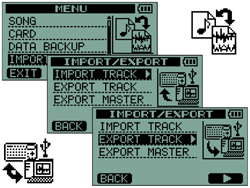 The TASCAM DP-008EX includes file import/export by Wav format. Mono file and stereo file are also available.
TRACK EDIT FUNCTION (CUT, CLEAN TRACK, etc)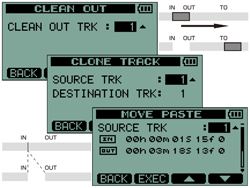 DP-008EX: Copy paste, Copy insert, Move paste, Move insert, Open, Cut, Silence, Clone track, Clean out
DP-008EX FEATURES: Professional Recording in a Compact Package
TWO XLR INPUTS WITH +48V PHANTOM POWER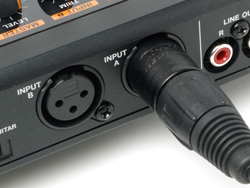 The DP-008EX can supply phantom power for condenser microphones, even when operated with AA batteries.
(Notice: Operating time becomes shorter when used with phantom power supply. We recommend connecting TASCAM's BP-6AA or a power supply when using phantom power.)
INSERT EFFECTS FOR ALL INPUT CHANNELS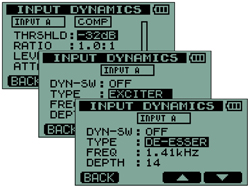 The DP-008EX is designed with insert effects for all input channels. Insert effects include EQ, compressor, de-esser and exciter. For Vocal recording, you can use the EQ to boost your desired frequency range, and compress your tracks to normalise your song.
2-BAND SHELVING EQ FOR EACH TRACK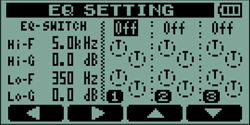 Demo songs need the same high-quality as final masters. The DP-008EX has adjustable 2-band shelving EQ for each track. The Hi-range EQ can be adjusted from 1.7kHz to 18kHz, and the Low-range EQ from 32Hz to 1.6kHz.
BUILT-IN REVERB EFFECTS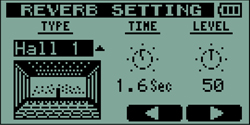 The DP-008EX has six different types of reverb to help find the ideal space for your song. It's simple to send to the reverb with dedicated control knobs for each track.
Reverb effects include: Hall1/2, Room, Studio, Plate1/2. Reverb time and master level can both be adjusted.
BUILT-IN MASTERING EFFECTS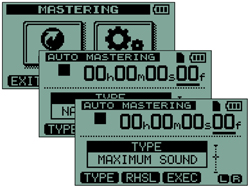 The DP-008EX's built-in mastering effects will provide high-quality master-like file creation without the need for external devices or software. The mastering effects include 2-band EQ, Multi-band compressor and a Normalise effect. Finalise dynamic and powerful-sounding mixes using the DP-008EX's mastering effects.
AUTO ANALYSIS MASTERING FUNCTION FOR EASY TRACK MASTERING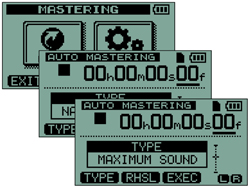 Anyone using the DP-008EX can easily master tracks with the Auto Analysis Mastering tool. In one step, select a mastering style, NATURAL or MAXIMUM, then the DP-008EX will calculate the best mastering sound based on analysis of the song data.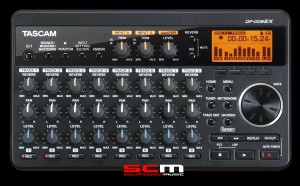 TASCAM DP-008EX
Eight mono tracks
CD-quality recording (16bit/44.1kHz)
Two tracks simultaneous recording/ eight tracks simultaneous playback
Dedicated stereo master track available
Record to SD/SDHC card (Up to 32GB)
2 Built-in omni-directional condenser microphones
Microphone sensitivity can be selected from 2-positions (Low/High)
Two TS 1/4″ or XLR mic/line inputs
INPUT A can connect high-impedance instrument directly (Like an electric-guitar)
Phantom power supply
Independent LEVEL/PAN/Reverb SEND knobs for each track
Two RCA unbalanced line inputs
20mW/ch headphone output
Footswitch ready with polarity switching (Notice: can't use RC-3F)
128×64 dot-matrix LCD with backlight
Four AA batteries operation up to 6.5 hours (When recording, using the eneloop battery)
Insert effects for input channels (2-band shelving EQ, compressor, exciter, de-esser)
Mastering effects (2-band shelving EQ, multi-band compressor, normalize)
Auto analysis mastering function
2-band shelving EQ for each track
Reverb effects (Hall1/2,Room,Studio,Plate1/2)
Optional AC adapter ready (TASCAM PS-P520)
Can connect an external battery pack (TASCAM BP-6AA)
Direct locate function by jog-wheel
Repeat playback between IN/OUT point
Track edit functions(COPY PASTE, COPY INSERT, MOVE PASTE, MOVE INSERT, OPEN, CUT, SILENCE, CLONE TRACK, CLEAN OUT)
Bounce function allows recording of more six tracks
UNDO/REDO(UNDO HISTORY) function
Chromatic tuner and metronome included
High-speed data transfer by USB2.0 connection
Backup and restore songs
File import/export by Wav format (mono/stereo)
Export stereo master file as stereo wav format
2GB SD card included