VOX ADIO-AIR BS
POWERFUL 50 WATT BLUETOOTH EQUIPPED PORTABLE MODELING COMBO BASS and GUITAR AMPLIFIER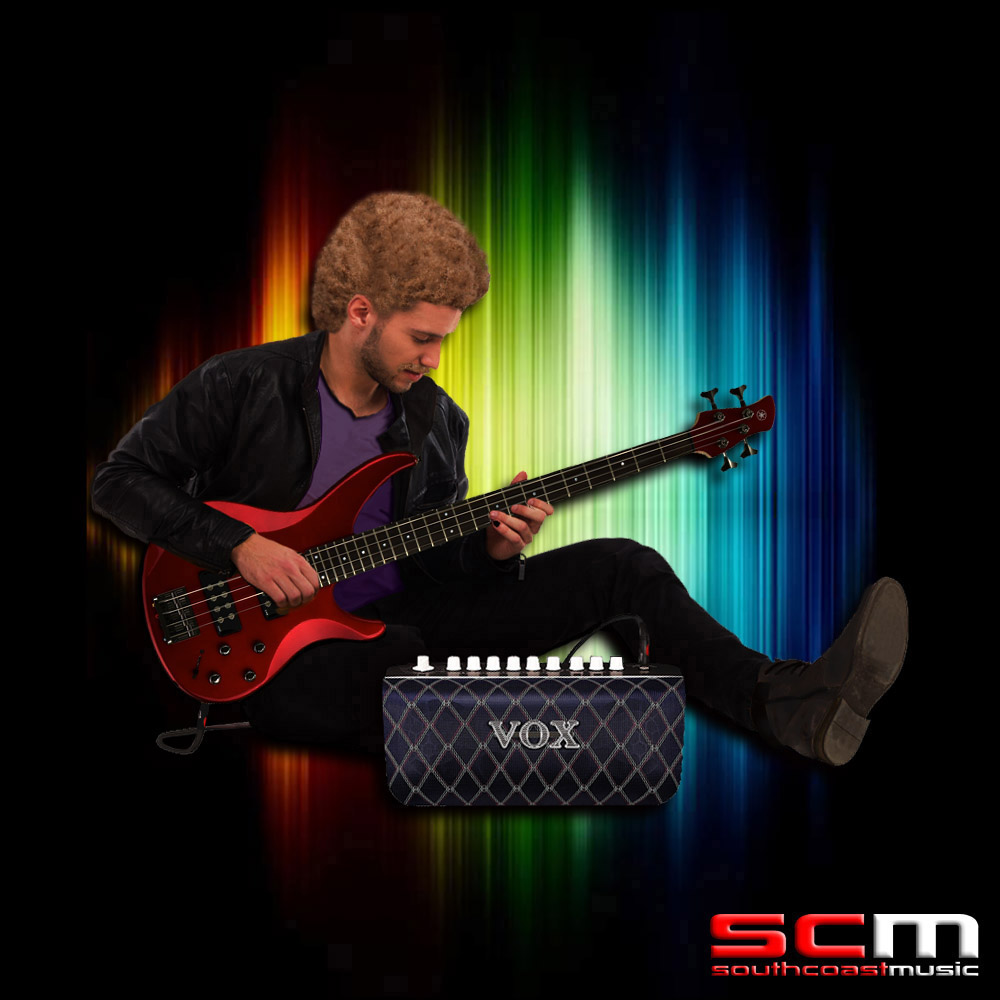 • The ultimate practice, recording and performing solution for the modern bassist and guitarist
• 50 Watts RMS Output Power (2 x 25W) – 2 x 3″ High Performance Speakers
• Elegant, lightweight design – Battery or AC powered
• Stunning Amp Models – Studio Quality Effects
• Bluetooth connectivity allows for Wireless Music Playback and Operation
• USB Output – Aux Input
• Includes VOX ToneRoom & JamVOX III Software
Compact, lightweight and incredibly versatile, the VOX ADIO-AIR BS delivers a remarkable amount of volume that completely outperforms other amps in its class. A pair of High Power amplifiers combine to deliver 50 Watts of stereo output. The stereo speaker system features a pair of high performance 3″ drivers that deliver an incredible playing and listening experience. Because the ADIO-AIR BS is capable of such high-output, it is equally effective as a practice amp as it is a full-fledged performing amp. It is also an awesome Busking Amp!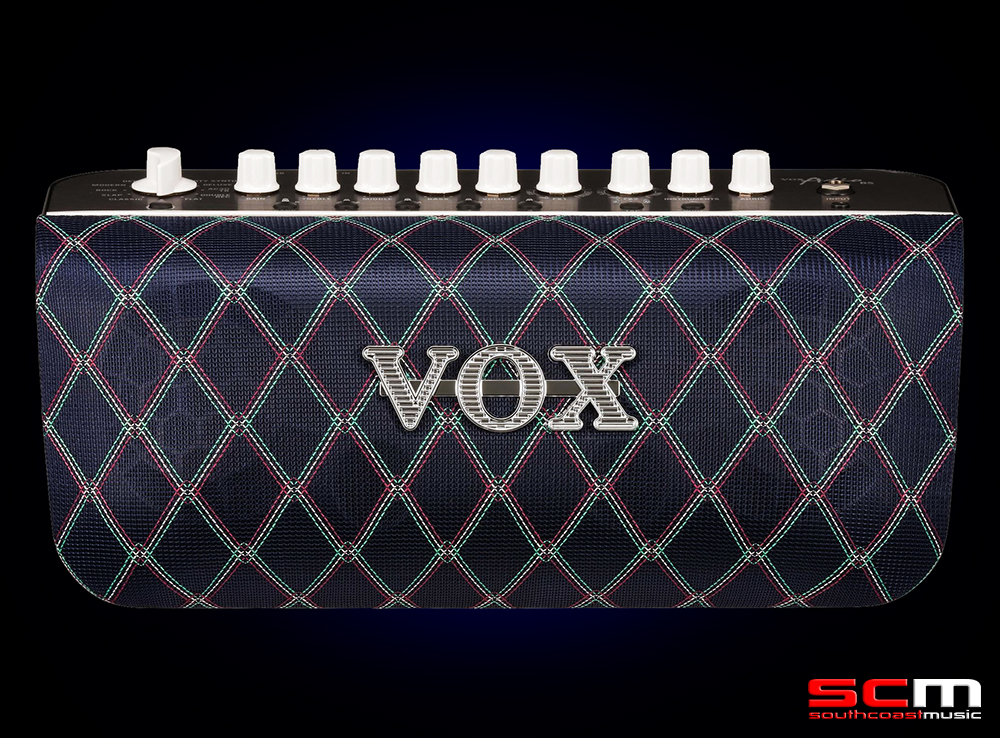 STATE-OF-THE-ART PROPRIETARY CHASSIS DESIGN ENSURES POWERFUL AND CLEAR SOUND
The VOX ADIO-AIR BS provides both the hard-hitting cabinet resonance of a serious Bass and Electric Guitar Amplifier along with the high fidelity of home audio speakers. It's cabinet structure utilises proprietary concepts that allow the ADIO-AIR to function as a truly multi-purpose audio device, excelling in all scenarios. The Bass Reflex technology utilised in the construction of the ADIO-AIR BS delivers a level of sound density far exceeding the unit's size along with a sense of depth and space that you would only expect from a pair of stereo speakers. The speakers are contained in a sophisticated slant-body cabinet, creating powerful and high-quality sound that shines for both performance and listening.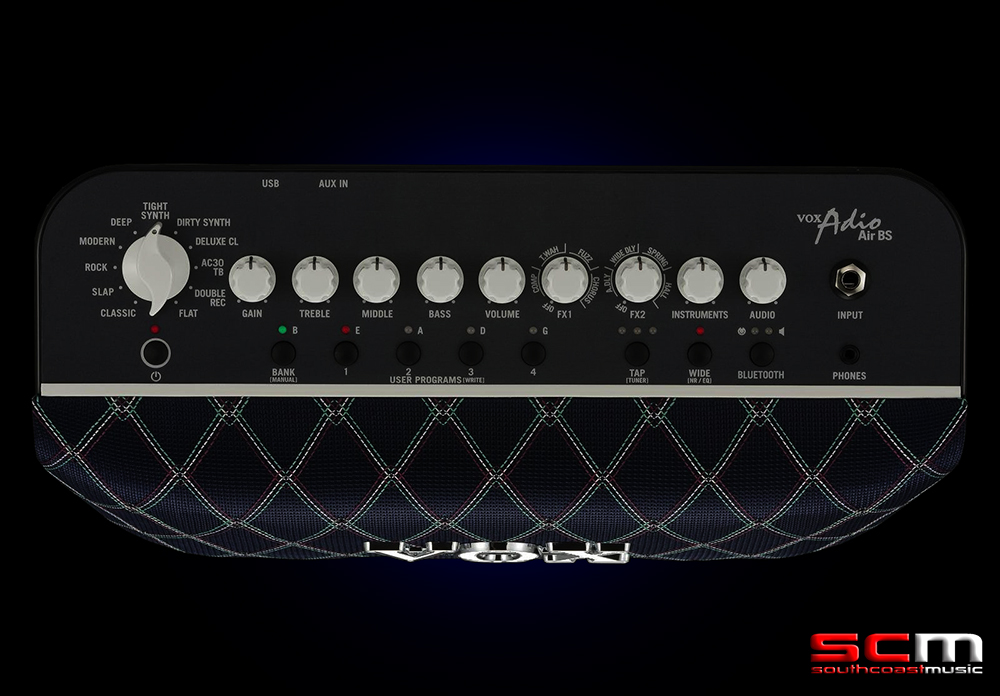 DIVIDED STEREO CABINET DESIGN AND HONEYCOMB STRUCTURE SPEAKER FRAME
To prevent unwanted cabinet resonance, the inner box that secures the speakers is completely separated from the rear cabinet. Additionally, the inner box separates L and R into independent spaces to produce stereo playback with an enhanced sense of spatiality. Rigidity is enhanced by a chassis design that minimises parallel surfaces, suppressing unwanted vibration that would adversely affect the quality of the sound.
The front grille uses a honeycomb structure that perforates the speaker area with a set of hexagons. This efficiently maintains strength, yet ensures maximum space. The high ratio of openness means that the speaker is not obstructed, allowing the sound to be clear and direct.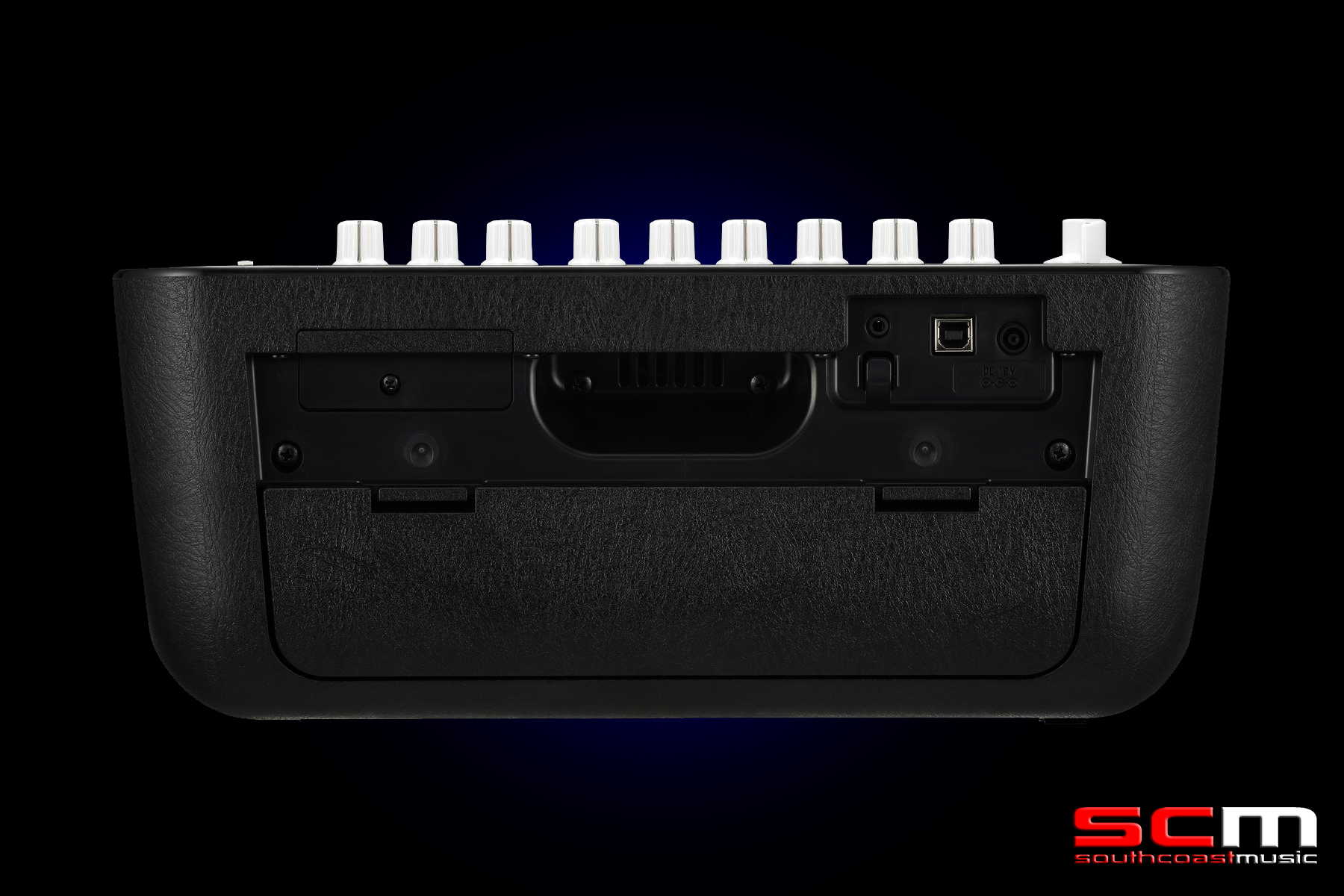 PORTED DESIGN THAT ENHANCES LOW FREQUENCY PERFORMANCE AND THE ENHANCED LISTENING EXPERIENCE
The bass reflex design uses a flair component that creates a smooth widening at the entry and exit of the cabinet's port resulting in very little unwanted noise while enhancing the bass reflex efficiency of the ADIO-AIR BS to further boost the low-frequency playback.
The unique slanted design of the ADIO-AIR BS allows you to position it with the speakers pointing diagonally upward so that the output reaches your ears directly even at short distances. This means that you can enjoy always performing or listening in the sweet spot. The chassis has also been designed to minimise parallel surfaces, delivering a smooth sound that suppresses any internal resonances.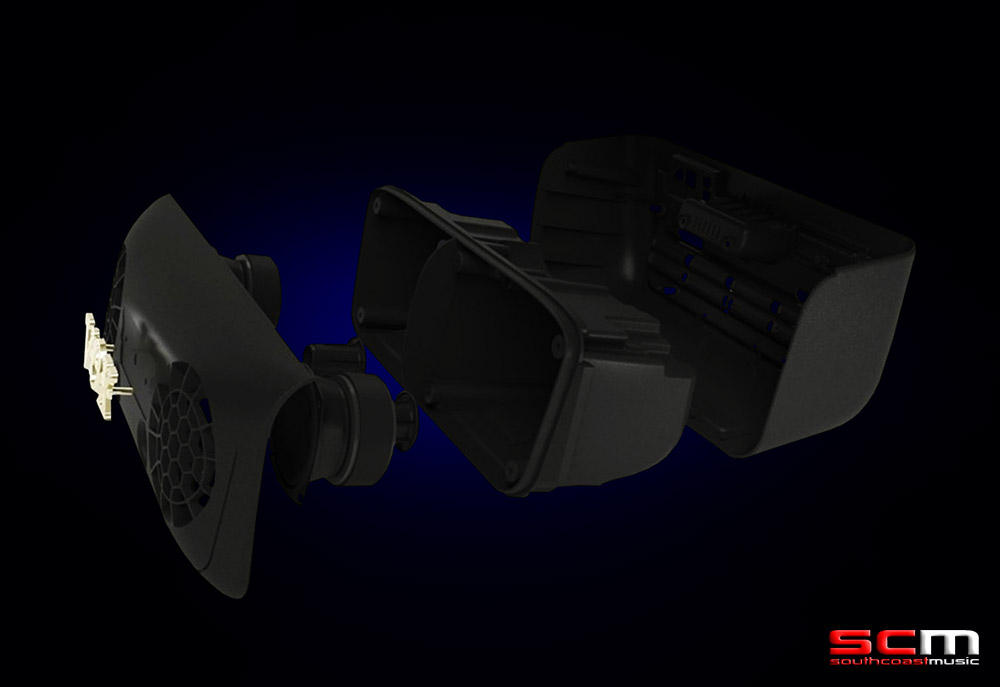 At a mere 2.9 kg in weight, the ADIO-AIR BS is also highly portable. With a recessed slot built into the back of the cabinet, the ADIO-AIR BS combines sleek looks with convenient portability which means that you can take it with you to enjoy performing or listening anywhere.
BATTERY POWERED WITH EIGHT HOURS OF CONTINUOUS OPERATION
The VOX ADIO-AIR BS comes with a 240VAC Power Supply however, thanks to it's highly efficient Digital Amplification technology, the VOX ADIO-AIR BS can also operate on batteries. Eight AA Alkaline batteries allow up to an incredible eight hours of continuous operation.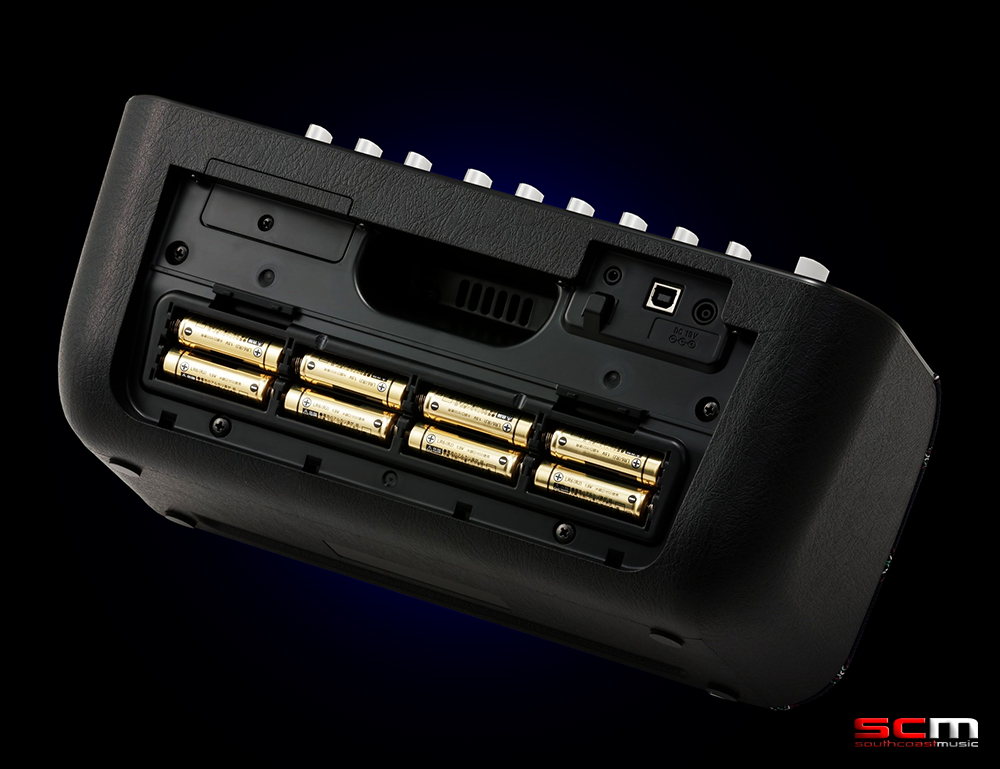 VOX V.E.T. (Virtual Element Technology) MODELING TECHNOLOGY – REALISTIC AMP MODELS AND STUDIO QUALITY EFFECTS
The VOX ADIO-AIR BS uses VET (Virtual Elements Technology). Instead of simply imitating the output sound of the original amp, VET meticulously models even its components and circuit design. Without relying on the ears of individual engineers, and without being influenced by the condition of a specific amp unit, VET perfectly reproduces the characteristics of the original amp. The high-performance DSP (Digital Signal Processor) ensures the highest sound quality.
There are 11 amp models including classic amps along with slap, rock and modern. Vox have included only truly usable amp models that have been tuned to maximise the potential of the compact ADIO-AIR. Using the free Tone Room software, you can choose from a total of 17 types of amp models. From a bass synthesizer to incredible bass amp models as well as classic American and British guitar amps , the VOX ADIO-AIR BS is a breath of fresh air.
Appropriately for the ADIO-AIR BS with its powerful stereo speakers, are high-quality effects that include four types of effects such as compressor and auto-wah (FX1) and four ambience-type effects such as delay and reverb (FX2). You can simultaneously use a total of three effects including noise reduction. As with the amp models, using the Tone Room software lets you choose from a total of 19 types of effect: 11 for FX1 and 8 for FX2.
VIA BLUETOOTH – VIA USB
Offered as a free download, the VOX Tone Room editor/librarian software draws out the essence of the ADIO-AIR BS. This amazing software lets you choose from an even richer selection of amp models and effects. You are able to fully explore and take advantage of the VOX ADIO-AIR BS's full potential by customising detailed parameters and audio EQ settings then saving up to eight customised amps and effects. Tone Room runs on multiple platforms: Windows, Mac, iOS and Android.
The VOX ADIO-AIR BS additionally supports Bluetooth MIDI, so you can control parameters wirelessly, allowing you to effortlessly design your sound using your favorite device.
VIA BLUETOOTH – VIA AUX
The ADIO-AIR BS can also function as a Hi-Fidelity audio speaker, delivering pure, analog quality stereo sound. It's 50W RMS output ensures superb, well balanced high SPL sound right across the audio spectrum.
Built-in Bluetooth audio allows you to connect your VOX ADIO-AIR BS to your computer or smartphone via Bluetooth and use it to play back your favorite music from either device. Whether used to playback music to play along with or to simply listen to home, for playing background music in a store, or for outdoor use, you can enjoy the ultimate listening experience in a variety of situations that take advantage of this incredible unit's high output power, battery operation and compact size.
An AUX input jack is also provided adding another convenient way to enjoy jam sessions while you listen to your favorite songs – there really is no other amplifier like the VOX ADIO-AIR BS!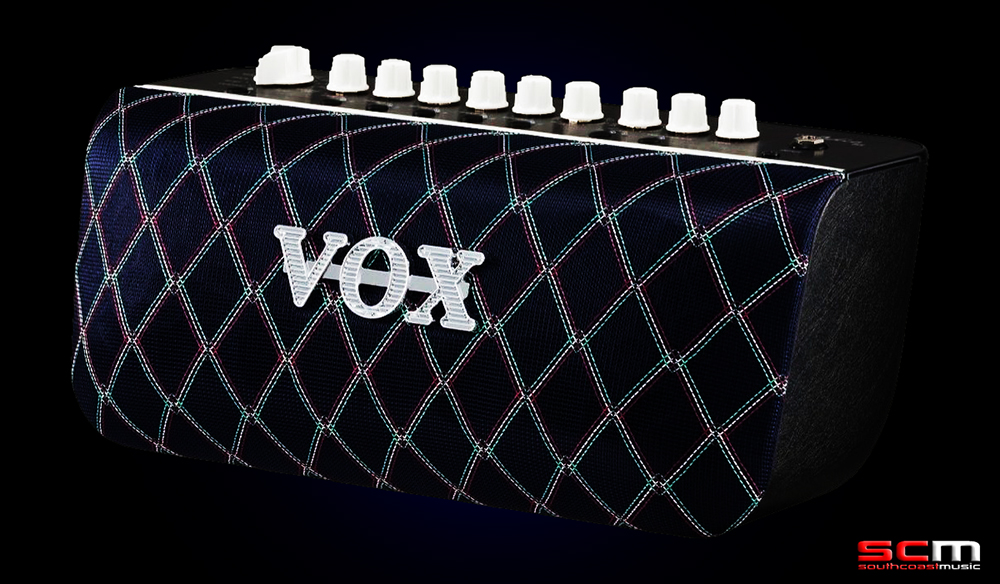 EXPERIENCE VIRTUAL SURROUND WITH ACOUSTAGE VIRTUAL SURROUND SOUND TECHNOLOGY
VOX have equipped your ADIO-AIR BS with "Acoustage" virtual surround technology and the results are simply stunning. Simply turn Acoustage on to experience immersive, wide stereo sound. Acoustage is particularly impressive when used in conjunction with one of ADIO-AIR's stereo DSP effects, giving you a guitar/bass amp that lets you feel as though you're on a wide stage, or experience an unmatched surround space as if you're inside a lavish multi-channel audio speaker setup…incredible!
This revolutionary virtual surround technology allows the creation of a unique personal acoustic space by performing an acoustical analysis of the actual playback system, then optimizes critical aspects of the system to produce an unprecedented three-dimensional acoustic experience.
MULTIPLE FUNCTIONS TO SUPPORT THE PLAYER
AUDIO EQUALISER
The VOX ADIO-AIR BS has four on-board selectable EQ settings that can be customised and stored. The Tone Room software also offers detailed adjustments to each frequency band of the parametric equaliser. Furthermore, you can use Tone Room to make settings for VOX's original "Bassilator" circuit which covers the low-frequency range not reached by the EQ, letting you enjoy ultra-low sounds that you would not expect from a unit of this size.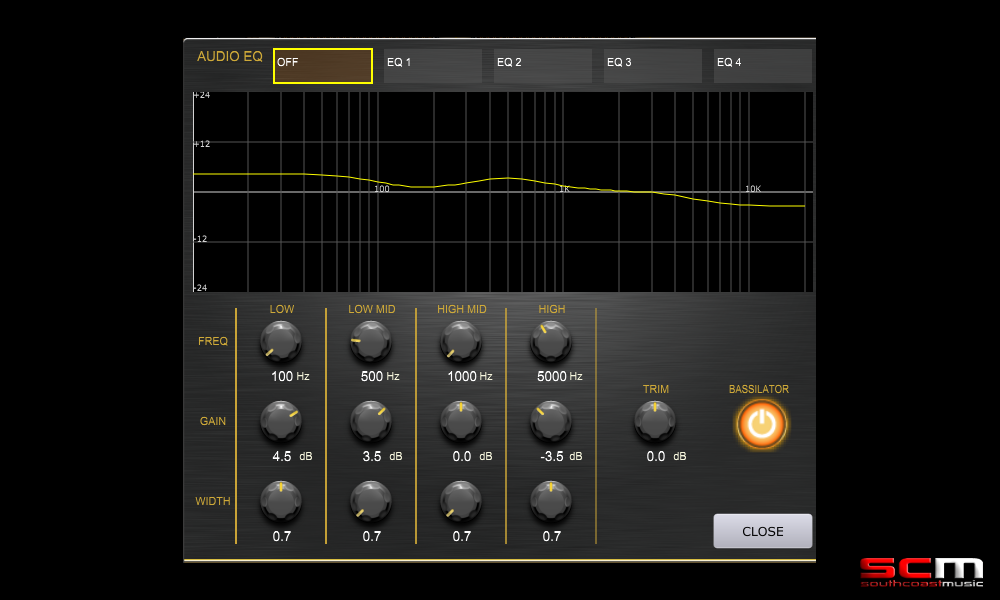 NOISE REDUCTION
Adjustable noise reduction is provided to reduce unwanted noise when using high-gain sounds and some single coil pickups. This can be adjusted in five steps.
AUTO TUNER THAT SUPPORTS DROP TUNING
The VOX ADIO-AIR BS also provides a tuning function that's indispensable for guitar/bass playing. The tuner also supports half-down tuning mode.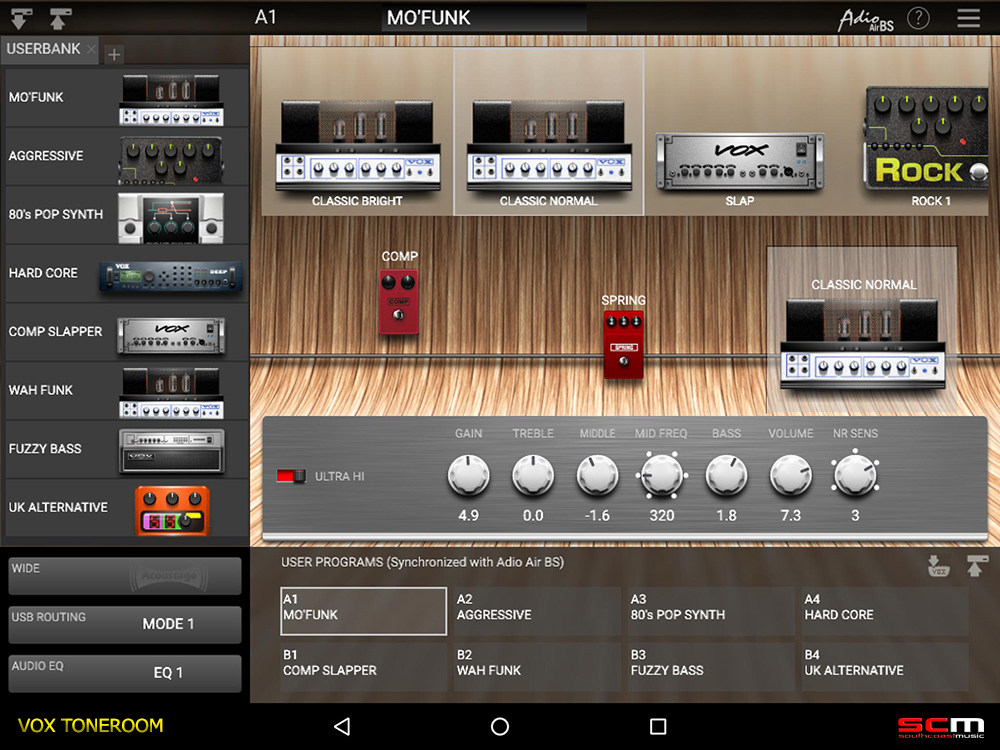 ​USB AUDIO INTERFACE
Since the VOX ADIO-AIR BS is equipped with a USB port, you can connect it to your computer or tablet and use Tone Room software, or use the ADIO-AIR BS as a USB audio interface to record and play back your practice or performance. The Tone Room software lets you switch between three types of routing: Mono recording, Stereo recording or re-amp.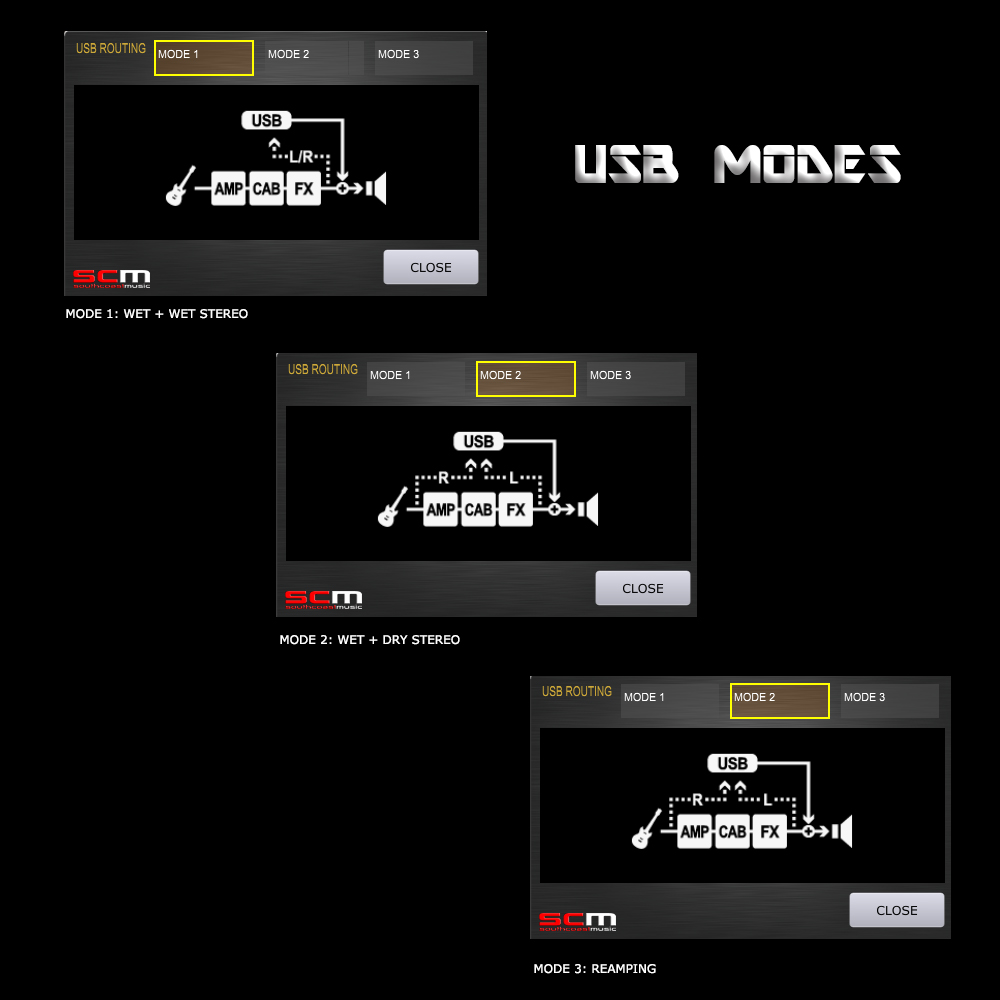 POWERFUL JamVOX III MODELING SOFTWARE INCLUDED
JamVOX III modeling software is now in its third incarnation. A powerful and fun tool for musicians, it is included absolutely free of charge with your VOX ADIO-AIR BS. One handy tool is the GXT function that lets you cancel/extract/emphasise a specific part from an existing song; you can also use the music player function to play back a loop from a song that you're learning or practicing, and even change its tempo and make it slower while you learn how to play it. JamVOX III modeling software is incredibly versatile and is ready to inspire guitarists and bassists alike.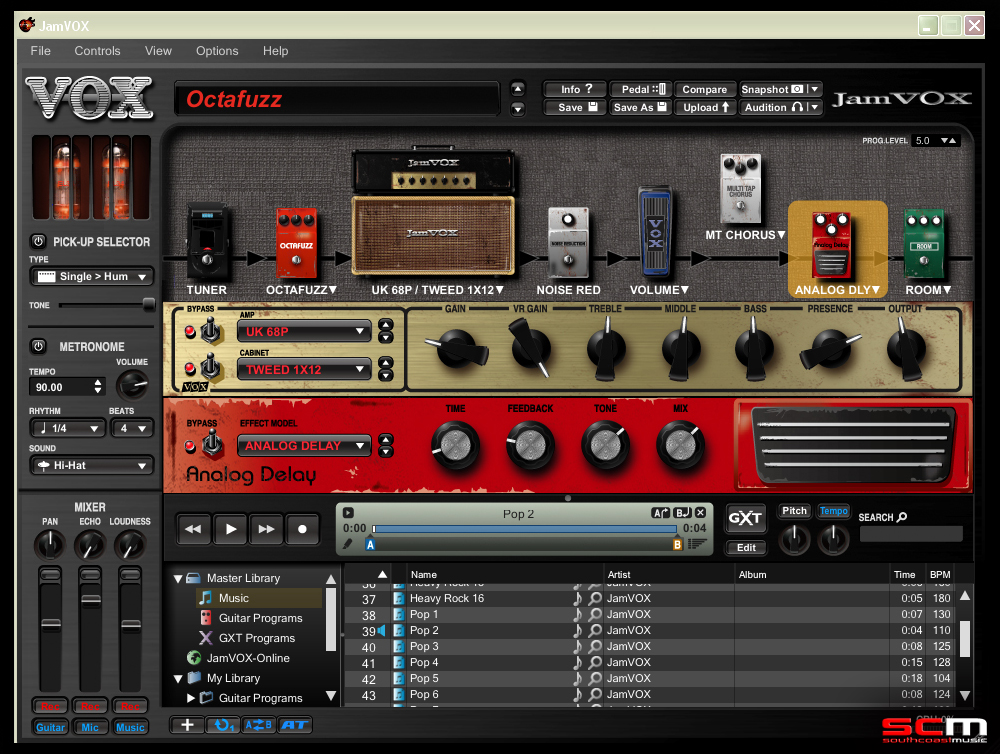 THERE IS NOTHING QUITE LIKE THE VOX ADIO-AIR BS
There really is nothing else quite like the VOX ADIO-AIR BS. Its powerful speaker system and 50 watt amps make it a great Bass Guitar Amp,a great Guitar Amp, a fabulous Stereo Bluetooth Speaker, an Audio Interface and so much more. At it's recommended retail price we think it represents great value . . . which makes this limited offer nothing short of insane! Full VOX Australia warranty applies. Check the reviews on Google, check the price in the US and do the conversion to Aussie Dollars . . . nobody even comes close, in fact this just may be the lowest price on the planet!
VOX ADIO-AIR BS SPECIFICATIONS
• Amp Models (Total 17 types)
– When Using Alone (11 types): CLASSIC (NORMAL), SLAP, ROCK (1), MODERN, DEEP, TIGHT SYNTH, DIRTY SYNTH, DELUXE CL, AC30TB, DOUBLE REC (Dual rectifier), FLAT
– When Using Tone Room (6 types added): CLASSIC BRIGHT, ROCK 2, PUNCHY SYNTH, AC30, BRIT 800, ERUPT III CH3
• Effect 1 Types (Total 11 types)
– When Using Alone (4 types): COMPRESSOR, T.WAH, FUZZ, CHORUS (STEREO CHORUS)
– When Using Tone Room (7 types added): CE CHORUS, BLACK FLANGER, STEREO FLANGER, ORG PHASER, SMALL PHASE, TWIN TREM, HARMONIC TREM
• Effect 2 Types Delay/Reverb (Total 8 types)
– When Using Alone (4 types): ANALOG DELAY, WIDE DELAY, SPRING, HALL
– When Using Tone Room (4 types added): TAPE, CROSS DELAY, ROOM, PLATE
• Number of User Programs: 8 (two banks x four programs)
• Wide Stereo Effect (Virtual Surround): Off, On
• Noise Reduction: Off, 1 – 4 steps
• Audio Equaliser: Off, Loud, Bass Boost, Mid Boost, Treble Boost
• Input/Output Jacks: INPUT Jack, AUX IN Jack, PHONES Jack, USB (Type B) Port
• Wireless Method
– Bluetooth (A2DP Sink)
– Bluetooth low energy (MIDI)
• Power Amplifier Output (240VAC Operation): 2 x 25 watts RMS @ 8 ohms
• Power Amplifier Output (When Using Batteries): 2 x 2.5 watts @ 8 ohms
• Speakers: 2 x 3″ High Performance Drivers (8 ohms)
• Signal Processing Sample Rate: 44.1 kHz
• Signal Processing A/D Conversion: 24-bit
• Signal Processing D/A Conversion: 24-bit
• Power (Batteries): 8 x AA batteries (alkaline batteries or nickel-metal hydride batteries)
• Power (Mains): 240VAC-DC19V Adapter (included)
• Current Consumption: 3.42 A
• When Using Batteries: 200 mA
• Battery Life: Maximum 8 hours (when using alkaline batteries)
• Dimensions (W x D x H): 360 x 165 x 163 mm / 14.17″ x 6.50″ x 6.42″
• Weight: 2.9 kg / 6.39 lb. (excluding batteries)
• Included Items: AC adapter, Power cord, JamVOX III download card
• MPN: ADIO-AIR BS