STANTON T.62 M2 DIRECT DRIVE TURNTABLE
Stanton T62 Straight Arm Direct-Drive DJ Turntable with 500.v3 Cartridge
o Straight Tone Arm Improves Tracking for Scratching
o Includes Quality Stanton 500.v3 Cartridge Pre-mounted on Headshell
o 2 Playback Speeds (33 or 45 RPM)
o 2 Start/Stop Switches for Mix or Battle Setup
o RCA Stereo Outputs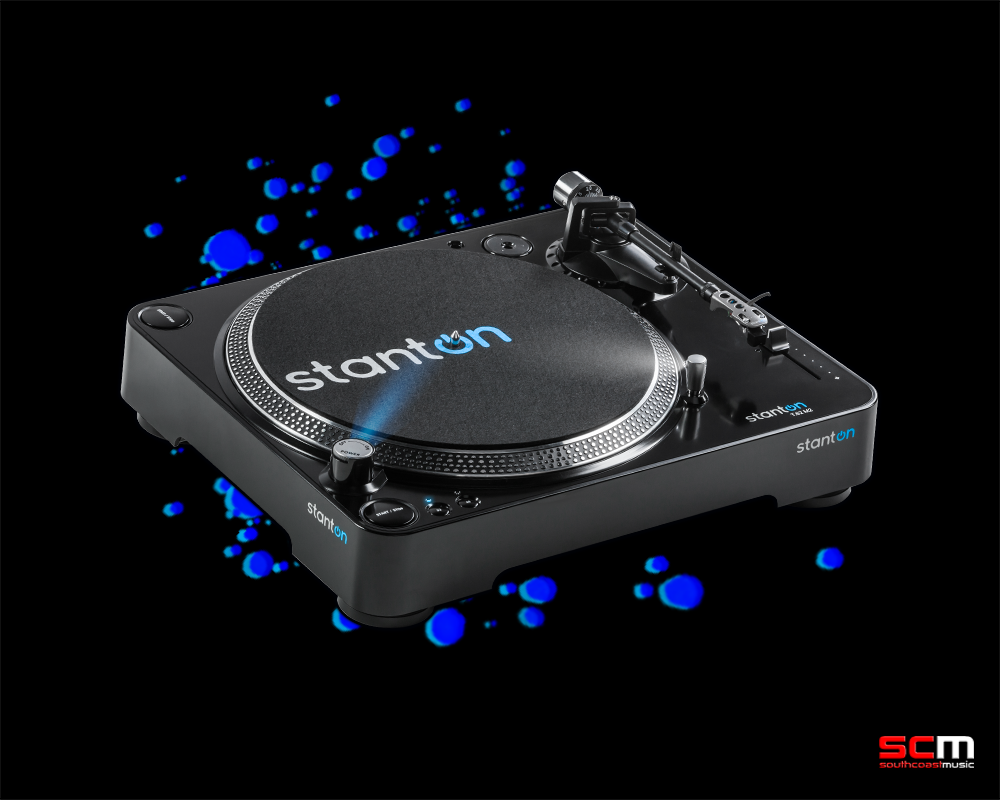 This is a fabulous turntable from one of the most respected manufacturers on the planet – Stanton. Based on Stanton's best selling favourite, the T.60 – the T.62 M2 is an easy to operate, direct drive turntable perfect for DJs of any style or experience level.
The T.62 M2 features a powerful motor with strong torque and a straight tone arm, which provides superior tracking capability for scratch DJs.
The T.62 M2 also comes equipped with the legendary Stanton 500.v3 cartridge and a high quality slipmat for added control… offering the perfect set-up for optimum performance.
The sound quality is superb, the build quality excellent and its all backed up by a Two Year Warranty!
The Stanton T.62 M2 turntable comes complete with RCA cables, slip mat and dust cover as well as a full version of Deckadance DVS Software.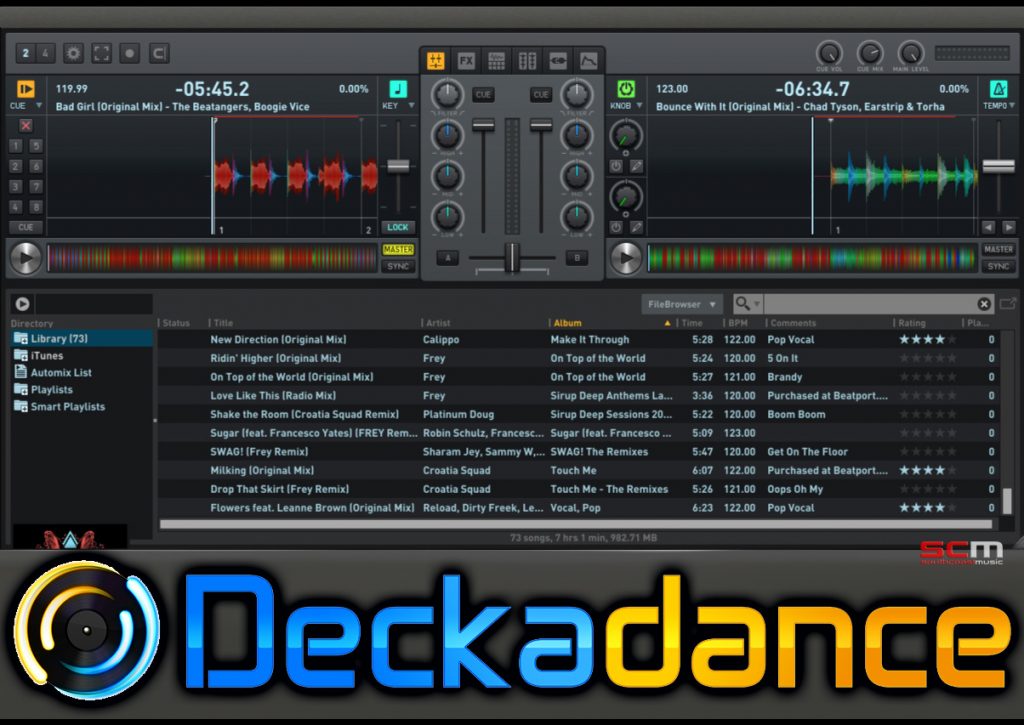 Deckadance Software
Deckadance 2 continues to elevate the freedom of creative expression whether you're a touring professional remix/groove producer, turntablist, scratch DJ, club DJ, mobile DJ, or just prefer to create at home. Its power ability to run as either a standalone application, or within your favourite host application (such as a DAW with support) allows for flexible configurations that can meet any performance objectives.
Deckadance 2 can also run VST-compliant effects and/or soft synths for producing unique, mind-blowing musical performances – control your performances with MIDI controllers, timecoded vinyl, and CD systems. Deckadance 2 provides all the necessary tools and features you need to stand out from the crowd.
Number of Decks: 2 or 4 Decks along with horizontal-layout views, featuring miniature decks on the left and horizontally stacked, zoomable waveforms across the screen.
SmartKnobs: Link a single knob to any number of FX and mixer interface targets under user programmable envelope control.
GrossBeats: Trigger tempo-perfect scratch, stutter and glitch effects. 8 user-programmable buttons per deck with integrated editor.
What's in the box with your turntable?
Platter Slipmat
Counterweight
45-rpm adapter
AC cord
RCA cable
Headshell with cartridge installed
Cloth dust cover
Target light
Deckadance software key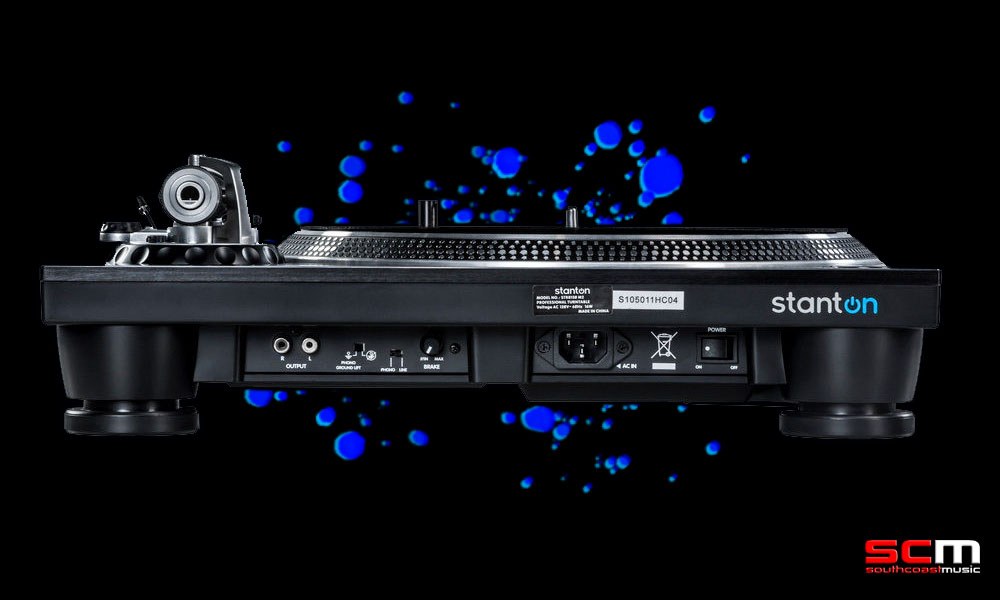 STANTON T.62 Mk2 TURNTABLE SPECIFICATIONS
o Frequency Response: 20 Hz to 20 kHz +/-1 dB
o THD+N: < 0.01% at 1 kHz
o S/N Ratio: <-65 dB=dB
o Type: 2-speed full manual
o Motor: 8 pole, 3 phase, brushless DC motor
o Driving Method: Direct Drive
o Speeds: 33 1/3 and 45rpm
o Wow and Flutter: Less than 0.15% WRMS (JIS WTD) with 33 1/3 rpm
o Pitch Controls: +/- 10%
o Starting Time: Less than 1 sec with 33 1/3 rpm
o Braking Time: Less than 1 sec with 33 1/3 rpm
o Speed Change Time: Less than 1 sec with 33 1/3 rpm
o Less than 1 sec from 45 to 33 1/3 rpm
o Audio Output: Phono output
o Tone Arm type: Static balanced straight shaped tone arm
o Tone Arm Suspension Type: Cardan's Suspension
o Effective Arm Length: 191 mm
o Tracking Force Range: 0-4g
o Applicable Cartridge Weight: 6-10g
o Dimensions: W452 x D370 x H143mm
o Weight: 6.3Kgs
o Waranty: Two Years