PARALLEL AUDIO DUAL WIRELESS MICROPHONE SYSTEM

Parallel is a new brand with a phenomenal pedigree. The company's roots can be traced back to one of the world's leading developers and manufacturers of wireless microphone technology. Distributed in Australia by National Audio Systems, Parallel Audio offers an exciting range of Professional Audio products designed for a wide range of situations with state-of-the-art technology and superb build quality and engineering.
This is a fully loaded M2000 chassis complete with 2 x RX8TD True Diversity Wireless Receivers and matching HH6100 Handheld Microphone Transmitters.
EIA Standard ½U Rack Mountable Metal Chassis
2 x RX8TD True Diversity Receivers for Optimum Performance and Reliability
2 x HH6100 IrDA UHF Handheld Mic Transmitters with LCD Display and Battery Level Indicator
Provides Power for Optional Parallel Audio Antenna Systems to Enhance Reception Range and Signal Stability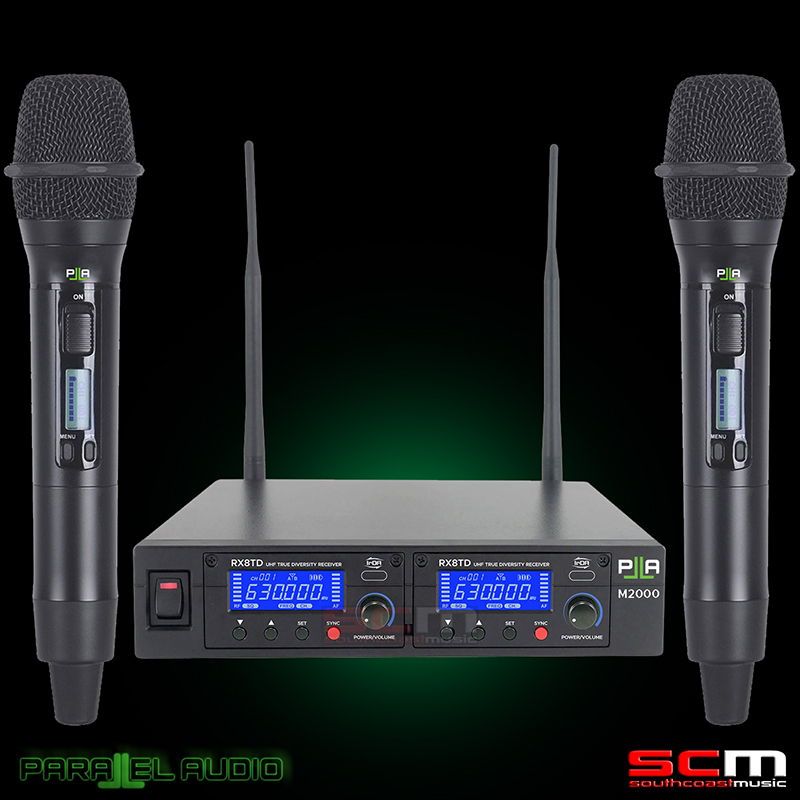 PARALLEL AUDIO M2000 MODULAR CHASSIS
The M2000 is the heart of this Modular Dual Channel Wireless Microphone/Repeater + Playback System. The M2000 is an EIA Standard ½U rack mountable metal chassis that holds up to 2 x UHF true diversity Receivers, Repeaters, USB/SD Card Recorder/Playback Device and/or Bluetooth Modules. With this system, the M2000 houses 2 x RX8TD Wireless Receivers. The dimensions of the M2000 are W200 x H44  x D220 mm,
PARALLEL AUDIO RX8TD TRUE DIVERSITY RECEIVER
• World-first patented IrDA technology provides rapid and precise 2-way frequency sync between the receiver and transmitter.
• 100 factory preset user-selectable UHF channels.
• True diversity reception for best performance and reliability.
• Pilotone and noise-cancelling dual-squelch circuits eliminate noise, interference and reduce signal dropouts.
• Clear and intuitive LCD display for easy operation and quick set-up.
• Balanced and unbalanced audio output.
This Parallel Audio Wireless System features two RX8TD 100 Channel Selectable True Diversity IrDA UHF Receiver Modules. The RX8TD delivers True Diversity reception along with 100 Factory Preset user-selectable channels for the best possible performance and signal integrity.
A high Contrast LCD Displays Channel, Frequency, RF Level,  AF Level, Antenna Selection and Transmitter Battery Level information while the world-first patented IrDA technology provides rapid and precise 2-way frequency connection between the receivers and transmitters.
• Frequency Range: UHF 500 – 960 MHz
• Bandwidth: 25 MHz
• Receiving Mode: True diversity
• Peak Deviation: ± 40 KHz
• Channel Sync: 2-way (RX ⇔ TX)
• Sensitivity: S/N > 80 dBm at 10 dBμV
• S/N Ratio: > 85 dB(A)
• T.H.D.: < 0.5% @ 1 KHz
• Frequency Response: 50 Hz – 18 KHz
• Preset Frequencies: 100
• Oscillation Mode: PLL (Phase Locked Loop) synthesised
• Oscillation Frequency Stability: ± 0.005% (-10~+60℃)
• Squelch: Pilotone & Noise-cancelling dual-squelch circuit
• Audio Output Adjustment: Gain control circuit for adjustment of output volume
• Power Supply: 12V DC
• Dimensions (W x H x D): 73 x 36 x 138 mm
• Weight: 102 g
PARALLEL AUDIO HH6100 HANDHELD MICROPHONE TRANSMITTER
• Patented IrDA technology for superb 2-way data transfer between transmitter
and receiver.
• Handling noise free with Dynamic Cardioid Microphone Capsule
• Multi-function LCD display for channel/frequency, Battery level indicator, Battery selection.
• Rugged Die-Cast Housing with Hidden Antenna.
• Uses 2 x AA batteries with up to 16 hours operating time.
The Parallel Audio HH6100 is a superb Handheld Microphone Transmitter designed to integrate with the RX8TD Receiver Module. The HH6100 features a Dynamic Cardioid capsule and a rugged yet lightweight die-cast housing.
• Microphone capsule: Dynamic
• Frequency range: UHF 520-675MHz (3 available bands)
• Switching bandwidth: 25MHz
• Switchable frequency: 100
• 2-way synchronisation: Yes
• Spurious emission: > 60dB below carrier
• Dynamic range: > 110dB
• Display screen: LCD
• T.H.D.: < 0.5%
• Peak deviation: ±40KHz
• Antenna: Built-in
• Battery type: AA x 2
• Operating life (Alkaline): 16 hrs
• Charging function: Yes
• Dimensions: Ø53 mm x L256 mm
• Weight: 298 grams