PARALLEL AUDIO HELIX HH6100 HAND HELD WIRELESS MICROPHONE TRANSMITTER
The Helix HH6100 handheld microphone transmitter is the perfect match for your Parallel Audio Helix Wireless PA system.
The HH6100 features a multi-function LCD display that shows your channel/frequency selection, the remaining battery level and will even tell you whether you are using Alkaline or NiMH batteries.
Utilising patented IrDA technology, the HH6100 offers exceptional 2-way data transfer between the transmitter and receiver.
Other professional features include a handling noise free (with the dynamic capsule) rugged die-cast alloy housing with a hidden antenna and detachable microphone capsule.
The Helix HH6100 provides up to 16 hours of operation from 2 x AA batteries with an optional matching battery charger (HC2) also available.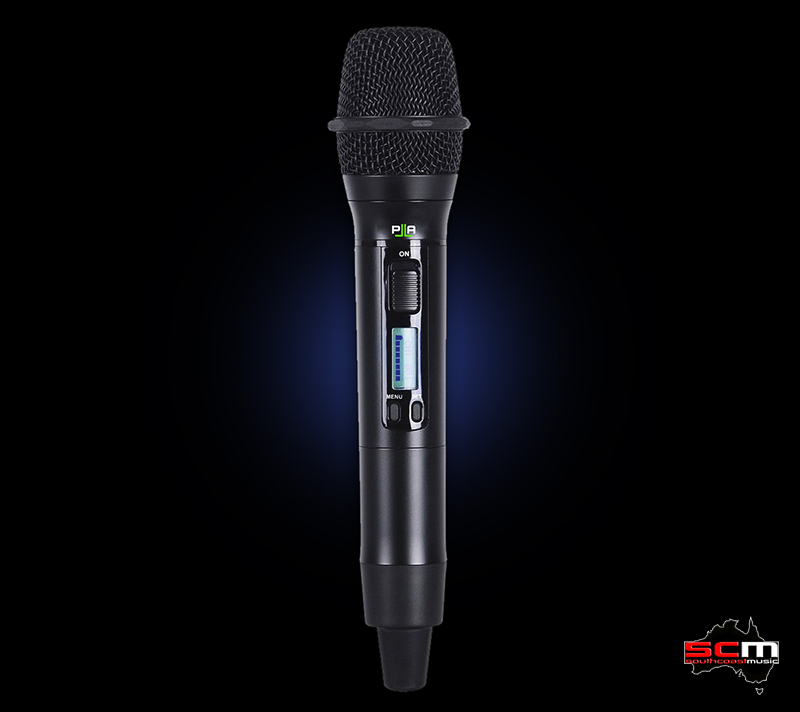 PARALLEL AUDIO HELIX HH6100 HAND HELD WIRELESS MICROPHONE TRANSMITTER SPECIFICATIONS:
• Frequency range: UHF 520-675MHz (3 available bands)
• Switching bandwidth: 25MHz
• Switchable frequencies: 100
• 2-way synchronisation: Yes
• Spurious emission: > 60dB below carrier frequency
• Dynamic range: Greater than 110dB
• Display screen: LCD
• T.H.D.: less than 0.5%
• Peak deviation: ±40KHz
• Antenna: Built-in
• Battery type: AA x 2
• Operating life (Alkaline): 16 hrs
• Charging function: Yes
• Battery charger: Optional HC2 available
• Microphone capsule: Dynamic (optional condenser type available)
• Microphone Polar Pattern: Cardioid
• Dimensions: Ø53 x 256 mm
• Weight: 298g
* NOTE: The above specifications are subject to change without prior notice.