ORANGE MICRO-TERROR Guitar Amplifier HEAD

 Orange  m i c r o   t e r r o r   h a l f   s t a c k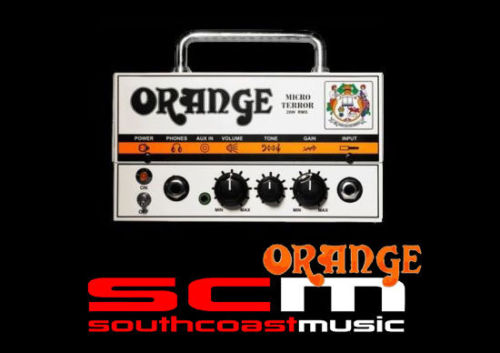 This is a true Orange Amp classic, with masses of vintage British character, clean crunch and full-on overdrive sounds.
A single ECC83/12AX7 preamp valve gives the Micro Terror two stages of gain based on the voicing of the front end of the original Tiny Terror head. A 1/4-inch jack headphone output and 1/8-inch jack auxiliary input are useful additions for home practising, but don't be fooled into thinking that the diminutive Micro Terror couldn't be a serious option for live performance.
Orange micro terror head :
    Volume, Tone and Gain control
    Single channel hybrid design
    Tube preamp with solid state power amp
    Aux input for MP3 or CD
    20 Watts RMS output
    1 x ECC83/12AX7 valve
    W16.5cm x H13.5cm x D9.2cm
    Lightweight .85kg
    One Year Warranty
no gimmicks….Australia-wide Delivery is included in our best value price!