LINE 6 FIREHAWK 1500 PERFORMANCE MODELING GUITAR COMBO AMPLIFIER
AMAZING TONE. PURE POWER. TOTAL VERSATILITY.
At its heart is an amazing guitar amplifier, electric or acoustic guitar as well as a host of amplified acoustic instruments. Easy to use – simply plug in and dial up the preset to suit the song or situation, turn the volume knob up or down and start making music!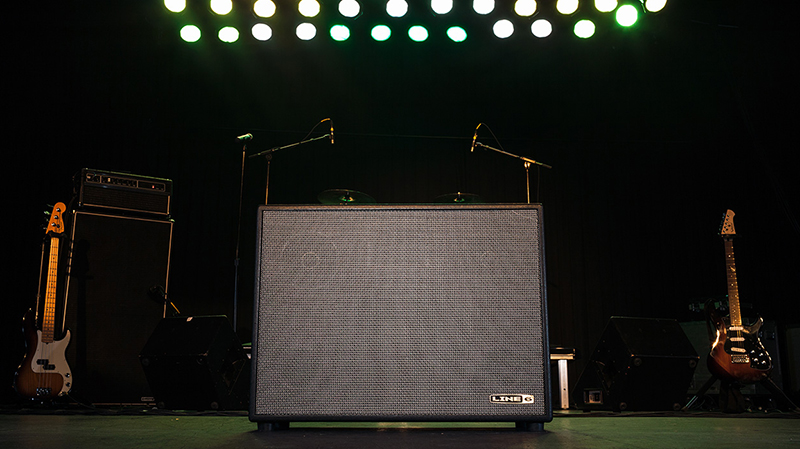 PLAY ON ANY STAGE – AT ANY VOLUME – FEEL THE POWER
• Digital Modeling Performance Combo Guitar Amplifier
• 1,500 watts (peak power) of Power for the biggest Stage
• 6 Speaker Full-Range System
• True Stereo Performance
• HD and XT Amplifier, Cab and Effects Models
• Instant Control via the Firehawk Remote app for iOS
• 1/4″ Guitar and VDI inputs; 1/4″ and XLR main outputs, plus headphone output
• Low-latency DSP and USB Recording
There's a reason why guitarists love combo amps—they're punchy, portable and easy to use. But more often than not they also sound inconsistent at different volume levels. Firehawk 1500 solves that problem, featuring plenty of power and a unique full-range speaker configuration that delivers consistent tone at any volume. It's the NOW-generation stage amp for guitarists who want great live tone—on any stage, and at any volume – and be able to take that tone to the studio.
LINE 6 FIREHAWK 1500 – THE ULTIMATE STAGE AMP
Built for gigging guitarists.
Line 6 built Firehawk 1500 with total flexibility to meet the needs of performing guitarists. 1500 watts of pure power delivers enough volume to be heard on the loudest stages, while providing enough control so you can use your highest gain sounds on the quietest stages. Firehawk sounds amazing with both acoustic and electric guitars — so there's no need for a separate acoustic amp. A full collection of ins and outs gives you all the connections you need. Use it as a stage monitor, in place of an ISO cab, or as a full-range amplification system for your pedal board or multi-effect.
LINE 6 FIREHAWK 1500 – LIMITLESS TONES
A massive arsenal of HD amps, cabs, and effects.
Firehawk 1500 comes loaded with DSP, so you can create elaborate signal chains and custom presets. Delve into the largest collection of premium HD amp modeling, HD effects modeling and HD cab modeling in the Line 6 family. Choose from over 200 world-class guitar amp models and effects—including 50 HD models, classic POD and XT models, and more. And if that's not enough, you can access 128 onboard presets designed by artists and Line 6 pros, or unlimited tones in the cloud via the Firehawk Remote app editor. So go ahead—create something truly original that'll blow your audience away.
LINE 6 FIREHAWK 1500 – 6-SPEAKER STEREO AMPLIFICATION
Accurate tone at any volume.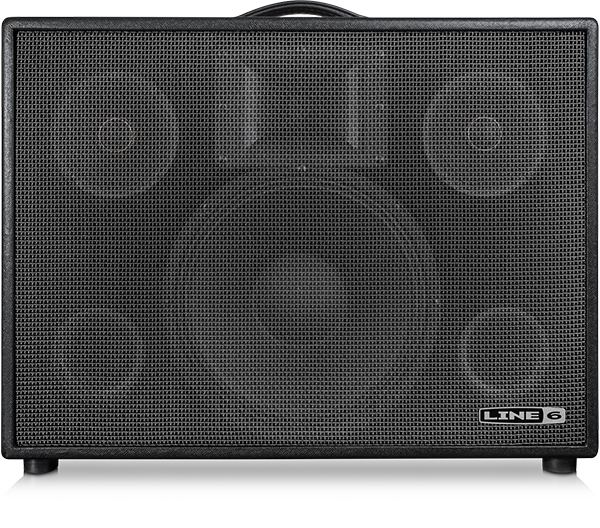 Featuring a full-range, flat-response 6-speaker amplification system, the Firehawk 1500 delivers accurate tone reproduction in true stereo, mono or wet/dry/wet at any volume. The unique speaker configuration in Firehawk 1500 allows for a variety of mono or stereo setups – so you'll hear your modeled tones and effects with crystal clarity. Plus, the speakers project a wide coverage angle—far greater than a typical combo amp—so everyone in the venue will hear the same tone you sculpted to perfection.
LINE 6 FIREHAWK 1500 – FIREHAWK REMOTE APP EDITOR
Get the right sound faster than ever.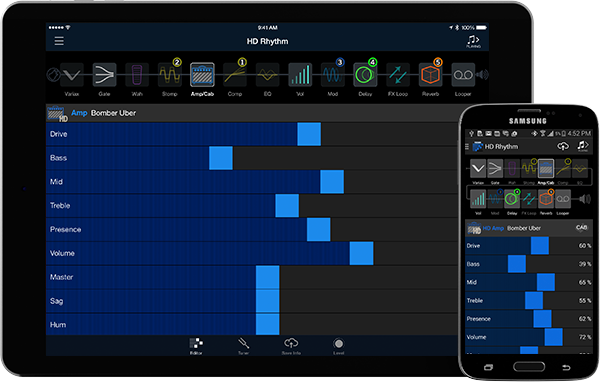 The Firehawk Remote iOS app and Android™ app provides a streamlined and modern graphic user interface that lets you control every aspect of your tone, craft elaborate signal chains, fine-tune hundreds of effects parameters, and more—all from your phone or tablet. Access a massive tone cloud and get the sounds you need in an instant. With Line 6 tone matching, you can match the guitar tone of any song in your music library—it's like have your own personal tone librarian. And did we mention it's Bluetooth® enabled? Connect and stream your favorite songs at high volume.
LINE 6 FIREHAWK 1500 – ROCK SOLID BUILD QUALITY
Finally, a great sounding amp that won't let you down.
After a long gig, you want to throw your gear in the van and hit the road. Amplifiers get stacked, rattled, and knocked around—not great for a fragile tube amp. The Firehawk 1500 has been engineered and built with a solid wood enclosure, so it'll always be ready for your next gig. After all, it's a guitar amp—not a museum piece.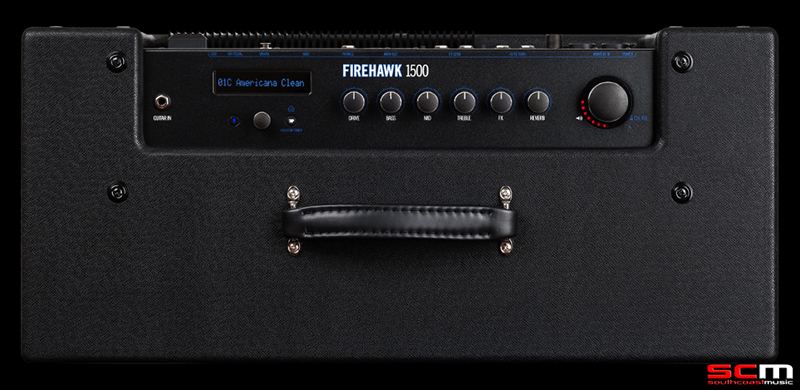 LINE 6 FIREHAWK 1500 SPECIFICATIONS
• Number of Channels: 4 Preset Locations
• Output Power: 1500W
• Reverb: Yes
• Effects: Multi-effects
• Amp Modeling: 128 built-in presets (expand via Firehawk remote app)
• EQ: 3-band EQ (onboard)
• Inputs: 1 x 1/4″ (instrument), 1 x Variax, 2 x XLR-1/4″ combo (monitor in), 2 x (FX return)
• Outputs: 2 x XLR (left, right), 2 x (FX send)
• Effects Loop: Stereo effects loop (stompbox/line switch)
• MIDI I/O: In, Out/Thru
• USB: USB Type B (24-bit stereo interface)
• Headphones: 1 x 1/4″
• Footswitch I/O: 1 x RJ-45 (FBV 3)
• Footswitch Included: No
• Computer Connectivity: Bluetooth , USB
• 50Hz- 20kHz Frequency Response
• 132dBSPL Max @ 1m
• 90° Horizontal coverage
• 60° Vertical coverage
• Speaker Type & Size: 2 x 5.5″ Stereo Coaxial Drivers, 1 x 12″ Sub Woofer, 1 x 1″ High Frequency Compression Driver with Waveguide
• HF- center (Amp): Class AB (Type), 153W (Peak), 80W sine continuous @1% THD (RMS)
• MF + HF – stereo (Amp): Class D (Type), 2 x 153W (Peak), 2x80W sine continuous @1% THD (RMS)
• LF (Amp): Class D (Type), 1200W (Peak), 440W sine continuous @1% THD (RMS)
• Monitor inputs (0- +20dB): XLR/ 1/4″ Combi, balanced – 20k ohm – 13dBu
• FX returns: 1/4″ TS – 10k ohm – 7dBu
• Guitar input: 1/4″ TS – 1M ohm – 12dBu
• Fx sends: 1/4″ TS – 680 ohm/2.74k ohm (line/stomp) – 6dBu (stomp mode), 19dBu (line)
• Main XLR outputs: XLR, balanced – 680 ohm – 6dBu
• Headphone outputs: 1/4″ TRS – 47.5 ohm – 6dBu
• 5- pin DIN Midi In/Out
• Ethercon Connector (Variax)
• RJ 45 (FBV 3)
• USB- B
• IEC power connector, 100-240VAC, 50/60 Hz
• 15mm – 32mm plywood, braced, ported Cabinet
• L661.5 x W288 x H505mm (not including handle)
• 28.95 kg (63.14 lbs)
LINE 6 FIREHAWK 1500 REMOTE
• Create, save and recall unlimited presets in the cloud
• Search a cloud-based library of thousands of tones
• Remotely control amp parameters to dial in your sound
• Share tones via Twitter and Facebook
• Made for iPhone® 6 Plus, iPhone 6, iPhone 5s, iPhone 5c, iPhone 5, iPhone 4s, iPhone 4, iPad® (3rd and 4th generation), iPad 2, iPad mini and iPod touch® (5th generation) and compatible Android devices running OS v4.2 or better (visit Line6.com/android for details)