LAG Tramontane T66D-12CE Twelve String Dreadnought Acoustic Guitar with Pickup and Cutaway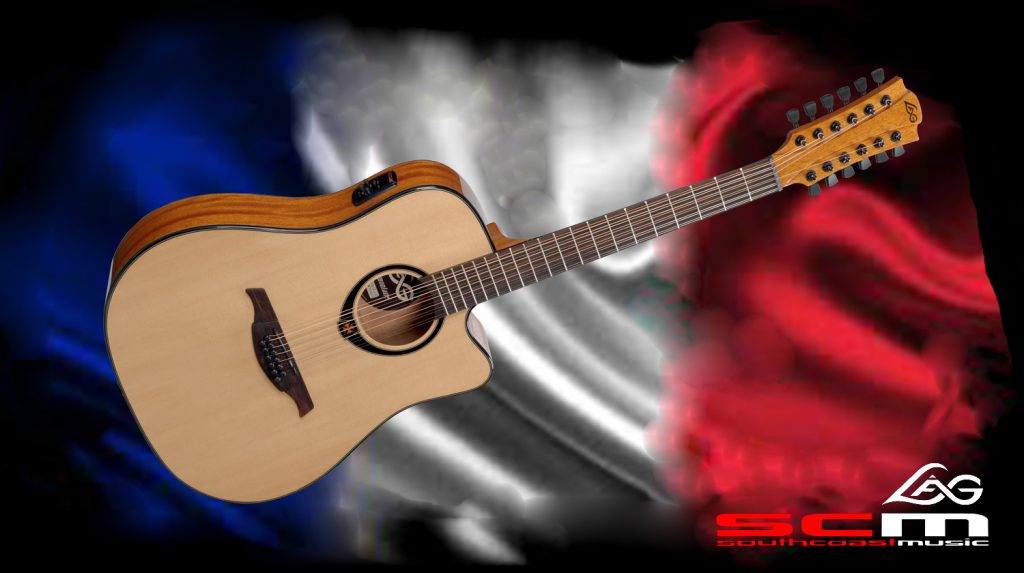 Michel Chavarria began building guitars in the South of France back in 1981 and his company Lâg has become one of France's highest-profile guitar manufacturers. Offering a superb range of Acoustic guitars, Lâg epitomises the French approach with innovative features and some very distinctive and tasteful styling.
With a growing legion of fans and under pressure to offer a more affordable range, Lag found the answer in China – and they haven't looked back! Their beautifully designed and exquisitely crafted instruments are more affordable than ever and most people would agree that they are a bargain!
This is the Lag T66D12CE Tramontane (Tramontane is a wind that blows across southern France) a gorgeous Dreadnought sized guitar with a distinctive appearance, thanks to the headstock design borrowed from Lag's Imperator solidbody electrics, where the central portion of the peghead is raised from the outer wings. It looks classy and adds strength to the headstock.
The front, back and sides feature softly radiused wide black-plastic binding with ivory-coloured purfling and coachlining, lending a smooth, flowing air and touch to the body profile. The soundhole rosette is inlaid with similar plastics and the stylish teardrop Lag cross-motif hallmark.
The body features an immaculately buffed high-gloss finish while the back of the neck has a slinky smooth satin finish.
The fully compensated saddle itself is black graphite – as is the nut – a material very unusual to find on a budget acoustic.
Acoustically, the volume, projection and depth of tone are superb with responsive dynamics. This guitar shouldn't disappoint. For recording or on-stage duties, the Tramontane T66D12CE features an excellent pickup/preamp system built by Shadow in Germany. On board are a Nanoflex under bridge saddle Piezo Pickup controlled by the intuitive and easy to use DirectLâg Preamp.
The build quality and detailing are excellent – it looks expensively stylish and sounds the part – all at a very keen price.
Oh yes, did we mention that it's all backed up with a Five Year warranty as well!
LAG Tramontane T66D-12CE Twelve String Dreadnought Acoustic Guitar with Pickup and Cutaway
Top: Sitka Spruce
Back & Sides: African Mahogany
Headstock: Mahogany French Satin finish
Machine Heads: Lubricated High Precision Satin Black, with Satin Black tulip buttons
Top Nut: Black Graphite 48mm
Truss Rod: 2-way System
Neck: Mahogany French Satin finish
Fingerboard: Rosewood
Fingerboard Radius: 400mm
Frets: 20 x Medium Jumbo Nickel Silver Frets
Bindings: Black + Ivory bindings
Rosette: Black + Ivory, with Occitania cross
Bridge: Rosewood with Black Resin compensated saddle
Pickup: Nanoflex Piezo Pickup under bridge saddle
Electronics: DirectLâg system
Finish: High Gloss
Warranty: Five Year Warranty