FISHMAN SA330x Performance Audio System
Personalised Pristine Fishman Quality Sound in A Portable, Powerful & Easy-To–Set-Up Package
● Best in Class Sound Quality
● 330 Watts Output Power
● Wide Dispersion Modified Line Array
● Two Mic/Instrument Channels with Combo XLR/¼" inputs
● Pristine-Quality Preamps
● 3-band EQ on each Input Channel
● 48V Phantom Power allows the use of Studio Quality Conndenser Microphones
● Feedback-fighting Phase and Notch filters
● Auxiliary Stereo Input with Level Control
● Four Digital Reverb Effects with Channel Reverb Level Control
● Balanced XLR D.I. Outputs for both Input Channels and Main Mix
● Dedicated Subwoofer Output automatically optimises the SA330X Frequency Response
● Unique Monitor Input/Output for improved Onstage Ensemble Monitoring
● Channel Mute
● Footswitch Jack for Remote Channel Mute and Reverb Mute
● Accessory Port provides Power and Audio to the Fishman SA Expand Module
● Includes Tripod Stand and Padded Carry Sleeve
● Incredibly Lightweight at 9kgs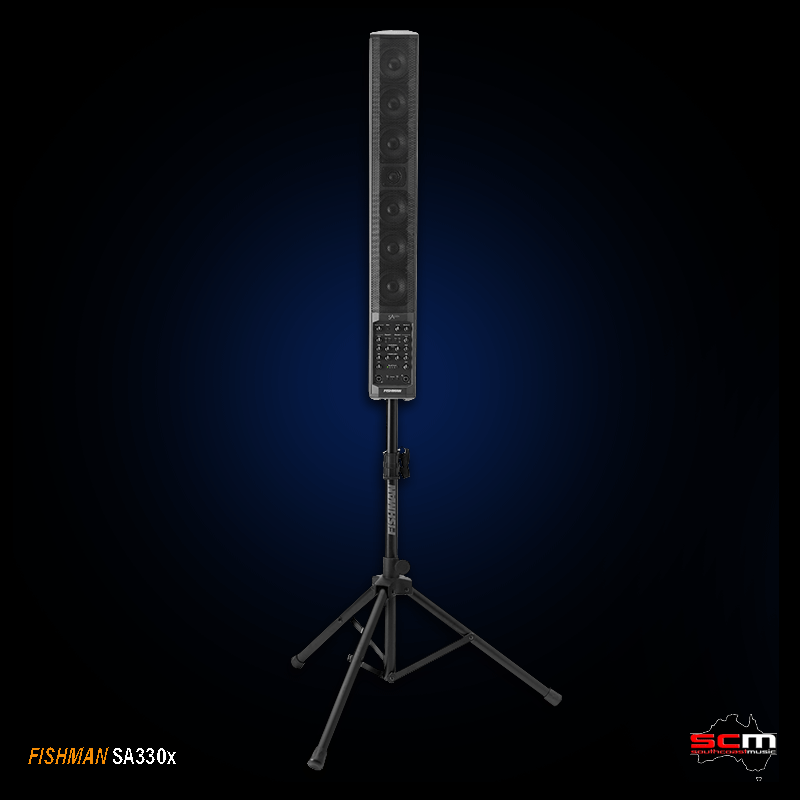 LINE ARRAY?
Line Array? What's all the fuss about? A Line Array is a loudspeaker system that is made up of a number of identical loudspeaker elements mounted in a line and fed in phase, to send sound waves farther than traditional horn-loaded loudspeakers and with a more evenly distributed sound output pattern. The result is incredibly focused sound aimed at audiences without wasting output energy on ceilings and empty air. The SA33ox is a vertical line array with a wide horizontal pattern designed to project sound to the majority of a concert audience. If you have been to a fantastic sounding concert in the last 10 years and wondered why you didn't see stacks of speaker boxes, you were probably listening to a Line Array system.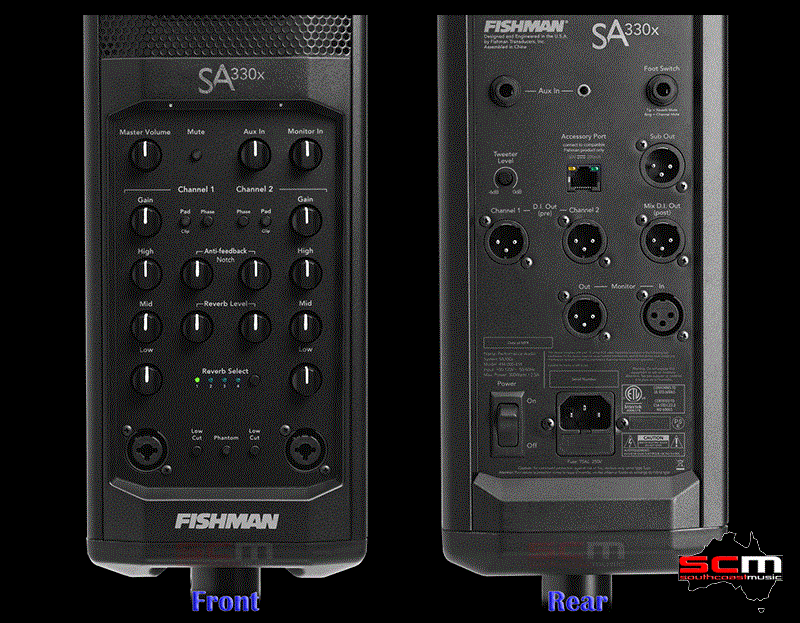 FISHMAN SA330x
Easily personalised for your specific audio needs, the modified Line Array Fishman SA Performance Audio System is the ideal solution for solo acoustic performers, small combos, DJs, keyboardists, corporate presenters at trade shows or in conference rooms.
Tuned beautifully for voice and acoustic instruments, the SA330x, alone or as part of an expanded system, offers plenty of power to fill a small to medium sized room, corporate event, or other similar sized venues with the audio quality that Fishman is famous for.
Whether you're using your SA330x for speaking, performance or playback, a full complement of inputs and outputs makes set-up a breeze. The SA330x features a uniquely configured 2-way speaker system that delivers all the sweetness and definition of a great studio monitor.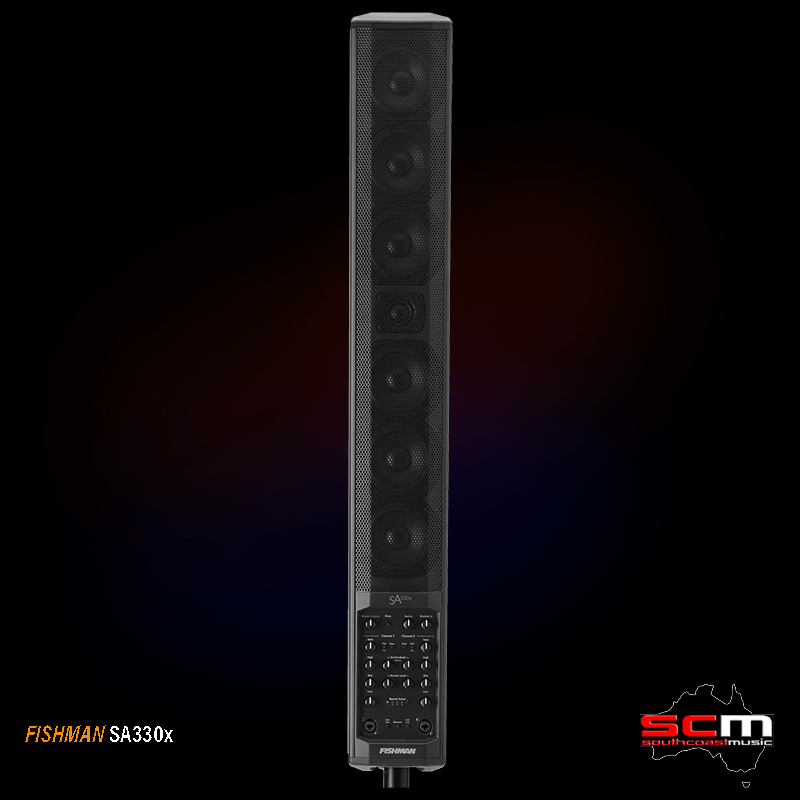 The "Modified Line Array" fills the room with sound that can be heard clean and clear in the back row, without tearing the ears off your audience in the front.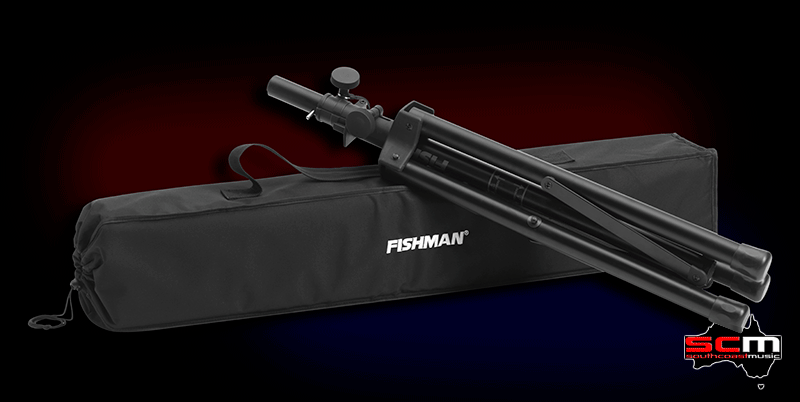 FISHMAN SA330x SPECIFICATIONS
● Model Number: PRO-AMP-SL2
● Output Power: 330 Watts, Bi-Amped
● MF/LF Drivers: 6 x 4″ Mid-Woofers, Patented Dual Gap, High Excursion Design, Neodymium Rare Earth Magnets
● HF Driver: 1 x 1″ Neodymium Soft Dome Tweeter with Level Control
● SPL: 113dB SPL @ 1 metre
● Speaker Configuration: Modified Line Array – Ultra-wide Horizontal Dispersion & Deeper Sound Penetration
● Dimensions: H105.2cm (41.4″) x W14cm (5.5″) x D 17cm (6.7″)
● Total weight: 12.47kg (27.5 lbs) Including Stand and Padded Carry Sleeve
● SA330x Weight: 8.98kg (19.8 lbs)
● Stand Weight: 3.04kg (6.7 lbs)
● Carry Bag Weight: .45kg (1 lb)
FISHMAN SA330x OPTIONAL ACCESSORIES
● SA SUB: PRO-SUB-300
● SA EXPAND: 4ch Mixer with Mounting Kit and Connecting Cable
● DELUXE CARRY BAG: ACC-AMP-SC2
● SUB POLE STAND: ACC-SUB-PM1