LANEY
LANEY AH210 AUDIOHUB VENUE
FANTASTIC 400 WATT COMPACT PORTABLE PA SYSTEM!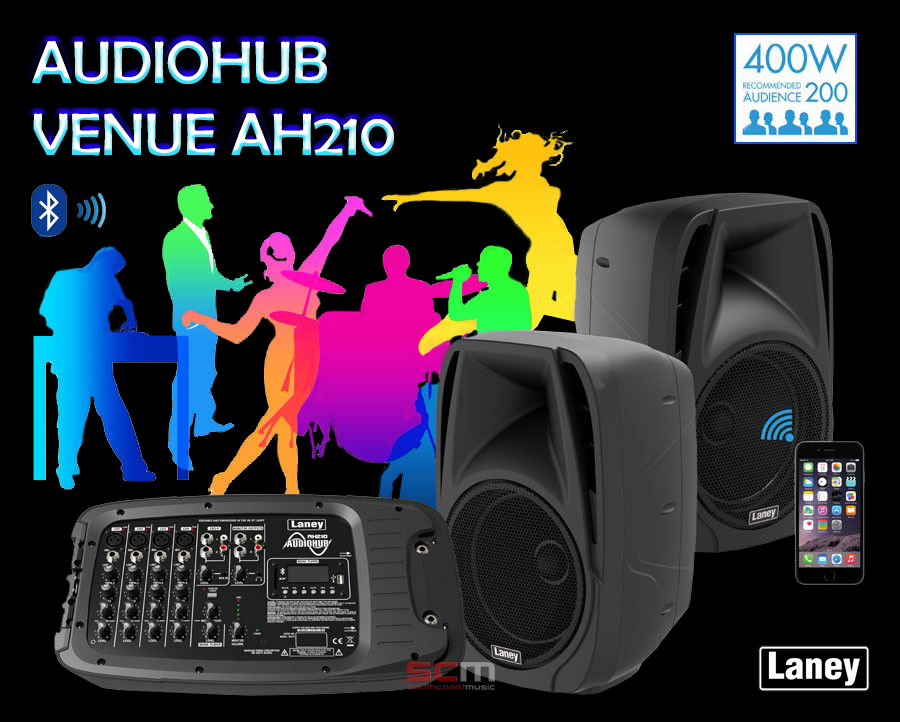 The AH210 Audiohub Venue is a complete PA system with dual enclosures, detachable 6 channel mixer and Digital Media Player. A hand held Dynamic Microphone with cable and speaker cables are all included.
Big Sound, Portable Package
Bluetooth Enabled
Switchable Phantom Power
Powerful and Versatile
The AH210 is a complete PA system in a simple to use, easy to carry package with everything you need and the ideal public address  solution for:
Conferences
Classrooms
Jam Sessions
Karaoke
Parties
Musical Performance
Worship
Presentations
Seminars
Sports
Aerobics
DJ's
Bars
Cafes and more!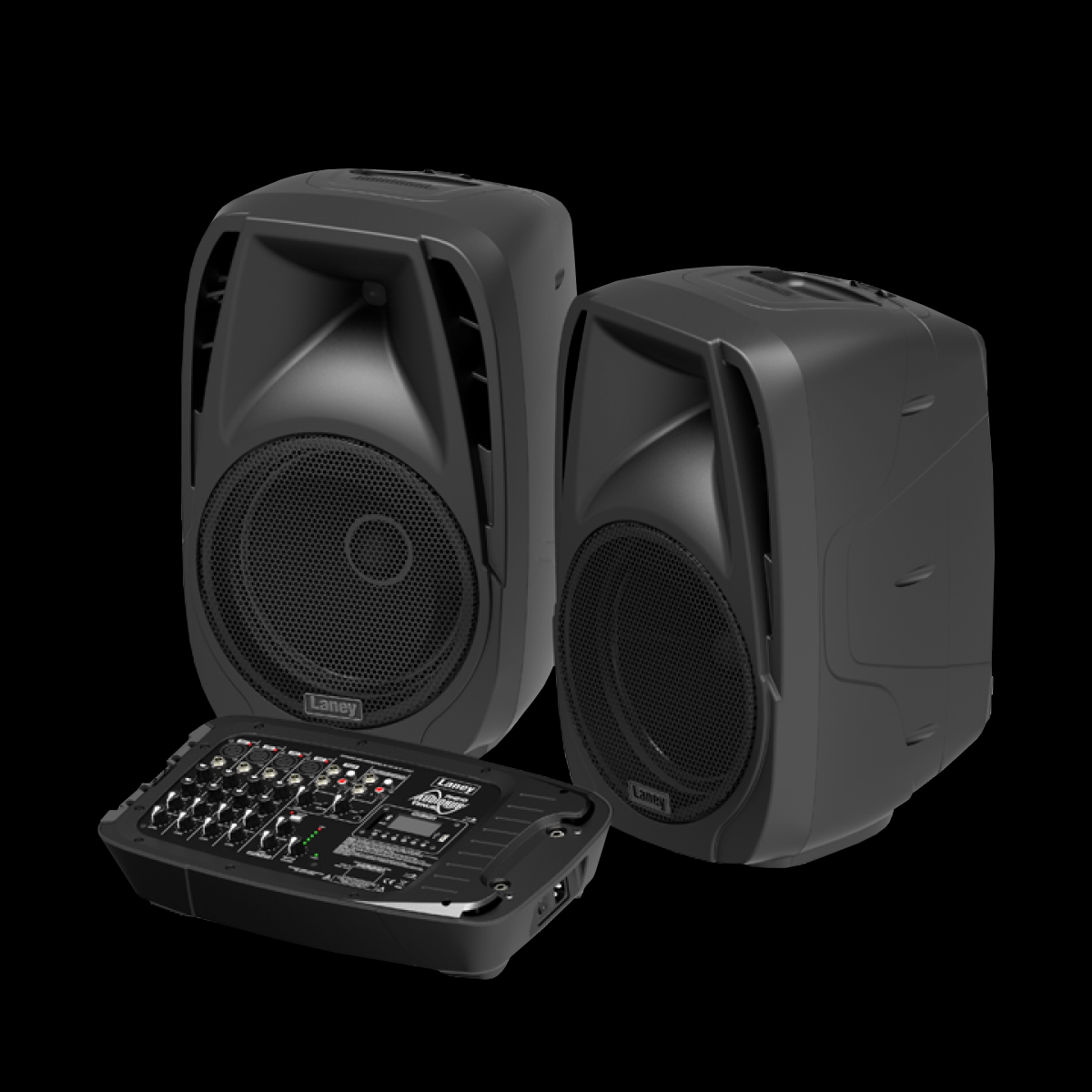 The AH210 features dual compact speaker enclosures with a detachable mixer section, a dynamic microphone with cable and speaker leads.
The Audiohub AH210 from British Amplifier Giants – Laney, combines tremendous flexibility with great performance making it the ideal solution for a wide variety of sound reinforcement applications such as conferences, classrooms, parties, karaoke, musical performance, worship, presentations, seminars, sports, aerobics, DJ's, bars, cafes and more!
Whatever your situation, the Audio Venue has got you covered.
BRITISH ENGINEERING
Designed and engineered in Great Britain, the LANEY AH210 delivers 400 watts (200W + 200W) of power, big enough for crowds of around 200 people. Suitable for a wide range of applications, each of the two speaker enclosures are equipped with a high performance 10″ LF Woofer and 1″ HF compression driver for punchy bass and sparkling, crystal clear highs.
COMPACT COMPREHENSIVE MIXER
The LANEY Audiohub Venue AH210 features a clever mixer that is housed within one of the speaker cabs when traveling. Ready to setup? Simply unclip the mixer from the back of the cabinet, connect the speakers with the included speaker cables and you are ready to go!
The AH210 mixer is easy to use and includes 4 x XLR mic inputs with preamps and 2 x 6.3mm line level inputs – each with Bass, Treble and Echo controls. A pair of RCA inputs as well as a 3.5mm stereo AUX input are also provided for wired connection of media devices and more.
The AH210 is also equipped with a monitor feed via a pair of monitor out jacks and RCA outputs. Phantom Power is also provided and may be switched globally to all Mic channels and a Master Volume control with level meter permits overall control of the complete system.
DIGITAL MEDIA PLAYER and BLUETOOTH
The compact yet comprehensively appointed mixer also has built-in Bluetooth connectivity allowing you to stream music from any Bluetooth enabled device such as a Smart Phone, iPad or Laptop Computer straight into the AH210 Audiohub Venue.
INTEGRATED DESIGN
The cabinet enclosures are made from lightweight, impact-resistant molded plastic making them both portable and road-worthy. The AH210 really is a convenient package – for transport the mixer simply clips to the rear of the first cabinet and the second cabinet features an integrated storage compartment for the included microphone, cable and speaker leads.
The AH210 really is a convenient package – its lightweight molding has easy access carry handles a 35mm tripod mount and an integrated storage compartment for the included mic, XLR cable and speaker leads.
LANEY AH210 AUDIOHUB VENUE SPECIFICATIONS:
Power: 400 WATTS (200W + 200W)
Inputs: XLR, 6.3mm (1/4″) Phono, 3.5mm (1/8″) Mini Jack, Media Player SD Card, USB memory stick and BLUETOOTH
Input Channels: 6
Equalisation: XLR, Jack, Mini Jack & Media Player SD Card, USB memory stick & BLUETOOTH
Speaker connections: 6.3mm (1/4″) Phono
Speaker Configuration: 10″ LF Woofer & 1″ HF Compression Driver (each cab)
Effects: ECHO on MIC channels
Kick Proof Metal Grilles: Yes
Pole Stand Fitting: Yes – 35mm tripod mount
Warranty: Three Years
Buy with confidence! southcoastmusic is an authorised LANEY Dealer.