Fender Tone Master Twin Reverb Blonde Electric Guitar Combo Amplifier 2 x 12″ Celestion® NEO Creamback Speakers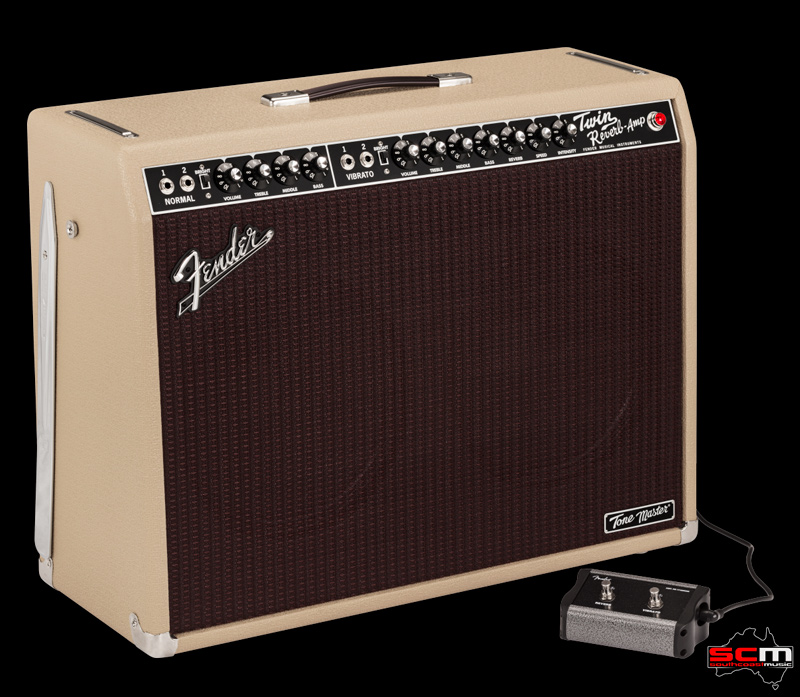 In a bold Fender first, the Tone Master Twin Reverb Blonde amplifier uses massive digital processing power to achieve a single remarkable sonic feat: faithfully modeling the circuitry and 85-watt power output of an original Twin tube amp. A high-performance, energy efficient 200-watt digital power amp is used to achieve the headroom and dynamic range of a real vintage Twin tube amp without the backbreaking weight.
The resonant pine cabinet is paired with two Celestion® NEO Creamback speakers for a more distinctive rock 'n' roll flavour.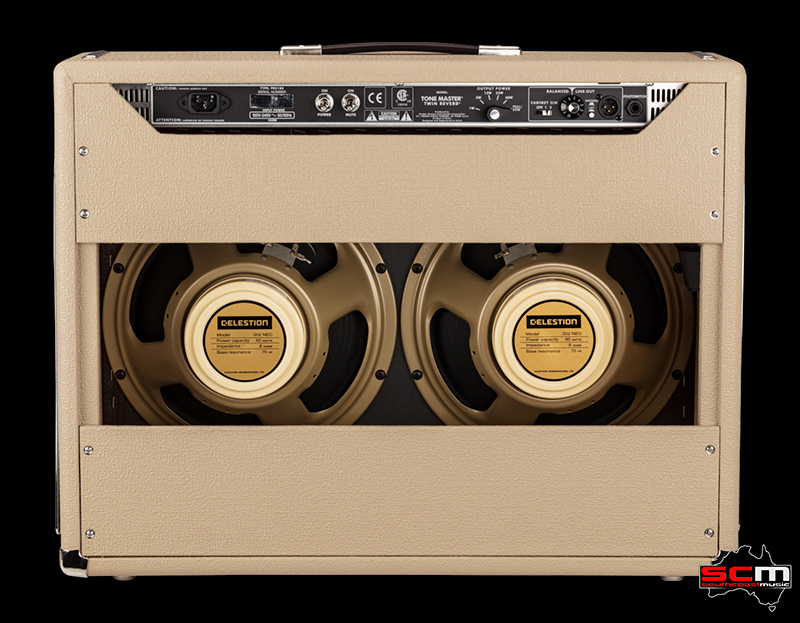 The result is tubeless Twin Reverb tone, volume and dynamics virtually indistinguishable from the all-tube original.
The reverb control has been modified to provide easier fine tuning at lower settings making the amp sound even more "musical".
Most notably, even with all these features, iconic Fender tone – and more, the Tone Master Twin Reverb is in fact about only half the weight of an all-tube Twin.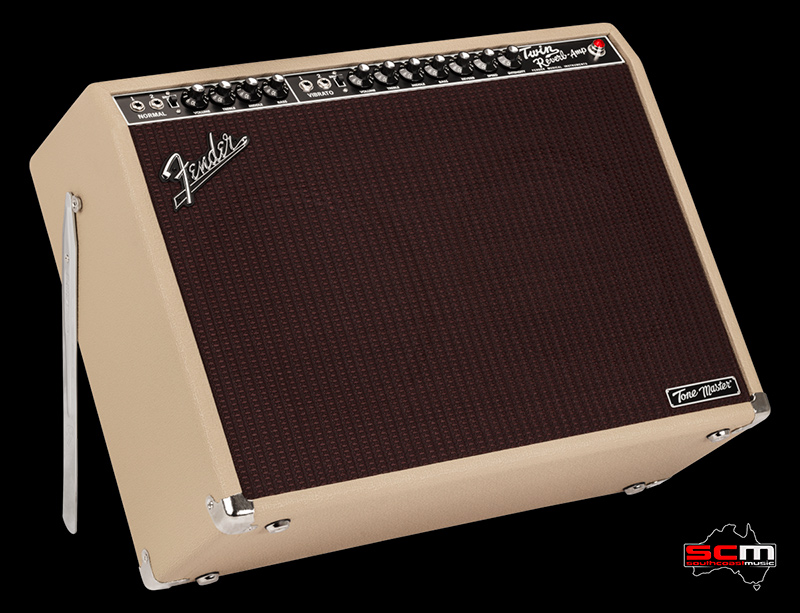 The blonde vinyl covering elegantly evokes the classic Fender vibe of the early 1960s, and the front panel features and layout give guitarists a playing experience identical to the tube version, including Fender's world-standard reverb and tremolo effects.
Additional rear-panel features deliver modern convenience and flexibility—including an output power selector for full power and five attenuated settings, balanced XLR line output with impulse response (IR) cabinet simulations captured with Shure SM57 and Sennheiser MD421 microphones, mute switch for silent stage or recording use, USB port for firmware upgrades, and more.

Fender Tone Master® Twin Reverb® Blonde, 240V AUS
Model #: 2274203982
UPC #: 885978583553
Sap Name: TM TWIN RVB BLONDE 240V AUS
Fender Tone Master Twin Reverb Blonde 2×12″ Guitar Amp Specifications:
• Voltage: 240V AUS
• Output Power: 200W into 4Ω (Simulates 85W Tube Amp Performance)
• Output Power Attenuation: Yes via 6-position switch
• Channels: Two – (Normal and Vibrato)
• Normal Channel Inputs: 2 x 6.35mm / ¼"
• Vibrato Channel Inputs: 2 x 6.35mm / ¼"
• Cabinet Material: Lightweight Solid Pine
• Amplifier Covering: Blonde Textured Vinyl
• Grille Cloth: Oxblood
• Amplifier Jewel: Red (Power), Red/Amber (Warmup), Amber (Mute)
• Control Panel Colour: Black
• Normal Channel Controls: Bright, Volume, Treble, Middle Bass
• Vibrato Channel Controls: Bright, Volume, Treble, Middle, Bass, Reverb, Speed, Intensity
• Control Knobs: Vintage-Style Skirted Black Plastic
• Rear Control Panel: Power, Mute, Output Power Selector, Cabinet Simulator, Line Out Level, Ground Lift
• Effects: Reverb, Tremolo
• Reverb Tank Type: DSP
• Line Out: One – (Balanced XLR with Ground Lift and Level Control)
• Connectivity: USB For Firmware Updates
• Carry Handle: Molded Plastic Strap with Nickel-Plated Caps
• Speakers: 2 x 12″ Celestion® NEO Creamback Speakers
• Total Impedance: 4Ω
• Amp Cover: P/N: 0050250000, '65 Twin Reverb®, Black cover included
• Footswitch: 2-Button Footswitch Included
• Tilt Back Legs: Includes Tilt-Back Legs
• Dimensions: H51.41cm (20.24″) x W66.4cm (26.15″) x D21.9cm (10.375″)
• Amp Weight: 15kg (33 lbs)