Daddario EJ65 Ukulele String Set Pro-Arte Custom Soprano Ukulele Strings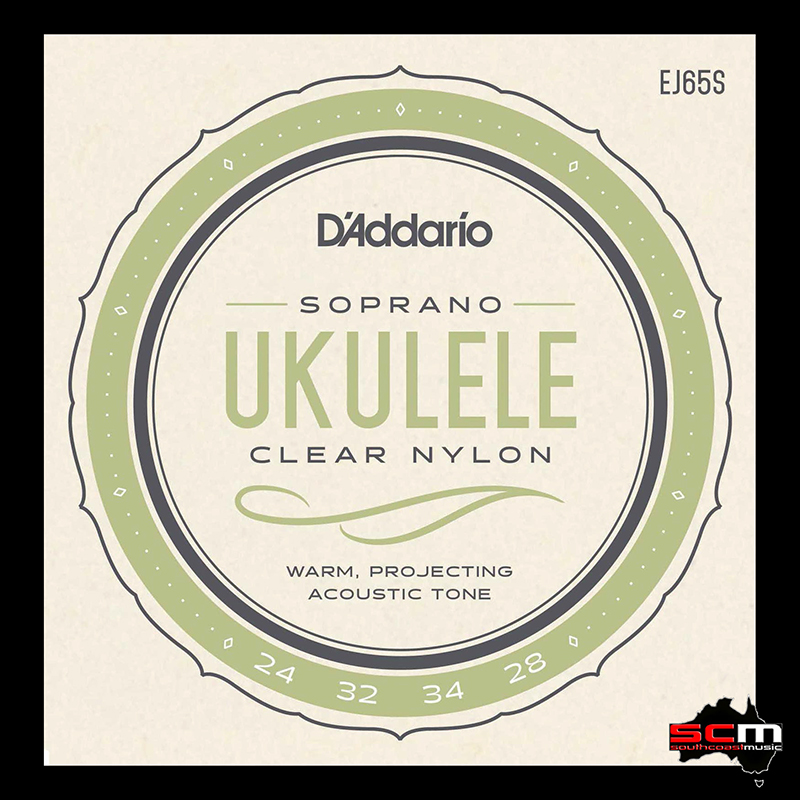 • Bright and punchy strings for your soprano ukulele
• Pro-Arte Custom Extruded Nylon for highly accurate, laser sorted treble strings
• Combines smooth feel with exceptional tonal balance
• Superb performance in both modern and traditional tunings
• Natural tension gauges: .024″ / .032″ / .034″ / .028″
D'Addario EJ65S soprano Ukulele strings are an all-nylon set designed to reproduce the traditional tones associated with this much loved instrument. D'Addario's Pro-Arte ukulele strings give you the perfect balance of bright sparkle and well-rounded punch, perfect for bringing out the full sound of your favorite ukulele.
Pro-Arte strings are held in the highest regard by professional musicians the world over. Each string has been designed by D'Addario and manufactured on their own advanced monofilament extrusion line built exclusively for the production of musical instrument strings.
While D'Addario EJ65 strings sound wonderful in regular C, D, E and A tuning, they are optimised for traditional tuning in A, D, F#, and B – the tone is simply sensational.
These strings feel smooth and respond easily to even the lightest touch. Laser sorted Pro-Arte clear nylon trebles provide warm, projecting acoustic tones.
Mixing up your Ukulele strings isn't hard to do – especially if your are relatively inexperienced. D'Addario have taken out the guesswork. Each string is colour coded based on it's size and position:
• 1st/Silver Diameter: .0240″ Tension: 10.40 lbs
• 2nd/Purple Diameter: .0320″ Tension: 09.65 lbs
• 3rd/Green Diameter: .0340″ Tension: 07.50 lbs
• 4th/Black Diameter: .0280″ Tension: 10.78 lbs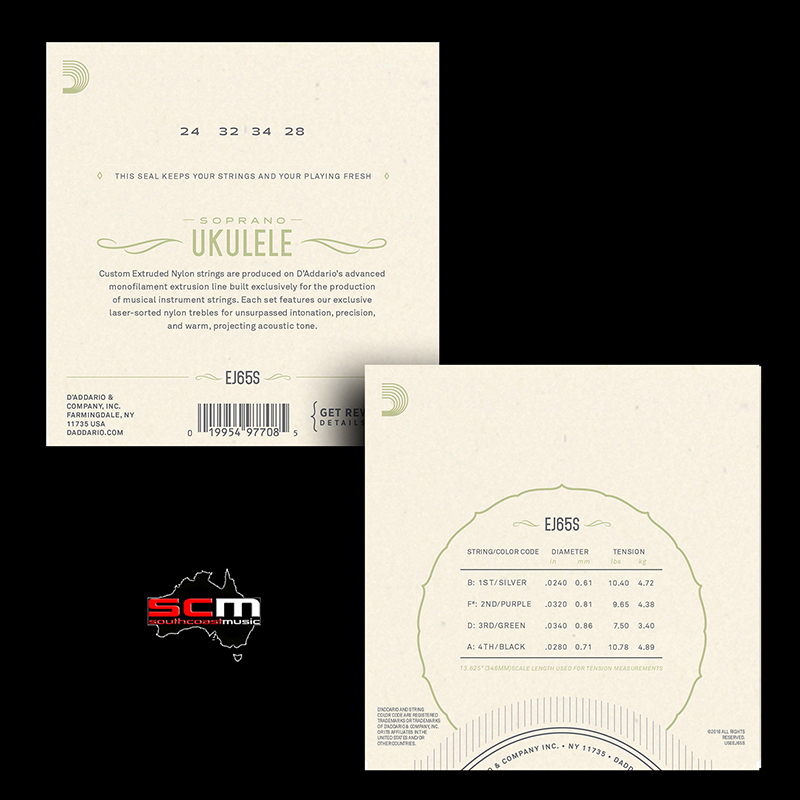 D'Addario – Musical instrument string makers for more than 300 years
Behind every set of D'Addario strings are over three centuries of accumulated experience and fine craftsmanship.
The D'Addario family tradition began in the tiny town of Salle, Italy in 1680 where they made assorted instrument strings for over two hundred years before relocating to New York in 1905. As the modern string making industry began to develop, the D'Addario family emerged as innovators by designing the winding machine most string makers still use today. And while their techniques have modernised, the pride that goes into each set of strings dates back to the D'Addario family's earliest roots.
D'Addario EJ65S Specifications:
• Brand: D'Addario
• Manufacturer Part Number: EJ65S
• Counrty of Manufacture: USA
• Number of Strings: 4
• String Material: Nylon
• Gauges: .024 / .032 / .034 / .028″
• Shipping Weight: 0.1381kg
• UPC: 019954977085