Chiayo SDR5100m-650 UHF 100 channel frequency agile wireless receiver module 650MHz
o Spectrum scan function and IR upload/download (1 channel of wireless)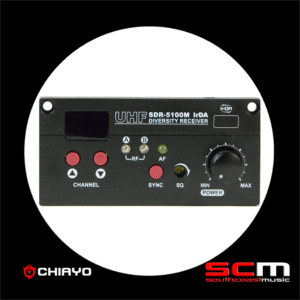 The SDR5100m UHF Receiver Module has been engineered as a plug-in module to be used with a number of Chiayo Portable PA systems including the Victory 2000, Challenger 1000, Stage Pro, Stage Man, Focus Pro, Focus 505 and Focus 500.
The SDR5100m receiver module has been designed to work with the following matched  Chiayo transmitters including the SQ-6100 IrDA, SQ-5100M IrDA, SQ-2100 IrDA, SQ-1100 IrDA, SM-7100 IrDA, SM-6100 IrDA and SM-1100 IrDA.
Installation is easy too – simply remove the two screws holding the blank panel in the Chiayo PA system and slot the SDR5100m module in. The 20 pin coupling is firm and secure. Replace the two screws and you are ready to go!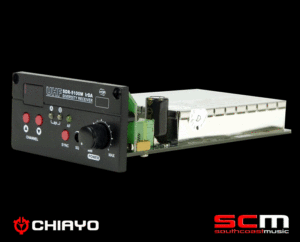 Operating in the 650MHz range, the Chiayo SDR5100 is suitable for use in a number of locations in Australia.  Click on the image below to check the frequency compatibility for your area – you will need to input the postcode of the area that the system will be used in.

Chiayo SDR5100m-650 UHF 100 channel frequency agile wireless receiver Features:
Patented IrDA technology for 2-way data transfer between transmitter and receiver.
UHF synthesised diversity for highest quality and dropout-free reception
Helical Filter RF front end ensures high selectivity
Excellent IF design delivers high image and spurious rejection
Anti-interference Pilotone circuit
RF noise squelch circuit
Auto-scan function searches for the cleanest frequency and simplest multi-channel setup
Squelch control accessible via front panel
Power and volume control switch
UP / DOWN channel selection key
7-segment LED display channel indicator
Battery low indicator LED
Balanced and unbalanced audio output
20-pin connection for easy installation
Chiayo SDR5100m-650 UHF 100 channel frequency agile wireless receiver Technical Specifications:
Frequency Range: UHF 650MHz
Switching Bandwidth: 25MHz
Switchable Frequencies: 100
Display Screen:    7-segment LED
Oscillation: PLL Synthesized
Frequency Stability: ±0.005%
Frequency Scan: Yes
Receiving Method: True Diversity
2-Way Synchronisation: Yes
Sensitivity: -100dBm at S/N ratio > 80dB
Image Rejection: > 85dB
Spurious Rejection: > 85dB
S/N Ratio: > 110dB
Peak Deviation:    ±40KHz
T.H.D.:    < 0.5%
Audio Outputs: Unbalanced: +4dBm (1.25v) / Balanced: +10dBm (2.5v)
Squelch: RF noise squelch & Pilotone squelch
Power Supply: 12v DC supplied by host unit
Dimensions: 36(H) x 73(W) x 138(D) mm
Weight (Net): 0.12kg
Weight (Gross): 0.16kg
Matched Transmitter: SQ-6100 IrDA,SQ-5100M IrDA,SQ-2100 IrDA,SQ-1100 IrDA
SM-7100 IrDA,SM-6100 IrDA,SM-1100 IrDA
Matched Amplifier: Victory 2000,Challenger 1000,Stage Pro,Stage Man,Focus Pro,Focus 505,Focus 500