A U T O H A R P   S T R I N G   S E T
Lenzner 400/10 replacement Auto-Harp String set  –  M A D E   I N   G E R M A N Y 
Deep in the heart of the Vogtland in Germany you will find the delightful village of Erlbach, home of Lenzner Saitenmanufaktur Reinhard Renz e.K. at Schulstraße 18. Proudly owned by the Rentz Family, Lenzner has earned a reputation for their superb quality strings and in particular Zither & Autoharp strings.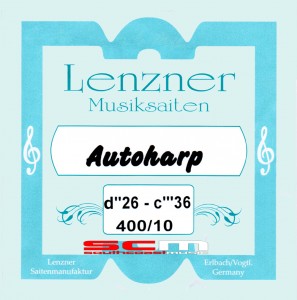 Right from the beginnings of this Internationally respected and Family owned business, Rheinhard Renz and his son, Sebastian have worked closely with Europe's most respected Instrument Builders as well as the World's outstanding Zither & Autoharp players. Consequently, Lenzner offer a range of purpose built string products designed to meet almost any requirements and wishes.
This focus has given rise to a range of strings for all Zither & Autoharp applications.
Lenzner have dedicated a great deal of time and effort to the quality of their Autoharp strings. Lenzner strings are beautifully balanced, melodious and deliver a focused and sweet tone, even in the high registers.
They have experienced experts who know what needs doing, as the quality of their products is based on detailed work. Exacting, expert workmanship, using only the highest quality materials and employing stringent quality checks guarantee the consistently celebrated quality of Lenzner Autoharp strings.
This 400/10 Autoharp string set features loop Ends.
FREE AUSTRALIA-WIDE POSTAGE AND HANDLING!