Audio Technica ATW-1101 2.4GHz DIGITAL WIRELESS BELTPACK SYSTEM
• ATW-R1100 receiver
• ATW-T1001 UniPak® transmitter
• 2.4 GHz range – completely free from TV and Telecommunications interference
• Three levels of diversity assurance: frequency, time, & space
• Automatic frequency selection
• State-of-the-Art Digital Receiver offers unprecedented performance & reliability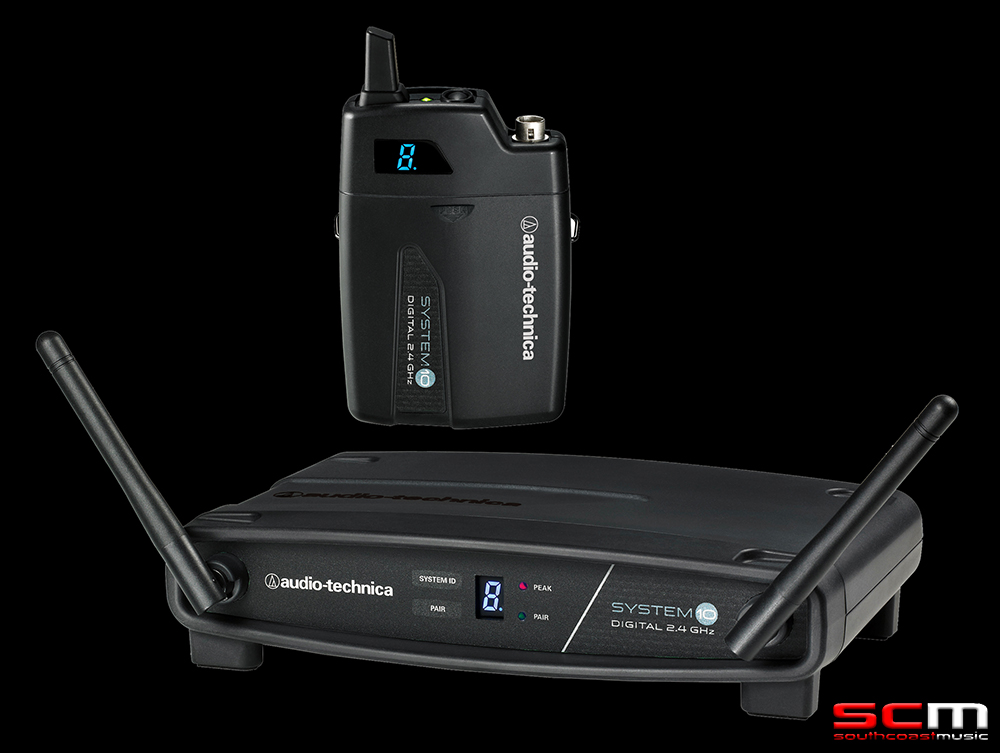 Audio Technica ATW-1101 HIGH FIDELITY DIGITAL WIRELESS MICROPHONE SYSTEM
The Audio Technica System 10 is the most reliable digital high-fidelity wireless system of its generation. Its proven design provides performing musicians and presenters with advanced 24-bit operation, easy setup and clear, natural sound quality at a previously unheard of price.
The Audio Technica ATW-1101 System 10 features stackable, contemporary styling. Each configuration includes a mono ATW-R1100 receiver as well as an ATW-T1001 body-pack transmitter. The ATW-R1100 Digital Receiver features a volume control along with AF Peak and Pair indicator lights.
• Digital 24-bit/48 kHz wireless operation for ultimate sound quality and dependable performance
• 2.4 GHz range – completely free from TV/ 3G interference
• Three levels of diversity assurance: frequency, time, & space
• Automatic frequency selection for seamless, interference-free operation
• Automatic Frequency Selection. Plug & Play. Ease of use and reliability
• Extremely easy operation with instantaneous channel selection, sync and set-up
• State-of-the-art digital receiver offers reliable performance
• Balanced XLR and unbalanced 6.3mm (1/4") output jacks with level control
2.4 GHZ DIGITAL SYSTEM, 24 BITS/48 KHZ

The System 10 continuously monitors the activity in the 2.4GHz band and automatically adjusts the best signal in case of interference with WLAN routers, Bluetooth devices or other HF microphones. The 2.4 GHz frequency band keeps you away from licensing or frequency coordination issues, including frequencies used by Digital TV and the 4G network.
AUTOMATIC FREQUENCY SELECTION
The System 10 automatically changes its frequency. Unlike other systems on the market that attach to 2 or 4 frequency, the System 10 will constantly "monitor" the frequencies and switch if necessary. Thus, there are always a good 2 frequencies in the system and the user does not need to manually intervene.
A RELIABLE SYSTEM
System 10 wireless ensures clear communications by providing three levels of diversity assurance: frequency, time, and space. Frequency Diversity sends the signal on two dynamically allocated frequencies for interference-free communication.
Time Diversity sends the signal in multiple time slots to maximise immunity to multipath interference. Finally, Space Diversity uses two antennas on each transmitter and receiver to maximise signal integrity.
OVERALL SYSTEM SPECIFICATIONS
Operating Frequencies: 2.4 GHz ISM band (2400 to 2483.5 MHz)
Dynamic Range: >109 dB (A-weighted), typical
Total Harmonic Distortion: <0.05% typical Operating Range: 30 m (100′) typical – Open range environment with no interfering signals
Operating Temperature Range: 0° C to +40° C (32° F to 104° F) – Battery performance may be reduced at very low temperatures
Frequency Response: 20 Hz to 20 kHz – Depending on microphone type
Maximum Simultaneous Use (Recommended): 200′ minimum
ATW R1100 RECEIVER SPECIFICATIONS
Receiving System: Diversity (frequency/time/space)
Maximum Output Level: XLR, balanced: 0 dBV
Maximum Output Level: 1/4″ (6.3 mm), unbalanced: +6 dBV
Power Supply: 100-240V AC (50/60 Hz) to 12V DC .5A (center positive) switched mode external power supply
Operating Temperature Range: 40° F (4° C) to 110° F (43° C)
Dimensions: 190.0 mm (7.48″) W x 46.2 mm
(1.82″) H x 128.5 mm (5.06″) D Net Weight: 290 grams (10.2 oz) Accessory Included: Power supply
ATW T1001 UniPak® BODY-PACK TRANSMITTER SPECIFICATIONS
RF Power Output: 10 mW
Input Connections: Four-pin Locking Connector Pin 1: GND, Pin 2: INSTRUMENT INPUT, Pin 3: MIC INPUT, Pin 4: DC BIAS +9V
Batteries: Two 1.5V AA (not included)
Battery Life: >7 hours (alkaline) – Depending on battery type and use pattern
Dimensions: 70.2 mm (2.76″) W x 107.0 mm (4.21″) H x 24.9 mm (0.98″) D
Net Weight: 100 grams (3.5 oz) without batteries