Audio-Technica ATH-E40 professional In-Ear Monitoring Headphones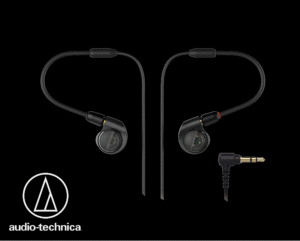 The proprietary dual phase push-pull driver design of the ATH-E40 professional in-ear monitor headphones provides improved fidelity and efficiency. These headphones deliver powerful bass along with balanced mid and high frequencies to convey the full emotion of the music from the stage to the street.
The ATH-E40 features specially designed housings that provide incredible isolation. The isolation – and the comfort – are enhanced by the four sizes of included silicone eartips (XS/S/M/L), which allow you to create a custom fit.
The headphones also come with a detachable 1.6 m (5.2′) cable, with newly developed A2DC (Audio Designed Detachable Coaxial) connectors at the headphones and a 3.5 mm (1/8″") stereo mini-plug output, and a carrying case.
Proprietary dual phase push-pull drivers excel in monitoring applications by providing exceptional accuracy and clarity
Flexible memory cable loops over ears for a custom fit and long-wearing comfort
Specially designed housings provide maximum isolation, allowing you to focus on the music
Detachable 1.6 m (5.2′) cable, with newly developed A2DC (Audio Designed Detachable Coaxial) connectors at the headphones, offers exceptional durability and optimized audio performance
Includes a carrying case, 6.3 mm (1/4″") adapter, and silicone eartips (XS/S/M/L)
Technical Specifications:
Type Dynamic
Frequency Response 20 – 20,000 Hz
Sensitivity 107 dB/mW
Impedance 12 ohms
Weight 10 g (0.3 oz), without cable
Cable Detachable 1.6 m (5.2′) with A2DC connectors
Connector 3.5 mm (1/8″") gold-plated stereo mini-plug, L-shaped
Accessories Included Carrying case, silicone eartips (XS/S/M/L), 6.3 mm (1/4″") adapter