AER THE ACOUSTIC PEOPLE
AER TE CPT-60 TOMMY EMMANUEL SIGNATURE ACOUSTIC GUITAR AMPLIFIER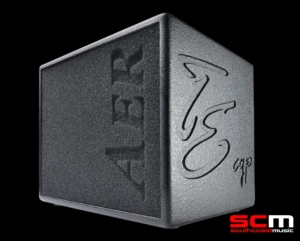 Hand-built in Germany, AER amplifiers are widely considered to be the hallmark of acoustic amplification. Since 1992, the company has used high-quality components, sophisticated circuit technology and precision craftsmanship to realise their designs into unrivaled solutions for acoustic, electric and bass instruments. Now AER and Australia's own Tommy Emmanuel have formalised their long standing relationship with the release of the new Compact TE CPT-60 Signature Acoustic Amplifier.
Tommy Emmanuel has long been an unofficial AER ambassador and one of the best-known users of the company's products.
"Our relationship with Tommy began organically several years ago. He has always played our amps 'as-is'," said AER President Udo Roesner. "No tweaks, no hidden secrets. So rather than piling on a list of additional features that Tommy himself has never relied on, we chose instead to give his amp a truly personal feel by incorporating tributes to several of his influences."
The signature amplifier is based on AER's best-selling Compact 60, the 60W model used by Tommy.
AER has worked with Tommy to produce a superb acoustic guitar amplifier and it is available right now from southcoastmusic.
This is what Tommy had to say about his new Signature AER Amplifier:
"The Artwork on my amps is from Aboriginal Artwork taken from the first One Dollar Note produced in Australia, as a tribute to the "First" Australians. It was also featured on some straps that I wore all around the world as a way of showing my connection to my home country and to let people see how music brings us all together.
The Reverbs and Delays are based on my original effects that I used all over the world, to tell the story of an Aboriginal Ceremony. My song, "Initiation" came from an experience I had as a teenager where I was confronted by a boy who was going to be initiated and whose eyes were wild with terror. An elder of the Tribe stepped in between us and the boy ran off…then the old man told me about his initiation and that he would soon have to face fear and pain, to prove his place in the community…I tried to tell all this in a song using effects to create wind, rain, thunder and animal sounds…all with the help of Delays and Reverbs.
The letters "CGP" after my name were awarded to me by my idol, my hero, Chet Atkins. It means "Certified Guitar Player" and John Knowles, Steve Wariner and myself are the last three. It's an honour and also a responsibility too. I spend my life handing on music and sharing all I learn with people all over the world and try hard to always honour the players who came before us and set an example to the younger folk to follow.
I love my new Signature AER Amp…coupled with my Maton Custom Shop uitars, this is the sweetest sound I ever got from an amp. It's warm tones and true high frequencies are music to my ears! Also, the new Reverbs and Delays are luscious and clean, never too much.
Thank you AER! TE cgp Tommy Emmanuel"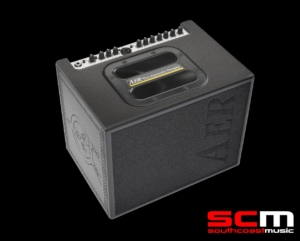 TASTEFUL VISUAL ENHANCEMENTS
The decorative differences are subtle and tasteful. Tommy's "TE" initials are carved into one side of the cabinet as well as "CGP" — a tribute to Tommy's mentor Chet Atkins, who bestowed upon Tommy the honorable designation of Certified Guitar Player (C.G.P.). Tommy was one of only five guitarists ever to receive the distinction from Chet.
The other side of the amp has an engraved aboriginal symbol, symbolising Tommy's deep love for Australia and its people, and in particular his connection to Aboriginal Australians. The Gig Bag strap features signature embroidery.
There are two signifiant hardware/software modifications and make paying the additional over the standard Compact 60 a no-brainer.
POST-SEND DI OUT
Tommy requested that he be able to send his fully finished sound directly to the mixing desk – so the first change is to the DI out, switching it from a pre- to a post-send. The original Compact 60 is only able to send the signal without the EQ and effects engaged (pre-send). This change makes a lot of sense and is good news for any guitar player who wants to know that the audience will hear exactly the sound they have worked so hard to find.
ALESIS MIDIVERB II DIGITAL EFFECTS

Standard Compact 60s have four built-in effects, including a delay. The Signature Edition replaces the standard delay with a delay designed to replicate setting 99 (reverb combined with chorus) from an old workhorse Alesis MidiVerb II. This gives the sound extra width and depth. You can dial in as much or as little as you need and even turned up to relatively high levels, the effect is remarkably transparent.
Plugging a Maton equipped with an AP5 pickup into the newly designed amplifier, and you can instantly hear the second modification making the sound come alive. This magical MidiVerb II "setting 99" adds a fullness and depth which, not coincidentally, is most evident while fingerpicking.
AER's philosophy is to create great live stage sound for acoustic musicians and this collaboration with Tommy Emmanuel makes perfect sense. Professional musicians have long used modified equipment to create sounds unavailable to other players. Thanks to Tommy Emmanuel and AER, any acoustic guitarist can play the same equipment as today's Certified Guitar Player and we're sure just that's how original CGP Chet Atkins would have wanted it.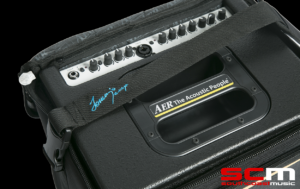 AER Compact TE CPT-60 SIGNATURE ACOUSTIC GUITAR AMPLIFIER
o 60 watts @ 4 ohms, Dynamic Control
o 1 x 8″ (200 mm) Dual Cone Speaker
o Digital Effect Processor with Four Presets:
– Room Reverb
– Hall Reverb
– Alesis MidiVerb II Reverb/Delay
– Chorus
o Two Independant Channels
o Channel One: High Impedance, Unbalanced input for Instruments (pick-ups) and Line-Level sources:
– Mono jack socket, 6.35 mm (¼")
– High/low (attenuator) switch: –10 dB
– Short-circuit protected
o Channel One Tone Controls: Colour, Bass, Middle, Treble
o Channel Two: Switchable Instrument or Microphone Input
o Combo Socket: Combination XLR + 6.35mm (¼") Phono Jack
o Channel Two Line Mode: High Impedance, Unbalanced Input for Instruments (pick-ups) and Line-Level sources:
– Jack Socket Sensitivity: 27 mV (–31 dBV)
– Jack Socket Impedance: 1 Meg
o Channel Two Mic Mode: XLR (Balanced), Stereo TRS Jack (Balanced), or Mono TS Jack (Unbalanced) Input
o XLR Input Sensitivity: 3.3 mV (–50 dBV)
o XLR Input Impedance (balanced mode): 1.2 k
o XLR Input Impedance (unbalanced mode): 2.7 k
o XLR Input Voice filter: –10 dB at 270 Hz (referred to 10 kHz)
o Phantom Power (XLR only): 48 V, max. 10 mA
o Short-Circuit Protected
o Headphones Out
o Line Out
o DI Out (Incorporates Onboard FX Unlike Standard Compact 60)
o External FX Loop (Send and Return)
o Aboriginal Art on Side of Cabinet and "TE" & "CGP" Carved Into Other Side of Cabinet
o Aboriginal snake art carved in one side, with TE initials and CGP designation carved in the other
o Padded Carry Bag with Signature Strap