LANEY LA10
acoustic instrument amplifier



The new LANEY LA10 is a highly versatile and compact amplifier designed specifically for acoustic instruments and line level devices such as iPods, smart phones and MP3 players etc. If guitar isn't your thing, you can use the 6.3mm Phono input to plug in a microphone instead.
Designed and engineered in Great Britain, LANEY LA series acoustic amplifiers are built to deliver natural sound reproduction for acoustic instruments.
The pre-amplifier, power stage and speaker components are all carefully developed and tested to deliver quality tone, functionality and portability.

SIMPLE TO USE
The LA10 is a simple-to-use and compact amplifier combo designed specifically for acoustic instruments such as electro-acoustic guitars and delivers pure acoustic tone with ease.
TONE SHAPING
The LA10's instrument channel features a bass and treble control for tone shaping. Using this two band EQ plus the 'Shape' switch provides a great sounding "go to" setting from a single button press.
PRIVATE PRACTICE
The 3.5mm mini-jack AUX input allows for connection of a playback device such as MP3/iPOD/CD for jamming along to songs or backing tracks. A headphone socket is provided for doing so quietly –a great feature for private practice or late night sessions.
COMPACT POWER
The LANEY LA10 delivers 10W RMS power via its custom-designed 5" Speaker making it very loud for its small size.

LANEY LA10 SPECIFICATIONS
o Cabinet Design: semi-open back
o Main Input: 6.3mm (1/4″) Phono Jack socket
o AUX Input: Yes CD/MP3 3.5mm TRS Mini Jack socket
o Channels: Single channel with SHAPE Switch
o Speaker: 1 x 5″ Custom Design Speaker
o Output Power: 10 Watts RMS
o Equalisation: 2 band EQ – Bass/Treble
o Headphone Socket: Yes – 3.5mm TRS Mini Jack socket
o Unit Dimensions: H24.5 x W21.6 x D14.6
o Unit Weight: 2.6Kg
o Packed Dimensions: H24.5 x W21.6 x D14.6cm
o Packed Weight: 3.2Kg
THREE YEAR WARRANTY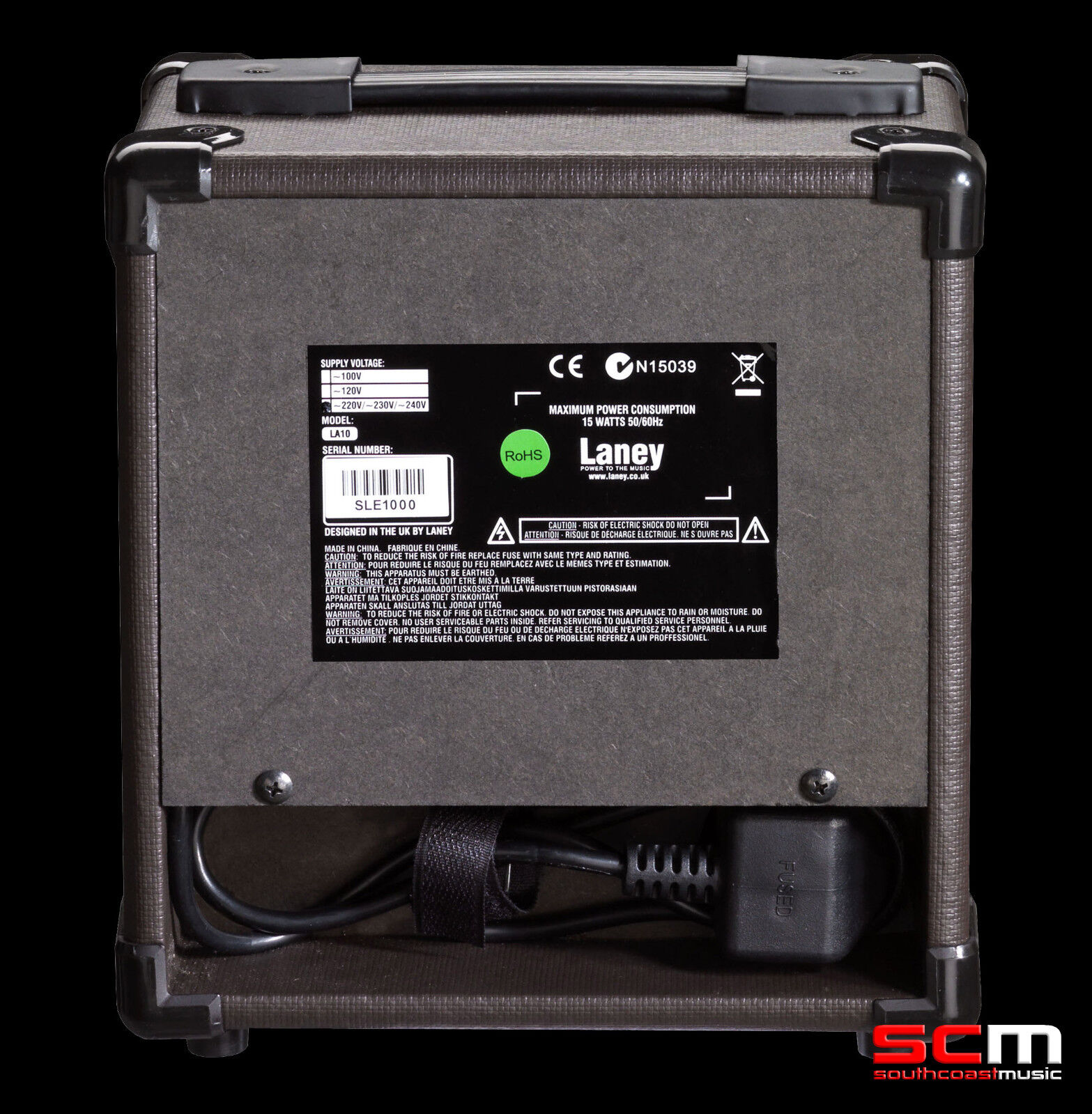 A brief History of Laney Amplification

Long known as that "other British Amp", the Laney Amplification story began in the autumn of 1967 during the golden era of British Rock and Roll.  Lyndon Laney who was playing bass in a number of Midlands based bands at the time combined his interest in music and electronics and began making boutique amplifiers for fellow band members and friends such as Tony Iommi and Robert Plant.
Fast foward more than forty years and Laney Amplifiers have grown into a multi-national amplifier manufacturer with a range of products covering all musical styles and a long list of user's and endorsees containing some of the most influential and respected players on the planet.
Led Zeppelin, Black Sabbath, Paul Gilbert, Steve Vai, Frank Gambale, Jon 5, Ace Frehley, Andy Timmons, Mattias "IA" Eklundh, Christophe Godin, Kiko Loureiro, Mikael Akerfeldt and many more have used Laney Amplification as part of their sound.
Steeped in Rock Heritage, Laney Amplification takes extreme pride in building exceptional amplifiers for the continually evolving demands of today's musicians.
southcoastmusic is proud to be a LANEY reseller…so let's make some noise!
FREE AUSTRALIA-WIDE SHIPPING INCLUDED!