Zoom brought unrivaled HD audio to your movies with the Q3 Handy Video Recorder. Now, with the Q3HD, there's only one handheld camcorder that does it all in 1080p. The Q3HD Handy Video Recorder takes Zoom's renowned audio technology and combines it with HD video, allowing you to capture every moment with stunning clarity and resolution.
Shoot HD video in
brilliant stereo.     Use HandyShare to edit
movies on your computer.     Publish to your favorite
websites or watch on HDTV.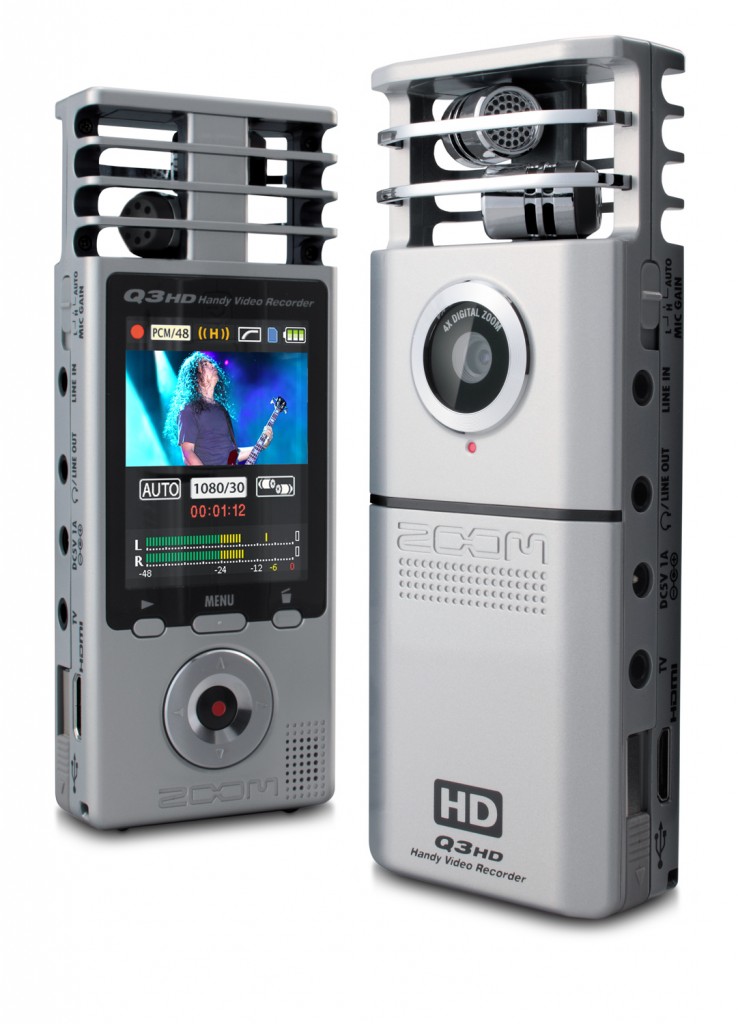 With two studio-quality condenser microphones configured in a wide 120 X/Y pattern, your Q3HD can capture even the loudest live concerts in HD with incredibly clear audio. Time lags generated by differences in distances from sound sources are eliminated by aligning the left and right recording positions on the same axis. In addition to left-right stereo width, a sense of depth from front to back is also captured faithfully, allowing your recordings to sound three-dimensional.
Your HD Videos are recorded in MPEG-4 AVC/H.264 format, which can be played on a computer using QuickTime player. The Q3HD can record video in full HD at 1920 x 1080 pixel resolution, allowing you to enjoy your finely-detailed audio and video on your large HDTV. You can also select 720p HD for longer recordings, as well as SD formats when smaller file sizes are needed.
A USB cable is conveniently built into the unit, allowing the Q3HD to be connected directly to a Mac or PC. The USB 2.0 Hi-Speed standard allows even large video files to be transferred smoothly and quickly.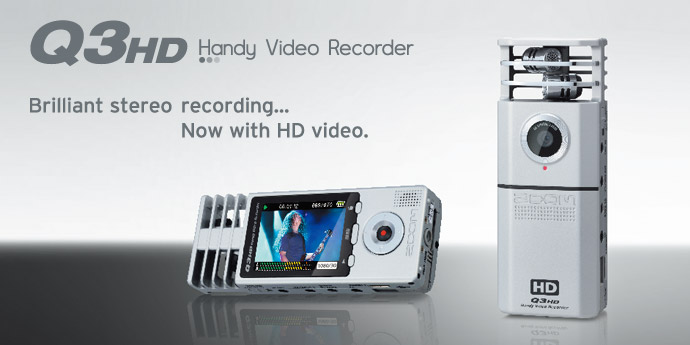 The Q3HD's bundled HandyShare editing and uploading software lets you to manage and edit your videos easily as well as upload them to social networking sites. From live musical performances, rehearsals and recitals to journalism, education and sports, you can easily share your movies with everyone on your favorite websites like YouTube or Vimeo. Moreover, effect functions in the software allow you to bring the sound of video recordings up to the level of a finished product. Normalize a recording for a consistent volume level, add reverb to give rich reflections to the sounds of instruments and voices and use a mastering effect to enhance the impact of a performance with compression. Just select a preset. It's easy enough for anyone to use.
Edit a video down to the important scene
Upload easily to YouTube
24-bit/96kHz linear PCM sound
The rich stereo sound captured by the X/Y mic pair can be recorded to linear PCM WAV files. When taking full high-definition 1080p video, high-quality sound with resolution of up to 24-bit/96 kHz can also be recorded. In addition to being able to switch between "Low" and "High" gain levels, the "Auto" setting allows for automatic level adjustments. The versatile controls on your Q3HD mean your videos have amazing clarity no matter the application.
Start recording with a single button
After turning the power on, the Q3HD is ready to shoot in 2 seconds. Just press the REC button to start recording. With a compact form that can easily be carried in a pocket, you will be able to shoot full HD video and professional-quality audio with ease.
Enjoy HD video on your HDTV
The Q3HD has a mini HDMI connector that allows the digital output of your videos. Connect the Q3HD to an HDTV by using an HDMI cable (sold separately) and enjoy your movies with your family and friends. And the Q3HD's audio will sound incredible on your home theater's audio system.
Lighting selection function
The Q3HD has a lighting selection function that allows you to record using the best setting for any given lighting condition. The modes that can be used include "Auto," which automatically adjusts brightness and color, "Concert Lighting," which suppresses oversaturation from strong lighting and "Night," which is ideal for filming in dark situations.
4x digital zoom
The 4x digital zoom allows you to shoot both distant landscapes and close-ups of people. You can capture your main subject even when it's far away.
Low-cut filter function
The unit's low-cut filter reduces unwanted background noise by cutting the low-frequency range. Attach a windscreen (sold separately), to reduce wind noise so you can get clear audio even when filming outside.
Edit video easily right on the scene
Trim your movies internally with the Q3HD, as the unit allows you to cut footage and better feature the important scenes without a computer. By erasing unnecessary data from the SD card, you will increase your remaining recording time.
Take your videos along on an iPod, iPhone or iPad
Q3HD video files can be transferred through iTunes to iPads, iPhones and iPods to playback your video. Carry around your favorite videos and watch them whenever you like.
*You must convert your video using the "Create iPod or iPhone version" command in iTunes.
It's also an audio recorder
The Q3HD can also be used as an audio recorder to record just sound. In addition to being able to record 24-bit/96 kHz PCM files that far exceed CD-quality, the unit can also record AAC (m4a format) files that have smaller sizes. The Q3HD also features an internal reference speaker so you can check recordings without earphones.
2.4-inch LCD screen makes video easy to watch and the unit easy to use
With the Q3HD's 2.4-inch LCD screen, you can monitor important information while recording, including sound input level, remaining recording time and battery level. The screen can also be used to show video file thumbnails or to display the menu screen with graphic icons representing the unit's functions. Turn the Q3HD on its side and press play to watch your videos in "widescreen" 16:9 format.
Menu screen with graphic icons
Audio input jack
The Q3HD's audio input jack allows for external recording devices to capture video and stereo recordings to the unit. Combined with a mixer, you can use this recorder to capture sound through multiple microphones for sophisticated recordings.
Compatible with SDHC cards of 32GB high-capacity
The Q3HD utilizes SD/SDHC as an affordable way to increase recording capacity. The included 2GB SD card can record about 30 minutes of full HD video, while a 32GB SD card allows for about 7 hours of full HD video recording time.*
*If recorded with AAC (192 kbps) audio quality.
Runs on readily-available AA batteries
The Q3HD is powered by two standard AA batteries, resulting in about 2 hours of continuous recording. The unit is also compatible with NiMH batteries, which can be recharged using a commercially-available charger.
APQ-3HD accessory set available (sold separately)
A package of six accessories, specifically designed for the Q3HD, will be sold separately to further enhance your moviemaking. The package includes an HDMI cable for connecting with an HDTV, a windscreen to reduce noise, a tabletop tripod with adjustable-length legs, a padded-shell case, an AC adapter and an AV cable.