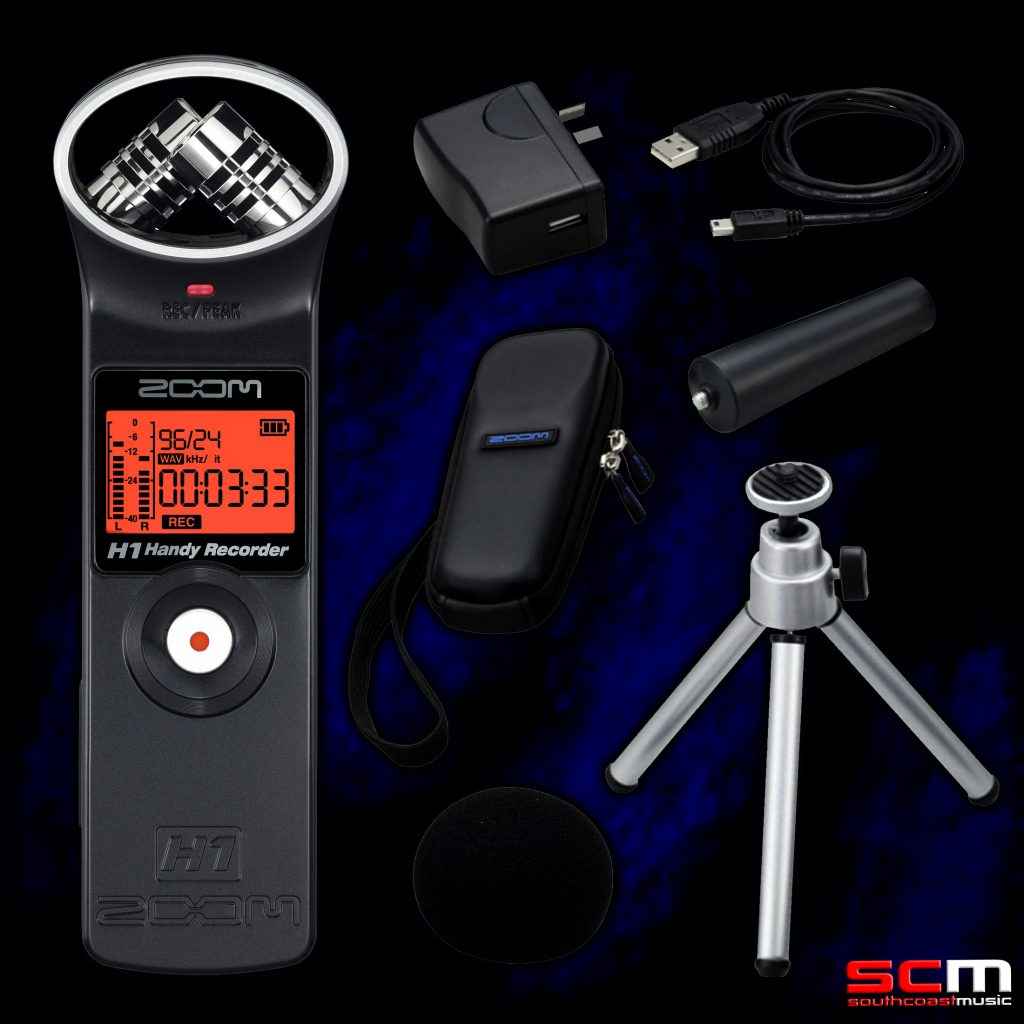 ZOOM H1 HANDY RECORDER
D I G I T A L   A U D I O   R E C O R D E R   V 2
complete with ZOOM H1 ACCESSORY PACK!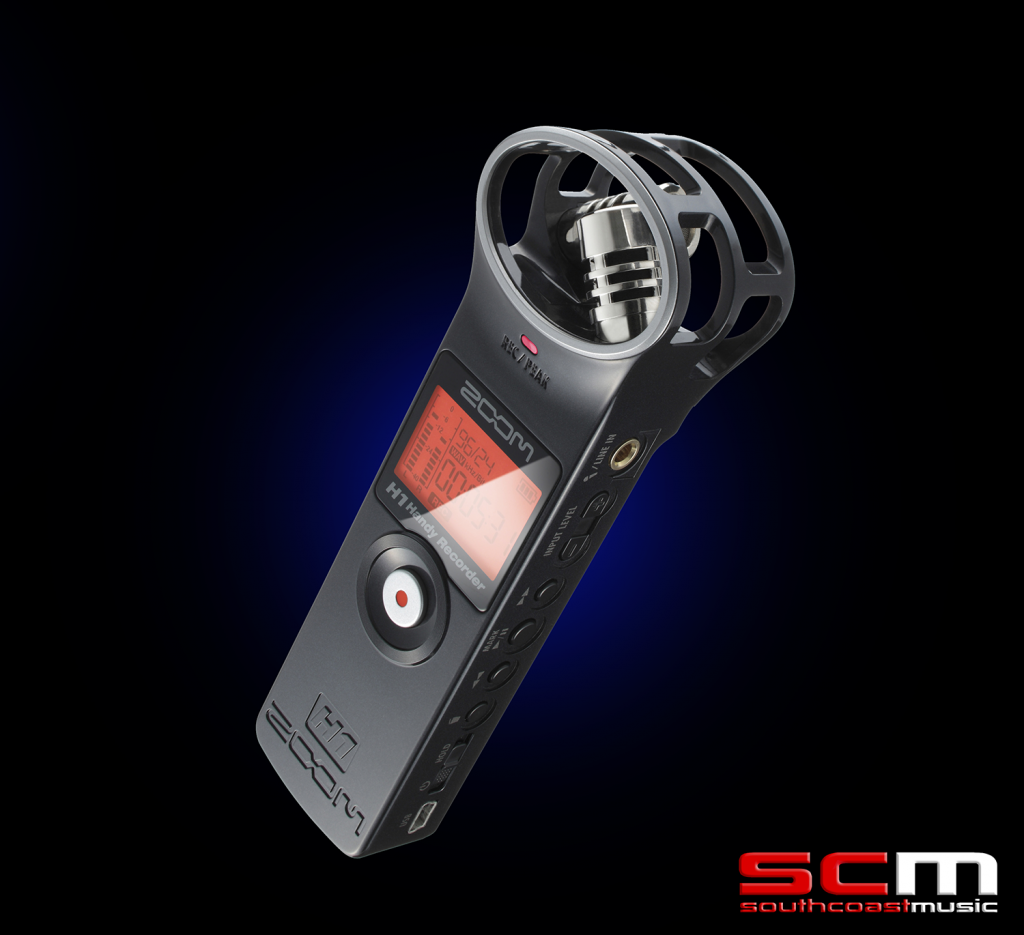 NOW EVERYONE CAN MAKE BROADCAST QUALITY RECORDINGS AT HOME!
The Zoom H1 Handy Recorder makes recording your own music as easy as pie! An intuitive and ergonomic layout, built in stereo microphones and Steinberg recording software should you wish to use your computer as a multi-track recorder and editor all add up to the best value recording pack around!
STEREO MICROPHONES
Like all Zoom recorders, the H1's on-board microphones are configured in an X/Y pattern for stunning stereo imaging. Because both mics are arranged on the same axis, they are equidistant from the sound source for perfect localization and no phase shifting. The result is great stereo recordings with natural depth and accurate imaging.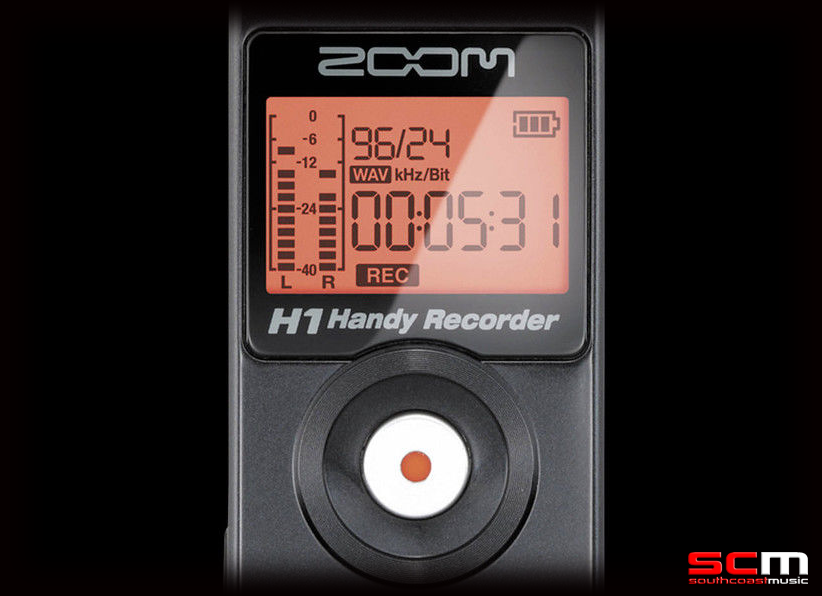 DIRECTIONAL MICROPHONES THAT ONLY FOCUS ON THE SOUND YOU WANT
The Zoom H1 has built-in directional microphones that focus on the sound being recorded. Unlike omnidirectional microphones, which pick up sound all around indiscriminately, the H1 mics ignore the unwanted noise behind them.
SET RECORDING LEVELS MANUALLY OR AUTOMATICALLY
The high-quality built-in preamp can be set to a recording level from 1 and 100. Set the recording level based on your specific needs. You can record anything from subtle nature sounds to a thunderous rock band. You can also achieve clear, undistorted recordings by enabling the AUTO LEVEL function.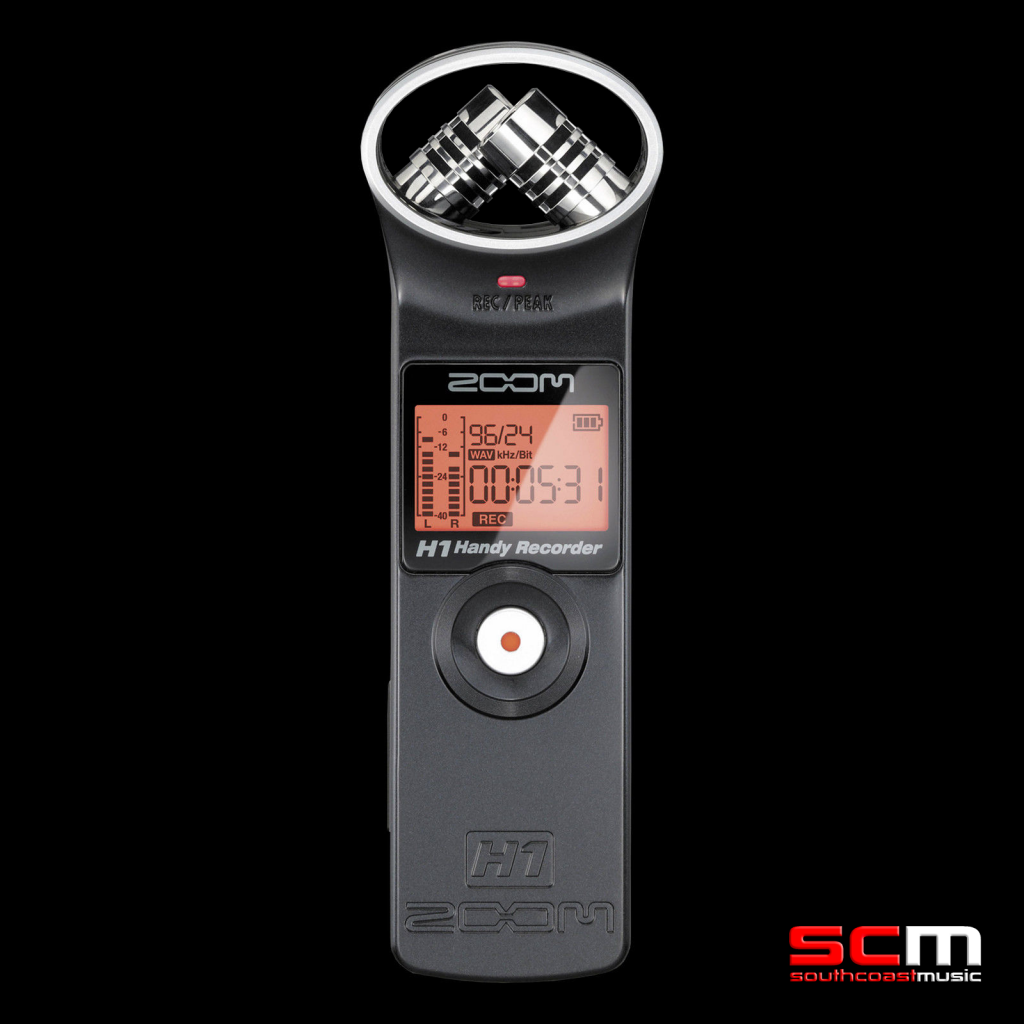 REDUCE NOISE WITH THE BUILT-IN LOW CUT FILTER
Use the on-board low-cut filter to reduce unwanted background noise and focus the recording. This is ideal for interviews and recording outdoors. Use the optional windscreen to further reduce noise.
INPUT FOR EXTERNAL MICROPHONES AND LINE LEVEL SOURCES
The H1s stereo microphone input jack can provide plug-in power, allowing you to utilise additional mics as needed for your specific application and situation. Moreover, this jack accepts stereo line-level inputs to be used in capturing audio from cassette decks, record players and other analog sources.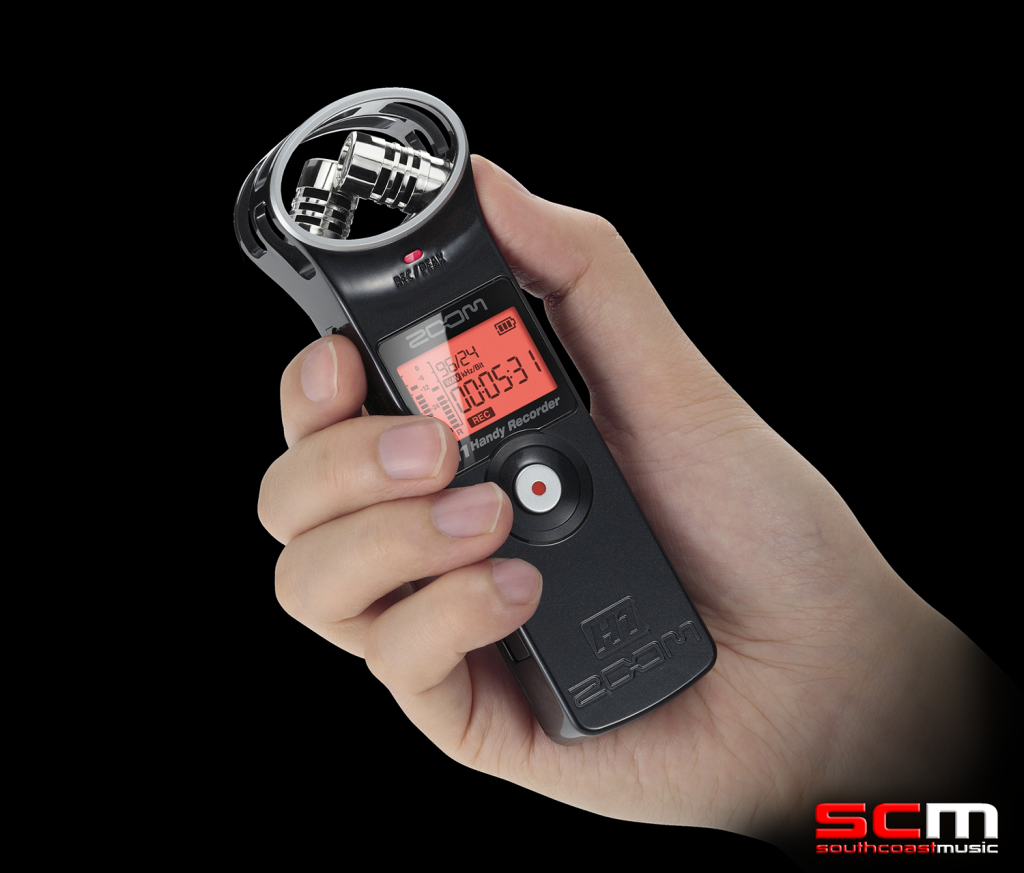 BROADCAST WAVE FORMAT (BWF) ALLOWS TIME STAMPING & TRACK MARKERS TO BE ADDED
Because it records in Broadcast Wave Format BWF, the H1 is ideal for journalists and other media professionals. Each recording is stamped with the date and time of its creation and up to 99 track markers or cue points can be added. These functions make managing and editing recordings a breeze.
BUILT-IN REFERENCE SPEAKER AND BACKLIT  LCD DISPLAY
Use the built-in reference speaker to check the results of your recordings right away without the need for headphones. This reference speaker makes selecting a recorded file easy. Its backlit liquid crystal display allows you to check recording levels and other functions, including recording time, battery level and other information.
HI SPEED USB 2.0 FOR FAST FILE AND DATA TRANSFER
Since it meets Hi-Speed USB 2.0 specifications, the H1 can quickly transfer files to any Mac or PC computer. Once your recordings have been transferred on to your computer, you can edit them in DAW software, create original CDs, post them on your social media sites and send files by e-mail.
EASY OPERATION MEANS YOU NEED NEVER MISS A MOMENT!
The H1 has dedicated control buttons for setting the recording format, activating the low-cut filter and implementing automatic level adjustment. The menu-free, streamlined design of the H1 makes it easy to use right from the start…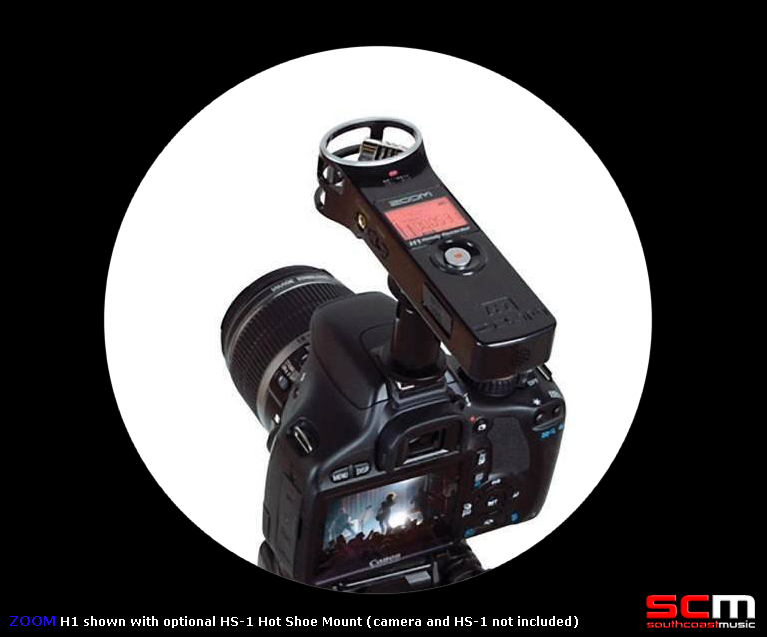 CAN BE ATTACHED TO A VIDEO CAMERA FOR HQ AUDIO
The compact, lightweight H1 is perfect for use on a video or DSLR camera. The remarkable depth and clarity of sound achieved by the stereo X/Y mic design brings additional realism and depth to HD video. By combining the H1 with a DSLR video camera, you can create a professional video system with high-quality sound.
APPROXIMATELY TEN HOURS OPERATION ON ONE AA BATTERY!
10 hours of continuous recording can be attained with a single AA alkaline battery. With the optional AC adapter, you can record for prolonged periods of time without worrying about the battery level. The H1 can also operate on USB bus power when the card reader function is activated.
STUDIO QUALITY RECORDING FROM A POCKET SIZED RECORDER
Now Zoom recording technology is available to everyone. And with an infinite variety of applications, you'll want to take your H1 everywhere. From musical performances, songwriting sessions and rehearsals to seminars, conferences, journalism or capturing audio for video applications, the H1 gives you clean, clear stereo sound effortlessly.
SPECIALLY DESIGNED ACCESSORY PACKAGE INCLUDED WITH THIS OFFER
The APH-1 package, which is normally sold separately, is included in this offer and features six additional accessories for the H1. The package includes a windscreen, a mic stand clip adapter, an adjustable desktop tripod, a soft case, an AC adapter USB type and a USB cable.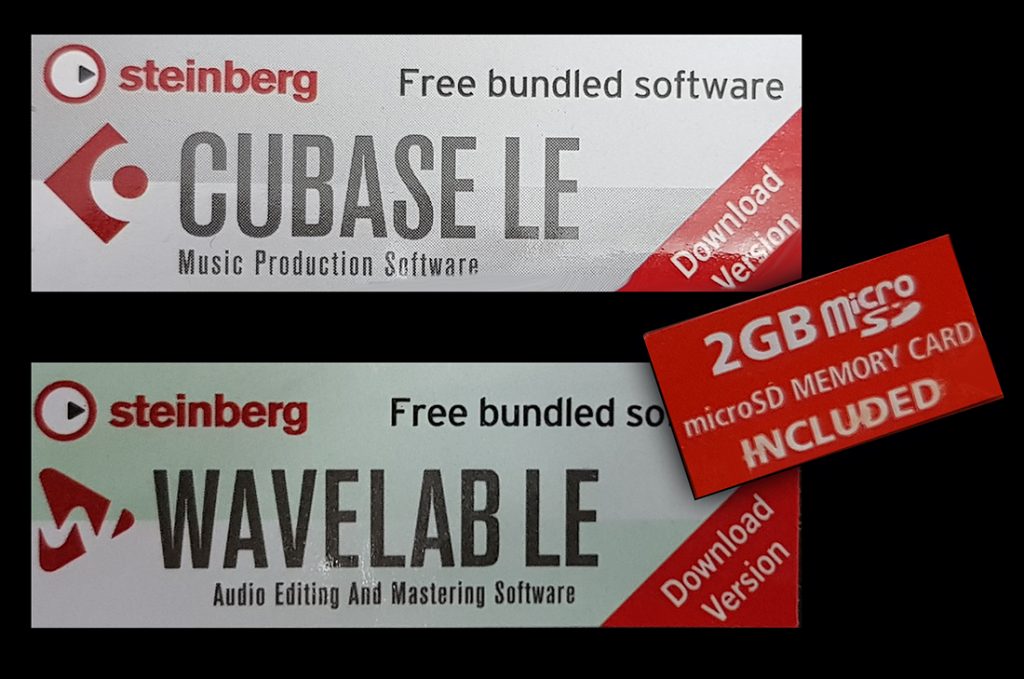 VERSION 2.0 EXCLUSIVE FEATURE – USB MICS FOR COMPUTER RECORDING AND PODCASTS
The H1 also functions as a USB audio interface, letting you record directly to either a Mac or PC. Use your favorite recording software or the bundled WaveLab LE from Steinberg, so you can start to produce and edit your recording right out of the box.