ZOOM F8 MULTI-TRACK FIELD RECORDER
Advances in video have made Film Making accessible to creators everywhere. The accessibility of professional audio devices however, has not kept pace and Field Recorders, with essential features such as time code, have been unobtainable and out of reach for most…until now.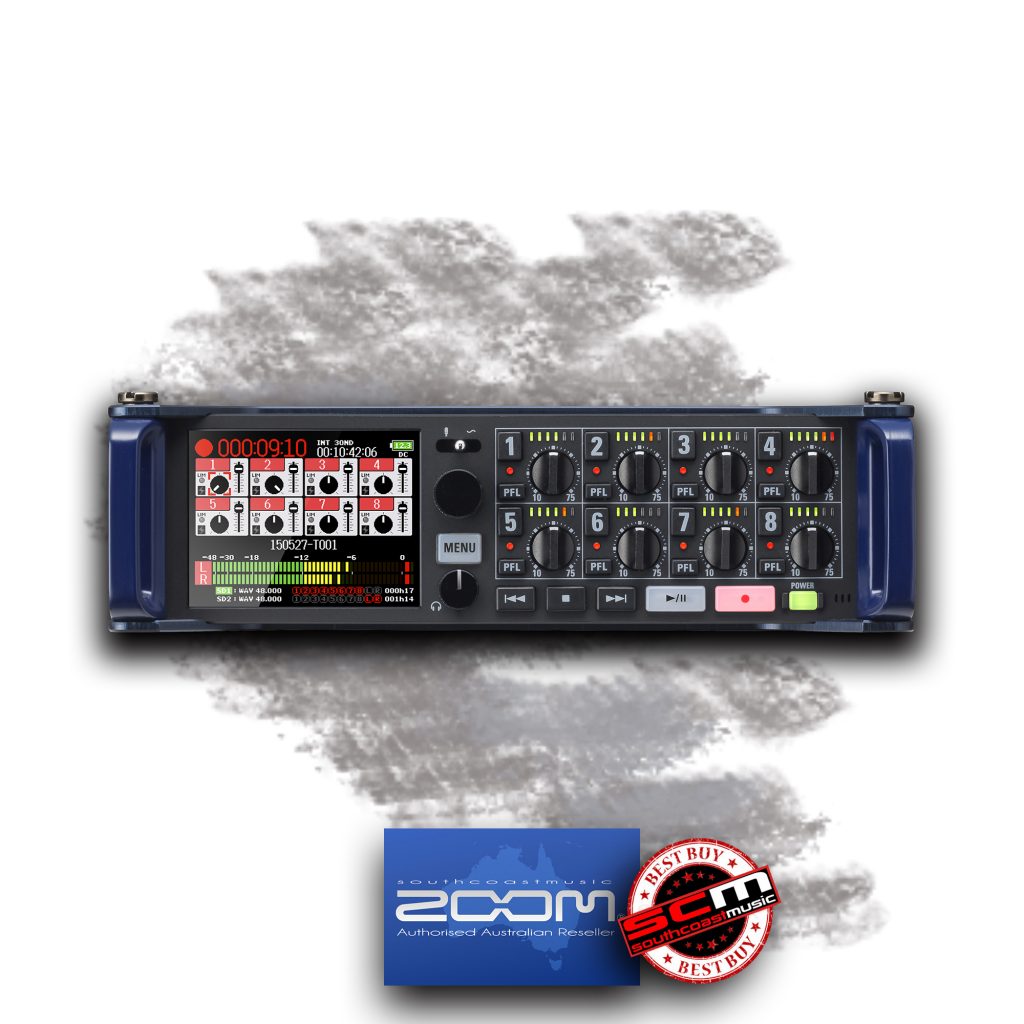 The F8 is a firm favourite with serious filmmakers and sound designers. With 8-input/10-track recording, super low-noise preamps, and support for 24-bit/192 kHz audio, the F8 captures the highest-quality audio.
8 x XLR/TRS Combo Jacks with +75 dB Gain
Up to 192 kHz/ 24-Bit PCM Recording
Record Up to 10 Tracks Simultaneously
Dual Channel Recordings at Two Levels
Works with Zoom Microphone Capsules
2 x SDXC Card Slots
Built-In Slate Microphone
8 x AA Batteries, AC, External DC Adaptor
Supports SMPTE Timecode I/O
+24V/+48V Phantom Power
The Zoom F8 Multi-Track Field Recorder has been designed for professional and enthusiast recording applications on set and in the field. The Zoom F8 is an exceptional Audio Recording Device for any application including music, film making as well as electronics news gathering (ENG).
Featuring eight analog input channels with lockable XLR/TRS combo jacks that provide +75 dB maximum input gain and support for +4 dB inputs with an EIN of -127 dBu or less, the Zoom F8 can record up to 10 tracks simultaneously (channels 1-8 plus a stereo mix), or up to eight channels when recording at the A/D converter's maximum 24-bit 192 kHz resolution.
The Zoom F8 is remarkably compact despite its powerful capabilities and may be carried by a shoulder strap or in an (optional) Zoom PCF-8 field bag.
ZOOM F8 In The Box:
Zoom F8 Multi-Track Field Recorder
Camera Mount Adapter
Zoom AD-19 12V AC adapter
2 x TA3 to XLR Cable
Cubase LE and WaveLab LE Download Codes
Exclusive Two Year Warranty
The Zoom F8 is also able to perform dual-channel recording of separate files at lower volume levels to ensure you have backup recordings to use when unexpected loud noises distort the primary recording and a newly designed limiter provides up to 10 dB of headroom. The Zoom F8 also supports SMPTE time code input and output.
Included in the outputs is a powerful 100 mW + 100 mW headphone jack, as well as the MAIN OUT 1/2 and SUB OUT 1/2 jacks so you can send the audio signal to a video camera or other device while monitoring with headphones.
The Zoom F8's internal mixing capability enables flexible routing and the inclusion of individually selectable +24V/+48V phantom power ensures you can use your favorite condenser microphones for specific jobs. Another innovative feature of the Zoom F8 recorder is support for Zoom's high quality interchangeable microphone capsules.
Two SDXC card slots can be used simultaneously for recording even longer sessions and can also be used as card readers when connected to a computer via USB. When operating via USB, the unit can be used in a 2-in/2-out configuration as well as an 8-in/4-out audio interface (driver required for windows). A built-in slate mic allows you to make voice memos and the unit's slate tone can be used to confirm specific levels.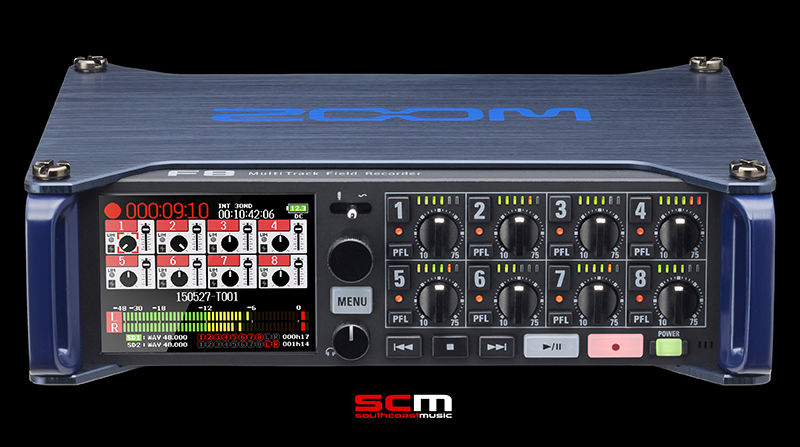 ZOOM F8 FIELD RECORDER – SNAPSHOT
Analog Inputs – Provides two sets of lockable XLR/TRS combo jacks with EIN of -127 dBu or less, +75 dB maximum input gain and support for +4 dB input
Audio Resolution – Records up to 192 kHz at 24-bit resolution
Simultaneous Recording – Records up to 10 tracks simultaneously with channels 1-8 and a stereo mix (left and right).
High Definition Eight Track Recording – Up to eight tracks can be recorded at a sampling rate of 192 kHz
Dual-Channel Recording of Separate Files at Lower Levels – Records backup recordings at a lower input level to help prevent unexpected loud noises from distorting the recording
Limiter – Provides 10 dB of headroom with a threshold that can be set by the user
Supports SMPTE Timecode I/O – Uses a high-precision oscillator that enables the generation of accurate time code with a discrepancy of less than 0.2 frames per 24 hours
Outputs – Allows you to send the audio signal to a video camera or other device while simultaneously monitoring
Mixer Functionality – Allows for inputs 1-8 to be routed to outputs freely
Phantom Power – Supports +24V and +48V phantom power
Three Possible Power Supplies – Can operate on AA batteries, an AC adapter, or a 9 to 16 V external DC power supply (not included) with automatic switching between power supplies
Two SDXC Card Slots – Allows for SD card recording, and the use of SDXC cards enables extended recording capability. The Zoom F8 can also be used as a card reader by connecting it to a computer via USB
USB Audio Interface Capabilities with up to 8 Ins and 4 Outs – Allows the F8 to be used as a 2-in/2-out audio interface as well as an 8-in/4-out audio interface (driver required for Windows, not required for Mac)
Built-In Microphone – Works as both a slate mic as well as a tool for voice memos
Zoom Mic Capsule Compatibility – Supports Zoom's interchangeable mic capsules that can be used instead of inputs 1/2
ZOOM F8 DIMENSIONS
Dimensions: W178.2 x D139.8 x H54.8 mm (7.02 x 5.50 x 2.16″)
Weight: 0.95 kg (2.1 lb)
ZOOM F8 INCLUDED ACCESSORIES
Camera mount adapter
Zoom AD-19 12V AC Adapter
Operation manual
TA3 to XLR cable x2
Cubase LE and WaveLab LE download codes
ZOOM F8 OPTIONAL ACCESSORIES
FRC-8 F-Control Mixing Surface

PCF-8 field bag for F8 MultiTrack Field Recorder
BCF-8 battery case for F8 MultiTrack Field Recorder
ECM-3 mic capsule extender cable
ECM-6 mic capsule extender cable
XYH-5 X/Y mic capsule
XYH-6 X/Y mic capsule
MSH-6 mid-side mic capsule
SGH-6 shotgun mic capsule
SSH-6 stereo Shotgun mic capsule
EXH-6 dual XLR/TRS input capsule