ZOOM
ZOOM ARQ Aero RhythmTrak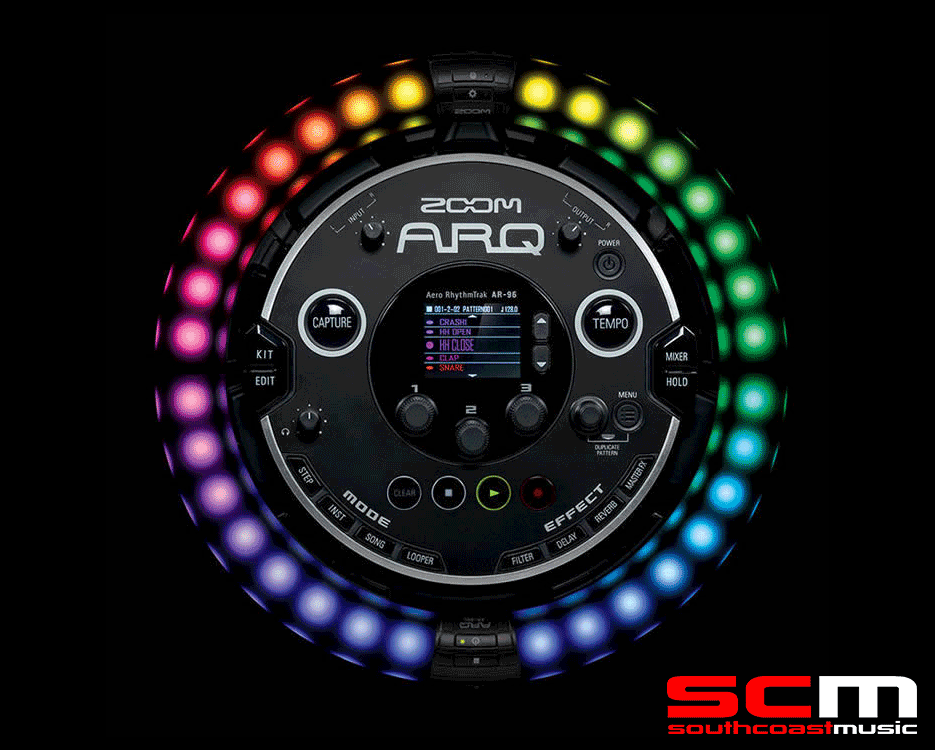 ELECTRONIC MUSIC PRODUCTION AND LIVE PERFORMANCE INSTRUMENT
Music is a voyage of discovery. One that now goes much further with the creation of the ZOOM ARQ Aero RhythmTrak.
The ZOOM ARQ Aero RhythmTrak is an all-in-one production and live performance instrument which includes an integrated drum machine, sequencer, synthesizer, looper, and MIDI controller with a built-in accelerometer.
Even more, ARQ is freedom. With its wireless Bluetooth® Ring Controller, you can escape the booth, move the music, and get in front of the crowd.
o Base Station with 538 Sounds and 400 Presets
o Drum Machine, Sequencer, Synthesizer
o Looper, Clip Launcher, MIDI Controller
o Wireless Bluetooth Ring Controller
o 96 Velocity and Pressure Sensitive Pads
o Three Axis Accelerometer
o USB Port and SD Card Slot
o On Board Mixer
o Smart-Grip Detection Circuitry
o Includes 240VAC Power Supply
o Two Year Warranty
o Ableton Live 9 Lite software download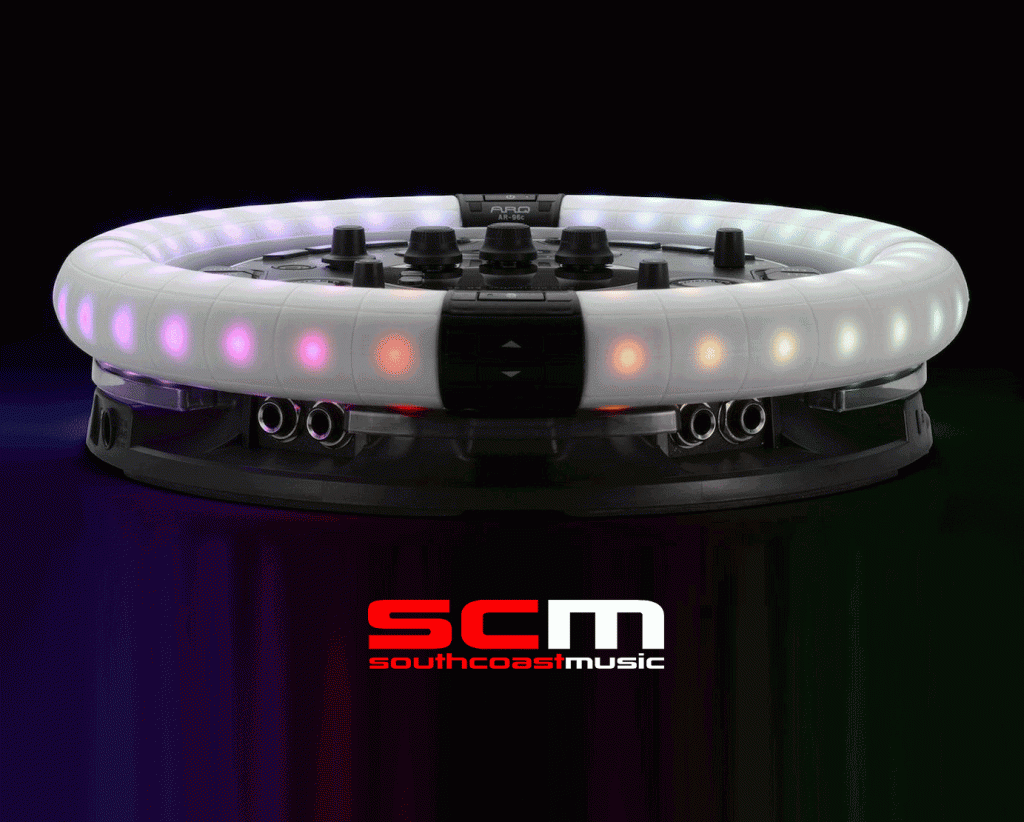 You have never experienced anything like this before! The ARQ Aero Rhythm Trak from Zoom is an all-in-one production and live performance instrument with an integrated drum machine, sequencer, synthesizer, looper, clip launcher and MIDI controller.
ARQ is a powerful and diverse standalone musical instrument. The AR-96 Base Station contains 468 Percussion/Drum and Instrument sounds, dozens of digital effects and a powerful sound engine that includes 70 "one-shot" sampled waveform sounds along with a powerful synthesizer that gives you the ability to create never heard before sounds. 531 different types of oscillator are on hand providing unbridled sonic variety.
Choose from a myriad of digital effects including filtering, delay and reverb then along with sound shaping envelope generators you are only limited by the depth of your courage and imagination.
You are also able to create completely original loops from onboard sounds or patterns and even by capturing external audio via dual 6.3mm (1/4″) inputs. Up to 32 loops may be played back simultaneously, forward or reversed, sliced, pitch-changed and synchronised to your chosen tempo.
The Zoom ARQ consists of two powerful components, the AR-96 Base Station and the detachable AR-96C Ring Controller.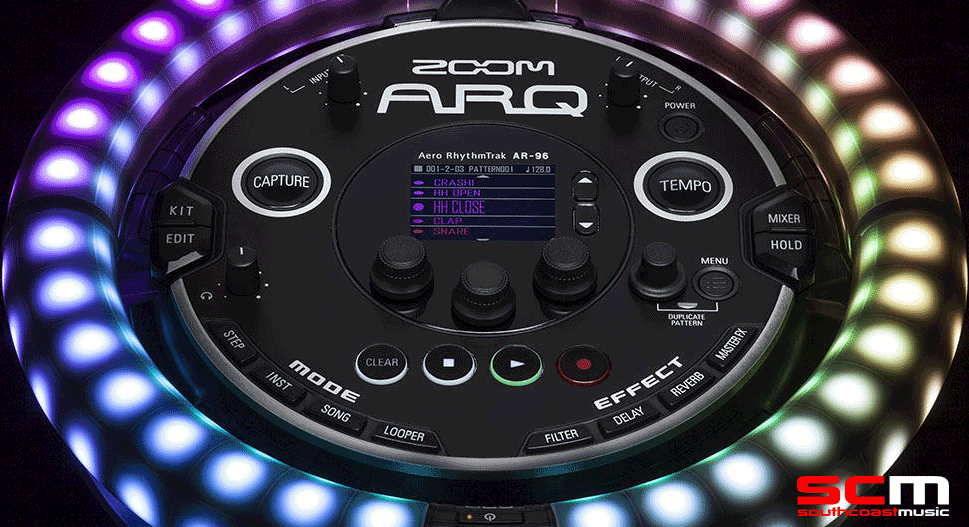 The Base Station houses all the inputs, outputs, on-board sounds and effects including 468 drum/instrument sounds, 70 types of synthesizer sounds and dozens of digital effects. Connections include dual line-level 6.3mm (1/4″) TRS jacks for sampling phrases into the looper and stereo 6.3m (1/4") jacks for connecting to any line-level mixer, PA or studio monitoring system. Also included is a stereo 6.3mm (1/4") headphone jack with a dedicated volume control.
Additionally, a USB port allows for connections to a computer, while the SD card slot lets you save patterns and loops, import prerecorded audio and update firmware…I want one!
ZOOM ARQ Aero RhythmTrak – Communication and Control
The AR-96C Ring Controller communicates with its Base Station, as well as computer and iOS based DAWs via wireless Bluetooth LE. The AR-96C is a remarkable device featuring 96 velocity and pressure sensitive pads with aftertouch.
The pads may be used for clip launching and playing drum sounds, instrument sounds and sequences. Any sound or musical phrase can be played chromatically or by any of the dozens of preset scales in any key.
The Ring's unique Grip Detection automatically prevents accidental triggering of the pads under your hands, while dedicated buttons at the top and bottom of the controller provide transport controls (Rec/Play/Stop) as well as multiple effects including filter, delay, reverb and master FX on/off.
ZOOM ARQ Aero RhythmTrak – The Only Drum Machine for Performers
Not only does ARQ allow you to create incredible drum parts and patterns, you can also use the Ring Controller as a live instrument. Play it while mounted to the Base Station, or remove it to take your performance to the front of the stage.
ARQ comes with a multitude of editable PCM drum and instrument sounds organised into 79 genre-specific kits, and you can also develop 20 kits of your own, complete with effects. Once you perform with ARQ, you'll never use another drum machine again.
ZOOM ARQ Aero RhythmTrak – It's a Wireless MIDI Controller
Use the Ring for wireless control of all your MIDI instruments and devices connected to your computer—samplers, synths, and drum machines, as well as MIDI-enabled effects processors. Its 96 pads are velocity-sensitive and can also send aftertouch (MIDI messages generated based on the pressure applied to the pads once they are being held down).
ZOOM ARQ Aero RhythmTrak – The Accelerometer
The powerful 3 Axis Accelerometer generates MIDI control messages to alter sounds and effects in real time. The internal Lithium-Ion battery automatically charges when the ring is placed on the Base Station.
southcoastmusic is an authorised Australian Zoom Reseller. When you buy the Zoom ARQ Aero Rhythm Trak from us you get the Base Station, Ring Controller, 240VAC power adapter, a free download of Ableton Live 9 LE, FREE shipping and a real TWO YEAR warranty.
ZOOM ARQ Aero RhythmTrak Features and Specifications
o Drum machine, sequencer, synthesizer, looper, clip launcher and MIDI controller in one device
o 468 drum/instrument sounds ("one-shot" sampled waveform sounds)
o 70 types of synthesizer sounds
o DSP Engine generates dozens of digital effects
o Use up to 5 effects simultaneously, applied to overall drum kit or individual drum sounds
o Ring Controller can be used wirelessly as a handheld aerial instrument and to launch audio clips from DAW software
o 96 velocity- and pressure-sensitive pads and 160 programmable colour LEDs
o Grip Detection to automatically prevent accidental note triggering
o 3-axis accelerometer for altering effects parameters and sending MIDI control messages
o Dedicated buttons for sequence REC/PLAY/STOP and for effects on/off
o Split mode allows one instrument to be assigned to multiple pads for ease of input
o Onboard mixer for setting volumes and muting/soloing parts
o Flexible pre-count, quantise, swing and beat settings
o Audible and/or visual click
o Dual 6.3mm (1/4″) inputs for phrase recording and loop creation
o Audio capture from patterns and songs from SD card or from incoming audio signal
o Create up to 99 mono or stereo loops, play up to 32 simultaneously
o Loop-start and end points can be set on the fly or adjusted manually
o Loop-tempo synchronization, pitch change and reverse playback functions
o Programmable synthesizer engine
o 531 oscillator types and 16 voice polyphony
o Sound-shaping controls include effects, envelope generators and stepped and smooth modulation
o Play sounds chromatically, or choose from dozens of preset scales in any key
o Adjustable pad velocity and pressure sensitivity
o Dedicated tap-tempo button for synchronization
o Selectable LED light-show animations
o Dual 1/4″ line outputs and separate 1/4″ headphone output with dedicated volume control
o USB port and SD card slot
o Bluetooth LE for low power consumption and extended usage times
For the first time in history, musicians can visualise their music as a true loop, up to 5 parts at a time. ARQ supports both Step and Real Time Sequencing allowing users to change the timbre or note of each part with the touch of a button. Up to 32 parts can be played back simultaneously and up to 400 patterns can be combined in any order to form a complete song which can then be flattened into an audio loop that can be played back from a single pad . . . all without the use of a computer.
ZOOM ARQ Aero RhythmTrak Break Out. Break Free. Break Away . . .

Take your performance to places you've never been before. Express yourself and get closer to your audience. Open up a world of new options for music production. Create in ways that were simply not possible until now.
The Zoom ARQ . . . see how instrumental an instrument can be.
Zoom has a long history of thinking outside the square bringing new technology and features to inspire and empower Music Creators, Composers and Artists . . . now with the ARQ, Zoom has taken everything to another level.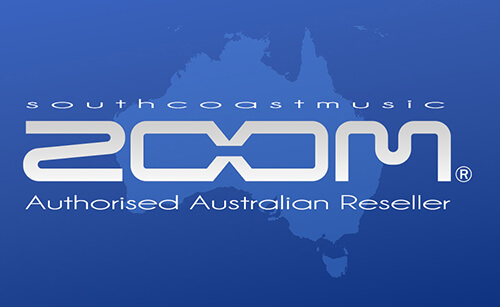 southcoastmusic is an authorised Australian ZOOM reseller