YAMAHA TRBX174 OVS
ELECTRIC BASS GUITAR
OLD VIOIN SUNBURST FINISH
PRO SCM SETUP
FIVE YEAR WARRANTY
FREE DELIVERY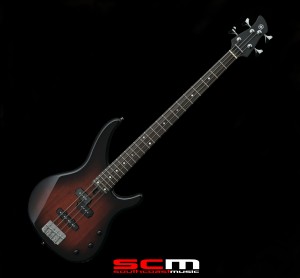 A well-balanced 4-string with exceptional tone at a working musician's price . . .
The Yamaha TRBX174 represents a price breakthrough for the TRBX range, yet the quality is everything you'd expect from a Yamaha Bass Guitar.
TRBX
You're the bedrock of your music. The foundation. The fundamental. The link. You need an instrument with the strength and power to perform. An instrument that gives you the freedom to innovate, to create and push the boundaries. You need a bass where everything's just right. Sound, feel, looks – nothing comes second.
BODY
TRBX features a sculpted solid mahogany body, with a mass-optimised 3D design for the perfect balance between tone and comfort coupled with superb weight distribution.
NECK
TRBX's neck design combines a fast, ultra-comfortable profile with 5-pc maple/mahogany laminated construction for outstanding stability and excellent tone.
NECK JOINT
TRBX uses a precision fitted bolt-on neck joint for maximum adjustability and clear, punchy tone. Developed through hundreds of hours of play-testing, the refined neck joint shape perfectly balances strength, vibration transfer and upper-fret access.
BRIDGE
A high-mass die-cast bridge efficiently transfers string vibrations to the body for full, rich tone combined with excellent adjustability and road-tested durability. 18mm string spacing on the 5-string model offers outstanding playability for technical slap or finger styles.
HEADSTOCK
Straight string pull from nut to machine head eliminates lateral tension, providing superior tuning stability and reducing overtones.
NUT
38mm (4-string) or 43mm (5-string) nut widths give fast, comfortable playability for any style.
Output Jack
OUTPUT JACK
Yamaha's metal plate-mounted standard jack socket offers superior durability and easy maintenance.
PRO SCM SETUP
Yamaha are famous for the quality of their Bass Guitars. Forty five minutes or so in our workshop ensures that the playability of your brand new TRBX Bass Guitar is spot on with careful attention paid to fret ends, intonation and string height.
FIVE YEAR WARRANTY
Yamaha back their Bass Guitars up with a Five Year Warranty. This confidence in the quality of their instruments is just one of the reasons that Yamaha Basses are the fisrt choice for School Music Programs across Australia.