YAMAHA SV130S Silent Violin Complete Outfit
o SV130 Silent Violin – Natural Brown Gloss Finsh
o Form Fitted Hard Case
o Carbon Fibre Bow
o Shoulder Rest
o Yamaha In-Ear HeadPhones
o Rosin
o PRO-SCM Setup
The Yamaha SV130 Silent Violin offers violinists of all levels a broad spectrum of performance and practice possibilities making it the ideal instrument for the player who wants to squeeze the most out of their violin and when the need arises, play without creating an excessive amount of sound allowing you to practice and play extremely quietly without disturbing your neighbours.
Playing along with your favourite recordings can be inspiring, great practice, and just plain fun. The SV130 makes play-along practice easy with a line input jack and independent level control. As well as this, there is an output jack which allows you to plug the violin into an amplifier or PA system with ease.
Despite being an electronic instrument, the Yamaha SV130 violin offers a set of attributes that contribute to its rich and warm sound. A spruce body combined with an ebony fingerboard and maple neck provide a seamless link between the acoustic and electric properties. Sound is transferred from the strings to the body via a professionally setup French Aubert Maple bridge resulting in an organic sounding instrument.
Unamplified, the audible volume of the SV130 is a fraction that of an acoustic violin. The real magic of the SV130 comes into play when using the included ear-buds plugged into the onboard preamp. A proprietry Yamaha DSP chip delivers a selection of natural sounding reverbs that transport the player into the ambience of the concert hall. The resulting tone is absolutely superb, some describe it as enetheral, we call it inspirational. The Yamaha chip supplies rich, spacious reverb that effectively simulates a stage environment for the player and listeners. The technology invested in the SV130 allows you to adjust the reverb for different sized rooms. There are three settings: Large Hall, Medium Hall and Room.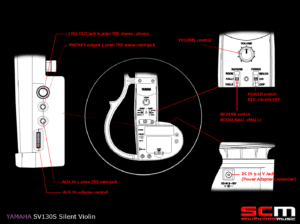 For those experienced enough to venture out of the practice room, plugging the SV130 into a PA system or Acoustic Instrument Amplifier provides a timbre that is harmonically rich, vibrant and focused – the ideal performance violin voice!
Yamaha are not known for doing things by halves and this Spruce/ABS Resin Hybrid Skeltal bodied violin features a beautifully carved ebony fingerboard and Aubert bridge. Professionally setup inhouse by us, the SV130 is a wonderful instrument.
Also included is a carbon fibre bow, rosin, shoulder rest, stereo headphones and a form fitting case. The SV130 simply looks superb in its natural brown timber gloss and black finish.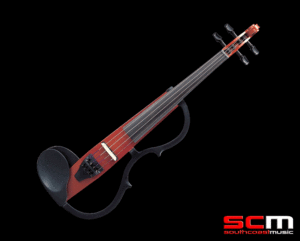 YAMAHA SV130 SILENT VIOLIN SPECIFICATIONS:
o Body Colour: Natural (brown)
o Body Size: 4/4 (Full Size)
o Body Material: Spruce
o Side/Frame Material: ABS Resin
o Neck Material: Maple
o Finger Board Material: Ebony
o Bridge: Maple (Aubert-France)
o Tuning Pegs: Ebony & ABS Resin Hybrid
o Tailpiece: ABS Resin
o Chin Rest: ABS Resin
o Strings: Kessler steel core (Made in Japan)
o Fine Tuners: Yes
o Pick Up Topology: Piezo
o Preamp: Active
o Preamp Controls: Master Volume
o Digital Reverb: Yes
o Digital Reverb Types: Room / Hall 1 / Hall 2
o AUX IN connection: 3.5mm (1/8″) TRS stereo mini-jack
o LINE OUT: 6.3mm (1/4″) Phono
o PHONE OUT: 3.5mm (1/8″) TRS stereo mini-jack
o Battery Power Supply: 2 x AA size 1.5V batteries (included)
o Manganese Battery Life:
• without Reverb (POWER Switch "ON") approximately 20 hours
• with Reverb (POWER Switch "REV. ON") approximately 4 hours
o Alkaline Battery Life:
• without Reverb (POWER Switch "ON") approximately 60 hours
• with Reverb (POWER Switch "REV. ON") approximately 12 hours
o AC Power Supply: 240VAC 9-12VDC +Tip Adapter (optional)
o Bow: Included
o Case: Yamaha SV Hard Case
o Earphone: Included
o Rosin: Included
o Shoulder Rest: Included
o Cable: Audio Cable
o String Length: 28 mm (12-15/16″)
o Dimensions: L587mm (23-1/8″) x W195mm (7-11/16″) x H110mm
(4-5/16″)
o Weight: 650g (1lb.7oz)
o Setup: PRO-SCM setup included
Specifications are subject to change without notice.