Yamaha PSR-S950 61-Key Digital Workstation Arranger Keyboard
ON SALE! RRP $2999 OUR PRICE $2199 DELIVERED!
Write your own soundtrack to success with this World-class keyboard!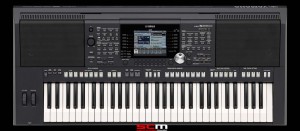 – AWM Stereo Sampling Tone Generation
– 5 Levels of Touch Response Organ Keys
– 786 Voices with 128-Note Polyphony
– 235 Featured Voices
– Built-In Digital Effects
– 25 Audio Style Accompaniment Presets
– 4 Multi Pad Triggers
– 6.3mm (1/4″) Microphone Input
– Vocal Effects including auto-harmoniser
– 3.5mm (1/8″) Aux In for Portable Audio Devices
– USB and MIDI Connectivity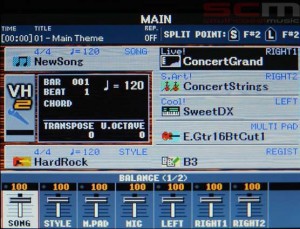 The PSR-S950 arranger keyboard effectively blurs the line between digital and acoustic sound, and the result will alter your musical perceptions forever. Yamah recorded pro musicians to achieve authentic renditions of their instruments and playing nuances; now you can play alongside them. The PSR-S950's other incredible features including Vocal Harmony 2 and Super Articulation for thrilling instrumental and vocal support, will take your creativity and performances to new heights.
The Yamaha PSR-S950 is packed with amazing Voices, Styles and comprehensive features to help you create, arrange, perform and record your music in any genre.
Yamaha's cutting edge sound innovation takes a step further with "Audio Styles" to give your performance greater expressive potential by adding real audio drum and percussion parts to Yamaha's Guitar Enhanced Style engine.
Additionally, the built-in FlashROM lets you load new Voices and Style Expansions (VSE) from around the world.
The PSR-S950 offers a variety of useful connections on its back panel. 1/4″ TRS main outputs and 2 foot pedal inputs are included, as well as a 1/8″ stereo Aux input for portable audio devices. The PSR-S950 also features a composite video output, MIDI In/Out connectors and USB connectivity. The USB-A port enables flash drive recording, custom patch storage and Multi Pad audio. The USB-B allows for multi-function computer connection.
Yamaha PSR-S950 Super Articulation Voices
Super Articulation Voices authentically reproduce the performance characteristics of acoustic instruments. They also add expressive nuances to your performance without the need for tricky controller manipulation.
Yamaha PSR-S950 Mega Voice Style Technology
Mega Voices add dimension to your playing by incorporating performance sounds like guitar and bass finger slides, brass falls, and vocal effects. Mega Voices provide dynamic and realistic sounding accompaniment.
Yamaha PSR-S950 Studio and Performance Quality Sound
The onboard mixing console gives you access to functions like balance, panning and DSP effects borrowed from Yamaha's professional recording and live sound products.
Yamaha PSR-S950 Microphone Input and Vocal Effects
The PSR-S950 features a 1/4″ microphone input. The Vocal Cancel effect removes center-panned vocal material to let you do the singing. Time Stretch and Pitch Shift functions allow you to choose the key and tempo. Vocal Harmony2 backs you up with 44 presets of effects and realtime vocal harmony generation.
Yamaha PSR-S950 Audio Style Advanced Accompaniment Presets
In addition to the other 383 auto-accompaniment presets, the PSR-S950 includes 25 Audio Styles accompaniment presets. Audio Styles uses Yamaha Time Stretch Technology to sync real recordings of drummers, percussionists, and percussion ensembles seamlessly to your playing.
Yamaha PSR-S950 Real Distortion
Real Distortion effects are digital models of classic guitar amplifiers from the 1960's and 70's. There are also models of legendary guitar effects pedals. The result is an accurate, responsive tone.
Yamaha PSR-S950 Digital Amplifier
The PSR-S950 features a highly-efficient digital amplifier that achieves clarity while significantly reducing energy consumption.
Yamaha PSR-S950 USB Audio Recorder
The PSR-S950 is capable of recording and playing back high-quality uncompressed WAV audio files. It can also play audio files from its Multi Pads, via the Audio Link feature, which is great for triggering loops, vocal phrases and sound effects. Playback of MP3 files is also supported.
Yamaha PSR-S950 Voice and Style Expandability
The PSR-S950's expansion capability ensures that it can always be updated with new Voices and Styles from around the world.
Yamaha PSR-S950 Stereo Aux Input
The 6.3mm (1/8″) stereo Aux In can be used to play any source through the keyboard's integrated speakers. Use it to play along with your favorite songs, or for apps like Yamaha's "NoteStar" digital sheet music with real audio backing.
Yamaha PSR-S950 Colour LCD and Video Output for Score, Lyrics and Text Display
The large integrated LCD display can show lyrics, music notation or text. The PSR-S950 also has a composite video output, so you can even display this information on an external monitor.