THE YAMAHA CS101C 3/4 size HAND MADE CLASSICAL GUITAR
Yamaha's Luthiers created the CS101C 3/4 size Classical Guitar specifically for young learners and discerning payers of a smaller stature.
The CS101C offers added playing comfort with its 3/4 scale, compact body design and shorter scale.
The Yamaha CS101C offers excellent playability combined with superb tone and provides those young learners lucky enough to own an instrument of this calibre, an instrument that keeps practice inspirational and exciting!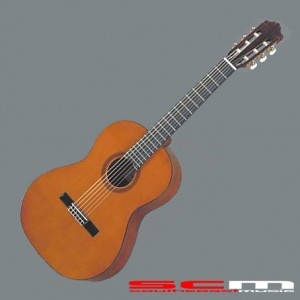 click on the image to enlarge
Yamaha's roots are based in Music and their reputation is crowned with an unwerving level of excellence in everything that they do. Regardless of which Yamaha Workshop and instrument is built in – it is always "made in Yamaha".
SPANISH HERITAGE
It's a well lknown fact amongst "those in the know" that much of the knowledge, techniques and basic designs used in creating Yamaha's classical guitars were gained under the tutelage of two of the World's most prominent Master Guitar Makers of the day (today we just call them Luthiers), Snr. Eduardo Ferrer and Snr. Manuel Hernandez (Hernandez y Aguado). Yamaha indentured their finest craftsmen to study under the tutelage of Eduardo Ferrer where they learned the time honoured and traditional way to create truly fine acoustic guitars…some say the "only" way. The knowledge and experience gained from these Apprenticeships led to the introduction of Yamaha's renowned Grand Concert series guitars. The owner of South Coast Music, John Kuts was fortunate enough himself, to have been given a Yamaha No. 100 all solid construction, Hand Made Classical Guitar by his Parents in the early 1970's which he treasures to this day.
Yamaha then went on to further their knowledge under the guidance of the celebrated Spanish Guitar Building Master, Snr. Manuel Hernandez, who provided invaluable technical assistance to the Yamaha Apprentices. This fruitful relationship led to further development and refinement of the Grand Concert series and gave Yamaha's master craftsmen the knowledge and experience necessary to develop original models such as the highly sought after GC70.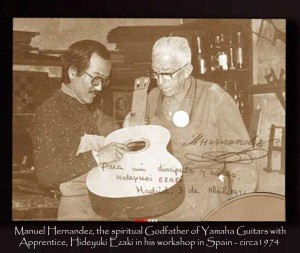 click on the image to enlarge
The knowledge that Snrs Ferrer and Hernadez shared, from the critical selection of materials for their tonal as well as aesthetic quality, right down to the fine art of finishing and polishing allowed Yamaha to cultivate the techniques and sensitivity it takes to make the finite adjustments and subtle modifications that traditional guitar production and the World's Top Player's demand.
In this day of modern technology and computer controlled manufacturing, it is becoming increasingly harder to find the kind of reverence and dedication to traditional building methods that Yamaha's master craftsmen possess. Yamaha are proud of the skills they have acquired and at southcoastmusic, we are proud to be able to offer for sale, the calibre of guitar that those skills have allowed Yamaha to create.
DISCONTINUED (too expensive to produce) AND ULTRA-RARE!
We have two only, brand new examples of the superb CS101C 3/4 size Classical Guitars left for sale. They are brand new, unplayed and represent real value-for-money for a serious, smaller sized Classical Guitar.
FREE Australia-wide Delivery including Transit Insurance.