Wisemann WI0901CL TAURUS Bb STUDENT CLARINET PACK BACKPACK CASE & ACCESSORIES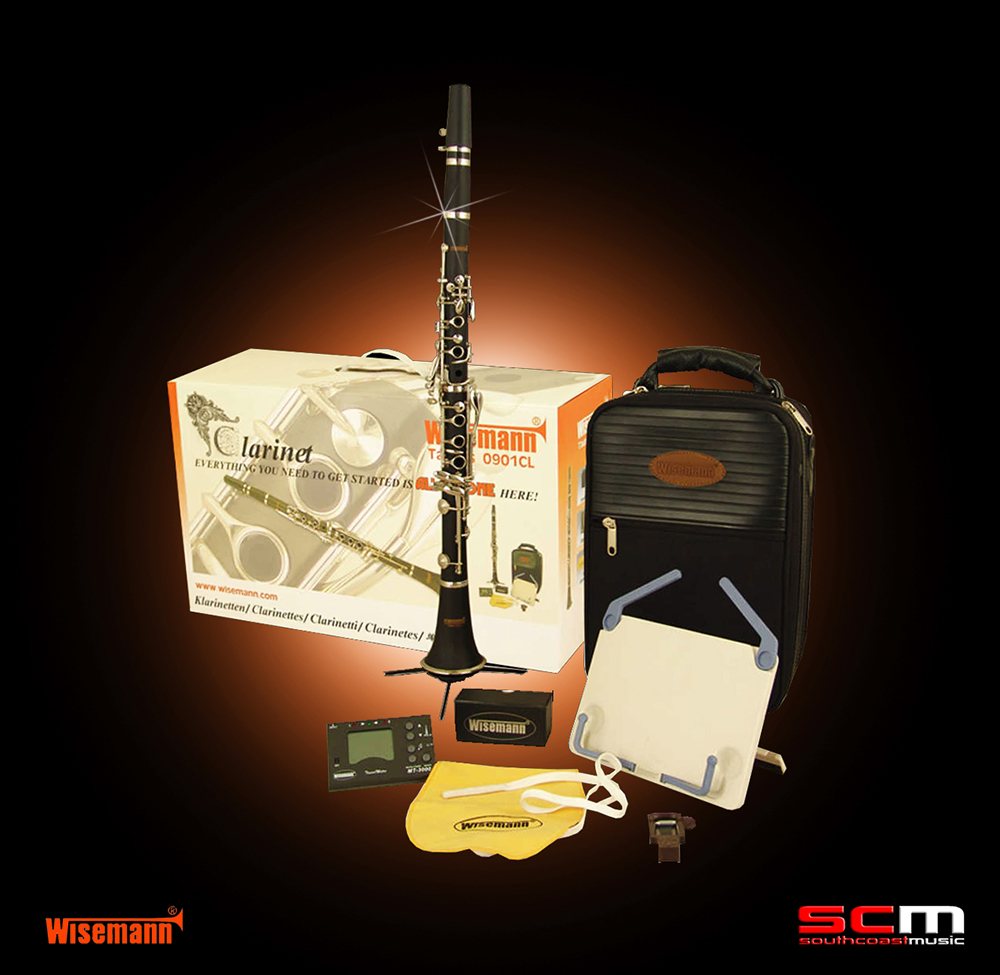 There are so many choices out there when it comes to buying that first Clarinet that it's easy to become confused. Brands that you never heard of at prices you can't believe and descriptions that tell you that theirs is the best thing since sliced bread!
At southcoastmusic we have been advising and helping musicians of all ages and abilities since 1985 with their instrument choices. Many customers were once children whose parents put their trust in us and now they are back buying for their own children!
Wisemann is fast becoming one of the most prominent names in Brass and Woodwind instrument design and manufacturing – and with good reason.
Established in Beijing 1999, Wisemann soon became known for their high quality instruments and superb craftsmanship.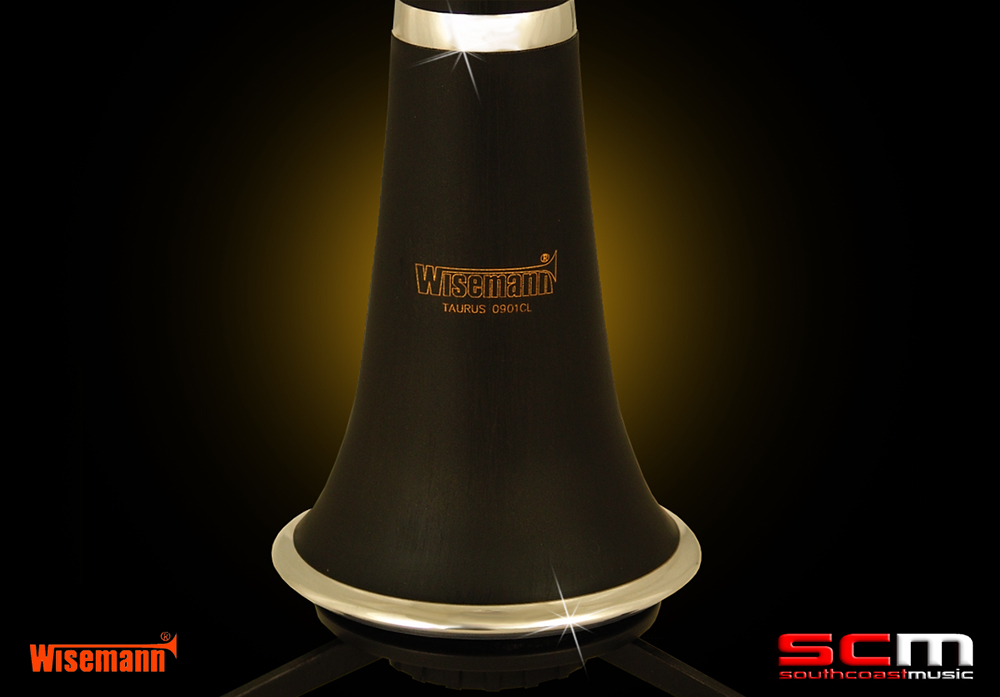 Making their mark as OEM & ODM manufacturers for some of the world's most respected brands, they have built relationships and earned the respect of professional musicians, educators and craftsmen from around the globe.
Recently, Wisemann was acquired by one of Europe's oldest and most respected Woodwind companies – a glowing endorsement of their superb quality and innovation.
Today, Wisemann still build an impressive range of instruments under their own name, offering musicians exceptional tone, playability and value for money.
The WI-0901CL Taurus Clarinet Package is testimony to Wisemann's commitment to beginning players, offering them a high quality instrument along with the accessories required for practice as well as the care and maintenance of their instrument.
The Taurus Clarinet is made from Ebonite, a modern plastic material with tonal properties similar to Ebony and featuring a 'wood-grained' finish that is comfortable to hold. The tone is warm and focused and would even be suitable for someone returning to the clarinet after many years.
The 17 keys are nickel plated and the clarinet comes complete with a mouthpiece and reed.
Also included are a back-pack style padded carry case, table top music stand and care kit. The care kit includes a pull-through swab, key brush, mouth-piece brush and cork grease. A fold-up portable Clarinet stand is also included so that the instrument may be left setup and ready to play!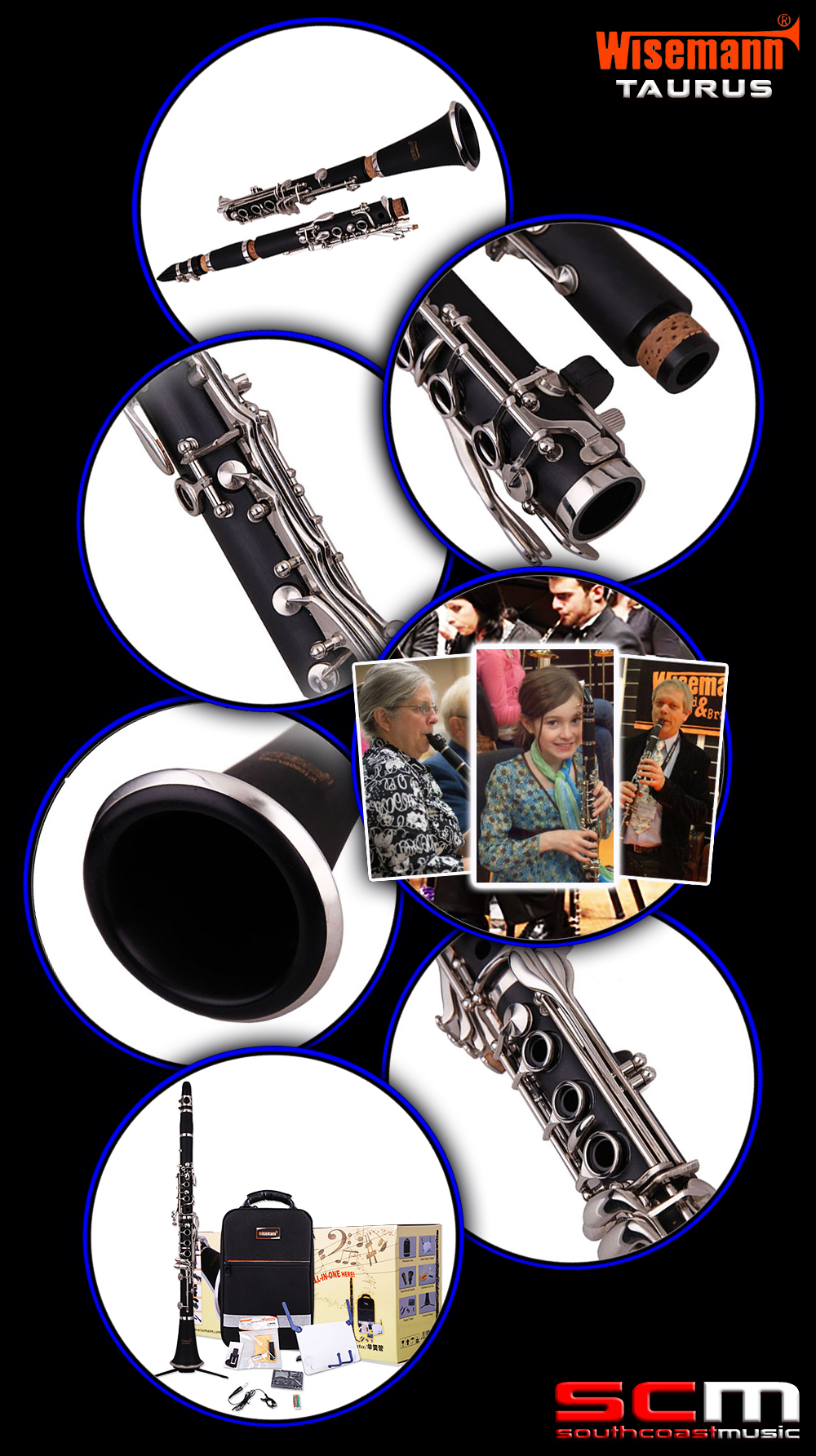 Wisemann WI-0901CL TAURUS CLARINET
• Wisemann WI-0901CL Taurus Bb Clarinet
• Mouthpiece Included
• Reed Included
• Boehm Fingering
• 17 Nickel Plated Keys
• Ebonite 'wood-grained' Body
• Professionally Setup
Wisemann WI-0901CL TAURUS CLARINET PACKAGE INCLUDES:
• Wisemann Taurus Bb Clarinet
• Padded Backpack Carry Case
• Digital Tuner
• Table Top Music Stand
• Fold-up Clarinet Stand
• Clarinet Cleaning/Care Kit
• Reed Clipper
• Gloves
• Cleaning Cloth
Buy with Confidence! southcoastmusic is an Authorised Australian Wisemann Musical Instrument Reseller!