VOX TONE GARAGE DECA DELAY PEDAL
VOX TONE GARAGE SERIES PEDALS – THE PURE ESSENCE OF ANALOGUE EFFECTS PROCESSORS
With the Tone Garage series off effects pedals, VOX have captured the pure essence of analogue in these compact effect units by pairing carefully selected components with a unique design philosophy. The philosophy of the Tone Garage series is to perfectly convey every performance nuance with inimitable tonal character without compromising the sound of the guitar. These pedals, which feature carefully selected analog parts such as vacuum tubes and BBD (Bucket Brigade Device) chips, use rigorously refined discrete circuits.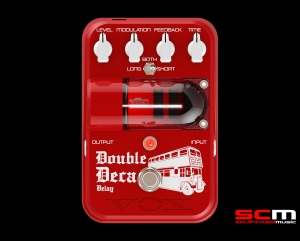 VOX TONE GARAGE DECA DELAY PEDAL AT A GLANCE
• All-discrete circuitry – the result of a relentless design philosophy
• True bypass design provides tonal confidence even when the effect is off
• Tough die-cast body that stands up to the rigors of the road
• A rich variety of analog delay sounds powered by three BBD (Bucket Brigade Device) chips
• BBD chips utilising the famous 3205 chip
• Independent modulation knob also adds a chorus effect
VOX TONE GARAGE DECA DELAY PEDAL – A MULTIFUNCTION ANALOG DELAY POWERED BY BBD CHIPS
There really is only one way to get that authentic classic analog delay sound, by using the famous 3205 BBD chip and there are three of them right here!
There are three delay modes: "short", "both" (short/long), and "long".
The "short" mode uses one BBD chip, providing a delay time of up to 300 ms with a clear delay sound and minimal decline in audio quality.
The "long" mode uses all three of the BBD chips, allowing you to specify a delay time up to 900 ms for warm-sounding delay trails.
The "both" mode mixes the short and long delays, giving an ambient tonal character  and an edge to your solos that has to be heard to be believed . . . it's of another world! It's a multi-purpose design that lets you use either one or all three of the BBD chips.
Additionally, an independent modulation knob lets you adjust the chorus effect. For example in "both" mode, applying modulation will give you an amazing sound that's like a trinity of delay, reverb, and chorus.
VOX TONE GARAGE DECA DELAY PEDAL ALL DISCRETE WIRED CIRCUITRY
The internal structure of the Tone Garage series contains absolutely no integrated circuits such as op-amp ICs. Every pedal in this remarkable series consists only of individual parts such as transistors, resistors, capacitors and coils. In other words, this series uses unmistakably all-discrete circuitry. Featuring true-bypass design and guided by a relentlessly honed design philosophy, only carefully selected parts are used. These pedals provide an excellent response to the subtle picking nuances of the discerning guitarist and deliver tone previously unheard of at this price.
VOX TONE GARAGE DECA DELAY PEDAL DIE-CAST BODY
Each pedal in the Tone Garage series features a tough aluminum die-cast body for outstanding durability. It will stand up to hard knocks during your stage performances. Simply seeing the killer graphics is enough to rev your motor and take your performance up a notch. The power supply, vacuum tube, and other internal circuitry are partially visible, projecting VOX's traditional design sensibility via appearance as well as sound.
VOX TONE GARAGE DECA DELAY PEDAL SPECIFICATIONS:
o Input impedance: 600k Ω
o Output Impedence: 2.2k Ω
o Vacuum Tube: ECC83 / 12AX7
o Connections: INPUT jack (guitar input), OUTPUT jack (line output)
o Consumption Current: 36 mA
o Dimensions: W87 x D132 x H63mm (3.43 x 5.20 x 2.48inches)
o Weight: 420 g (14.81oz)(excluding battery)
o Battery Life: Approximately 80 hours
o Included Accessories: 6 x AA alkaline battery (for verifying operation)
o Optional Accesories: 240VAC DC9V Adapter (please contact for pricing and availability)