Vox Cooltron Snake Charmer 12AU7 Tube Powered Compressor Pedal Electric Guitar Effects CT05CO
Valve Powered Compressor Pedal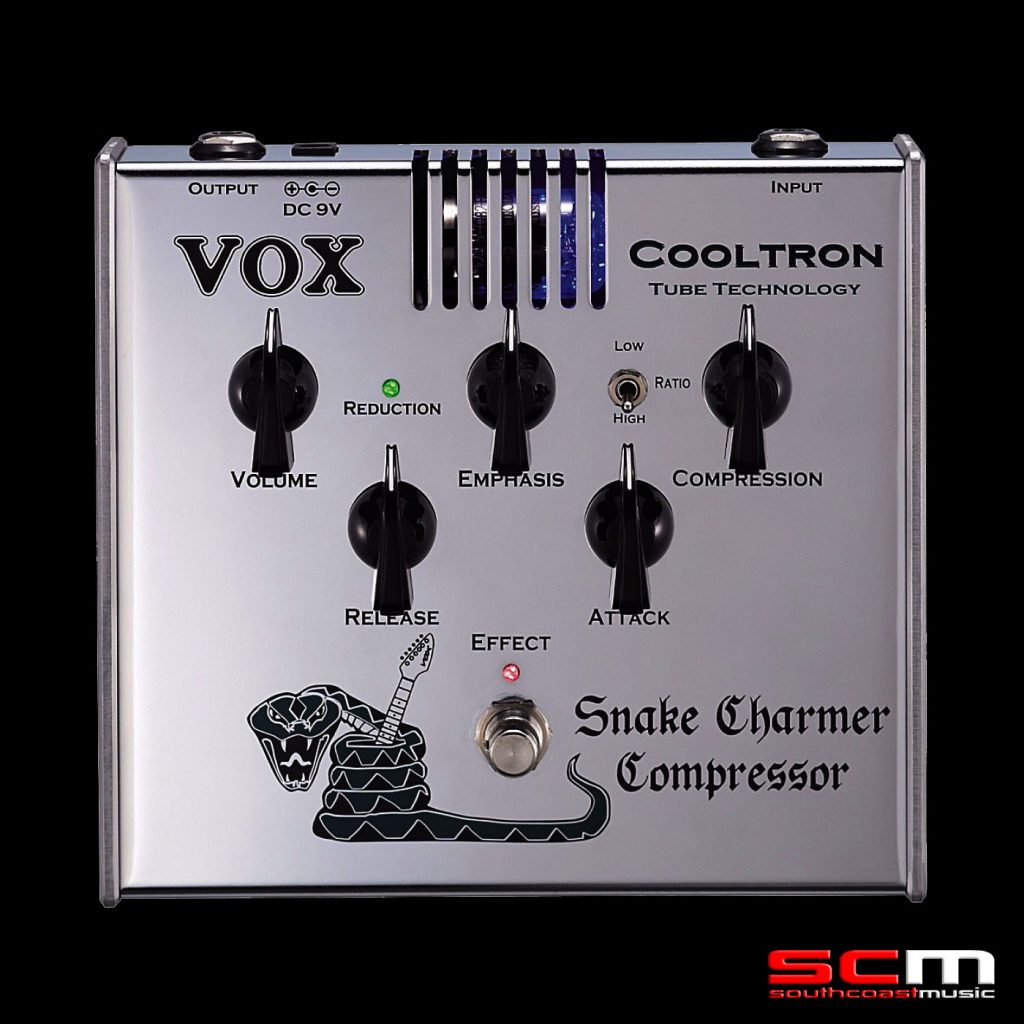 This is the COOLTRON Snake Charmer Compressor – a very special stompbox that uses a 12AU7 preamp-type tube at low voltage to deliver the kind of tone that, until now, had been impossible to achieve in a battery-powered pedal.
The COOLTRON system provides true tube sonic performance at very low voltage and at reduced heater current.
The Snake Charmer Compressor
Tame your tone with the new Snake Charmer Compressor. The result? Silky smooth, mesmerizing tone that behaves as it should. The Snake Charmer's compression affects the ratio and threshold of the signal, smoothing out peaks and spikes. At the same time, the Snake Charmer also increases the Gain level to complement the corresponding ratio and threshold settings so that the overall gain remains constant.
There's also a Gain Reduction Indicator that gives you visual cues of the results of your settings. And a High Low Switch lets you choose between two overall levels of ratio.
The Snake Charmer is equipped with other controls for Attack, which determines how quickly the gain reduction kicks in, and Release, which determines how long the gain is attenuated. Finally, the High-End Emphasis control fine-tunes the amount of compression applied to the top end of the guitar signal.
Sadly, all good things must come to an end and the VOX COOLTRON Snake Charmer Compresser has been discontinued. We however, have a small number of brand new, unused – in original packing – examples for sale.
Be quick though cos' when these are gone its all over red rover.
Snake Charmer Compressor CT05
Connection: Input: x1  guitar input , Output: x1  line output
Input   Output Impedance: 830 k-ohm   4 k-ohm
Tube: 12AU7  ECC82
Power Supply: Four AA alkaline batteries or DC9V AC adapter
Battery Life: Approx. 18 hours
Current Consumption: 95 mA
Dimensions: 168.5  W  x 155.5  D  x 64.0  H  mm   6.63"  W  x 6.12"  D  x 2.52"  H
Weight: 1,007 g  excluding batteries   1,102 g including batteries
Included Items: Four AA alkaline batteries