southcoastmusic exceptional instruments at exceptional prices… everyday!
VALENCIA
VALENCIA SV113 THREE QUARTER SIZE VIOLIN OUTFIT
FACTORY SETUP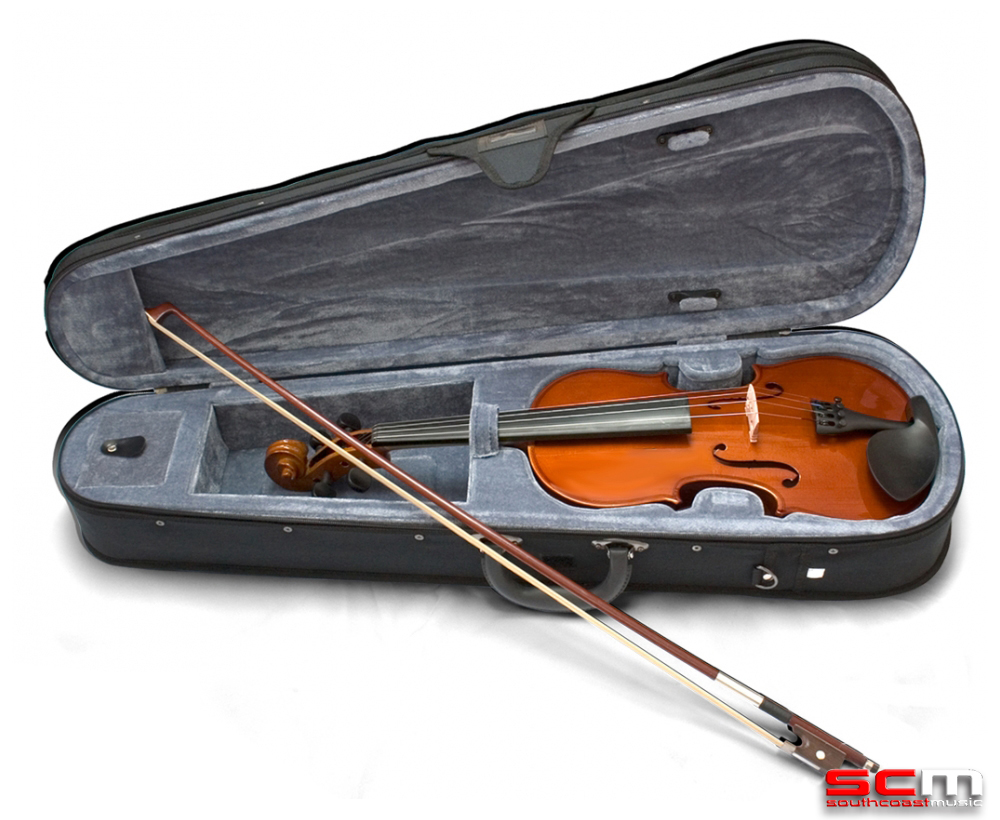 The Valencia SV series is the most affordable, high quality, starter violin outfit on the market.
We are aware of just how important price can be so in order to make this outfit as affordable as possible we offer a choice of three setup options;
1) FACTORY SETUP – this is how the instruments come to us (we will stand the bridge up, position it & tune the instrument)
2) STANDARD setup (More extensive – check our STANDARD setup listings)
3) PRO-SCM setup – Nobody else offers this service at this price!
This is the FACTORY SETUP.
Unlike many other sellers, we will actually stand the bridge up in the correct position and tune the instrument for you. Please note that you will need to apply Rosin to the bow before playing for the first time and your violin may need a minor tuning adjustment after being in transit. If you would like to upgrade the strings, we offer all the major brands – please contact us for a quote.
This is what sets southcoastmusic apart from other sellers – remember that we are also including shipping with tracking to anywhere in Australia.
Please don't be fooled or misled with a cheap no-name violin – or worse! We see them when unwitting customers bring them in hoping that we can make them play.
Why not buy from southcoastmusic and join the tens of thousands of happy customers who shop with us!
VALENCIA SV113 Features:
3/4 THREE QUARTER Size Violin Outfit
FACTORY Setup
Solid Spruce Carved Top
Carved Maple Back
Ebonised Fingerboard, Pegs And Chin Rest
Alloy Tailpiece With four fine tuners
Painted Purfing
Genuine Wood Bow With Natural Horse Hair
Complete With Black Shaped Lightweight Hi-Tech Poly Foam Case
Plush Lined With 2 Bow Holders And Accessory Compartment
Includes block of Rosin
One Year Warranty against Manufacturing Faults