Tombo Pocket Chord Harmonica 8 Chord Ensemble Harmonica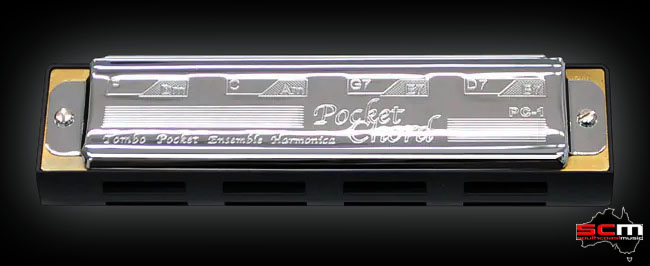 The Tombo Pocket Chord harmonica is an amazing musical instrument.
The Tombo Pocket Chord is wonderful for group and ensemble players, adding an richness and depth to the music. There are 8 chords and all are played by blowing. Each chord has four blow reeds with the tuning and reed adjustment easily done.
This 8 chord harmonica has brass reedplates fully recessed in a satin finished ABS comb that is ultra stable and will never swell. The stainless steel cover plates are held together by screws and nuts for easy access to the reeds and reed plates.
The major and minor chords are tuned in 'Just Intonation' to give the smoothest possible chords and the 7th chords tuned as a pure major triad with a tempered seventh added.
If you love the harmonica, a Tombo Chord Harmonica is simply a must have for your collection.

Tombo are known for manufacturing the Lee Oskar range of professional harmonicas.
8 Holes
Range: C ~ B7 (C/D7/Dm/E7/F/G7/Am/B7)
ABS Comb
Stainless Steel Cover Plates
Blow only
W 147 x h 37 x d 26 mm
138 g
Includes zipup deluxe carrying case
Made in Japan