T-REX
T-REX FUEL TANK GOLIATH
o Five isolated 9.5V DC outlets (450mA each)
o One isolated 12 AC outlet (450mA)
o One isolated 18V DC outlet (250mA)
o Noise Cancelling Galvanic isolated outputs
o Traditional EI Transformer
o Various different voltage types served
o Externally mounted fuse holder
o Switchable 115V or 230V
o Built Tough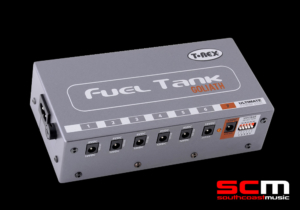 It's a fact, sales of stomp box single effects pedals are through the roof! Boss stomp boxes, TC Electronic, Vox, Digitech, Tech-21…you know what we mean! As a result pedalboards are expanding – and while we wait for the invention of the everlasting battery, many of us (and you) have more need for devices like this grey brick from T-Rex: this is the age of the multi-pedal power supply!
If you are looking at the price and thinking that's an awful lot for a metal box with some holes in the side, you may have just missed the point. Getting clean, filtered electricity to a swag of pedals at the same time brings with it a bunch of issues and the T-REX Fuel Tank GOLIATH solves them all.
From humble beginnings in 1996, T-Rex has gone on to make an impressive impression on the world of guitar effects.
With an constantly expanding range of carefully Engineered Stomp Boxes and Accessories, T-Rex have earned their stripes as one of the World's most respected and widely used boutique pedal manufacturers.
As Guitarists the world over have found out – one way or the other – great effects pedals need equally great power supplies, especially when multiple effects are being used. T-Rex recognised this right from their onset and are now one of the biggest suppliers of filtered, isolated and high current capable power supplies.
The range of T-Rex Fuel Tank Power Supplies is comprehensive and this is their most recent flag ship model, the T-Rex Fuel Tank GOLIATH.
With a current capacity befitting its name, the T-Rex Fuel Tank GOLIATH delivers a massive 3,000mA of power for pedals – almost double that of the Fuel Tank Classic and Chameleon. Power is delivered via seven outputs: five 9.5 volt outputs at 450mA each, one 18 volt 250mA output and a 12 volt AC output at 450mA.
Enclosed in a sturdy, 1.4kg metal enclosure, with switchable 115/230 voltage, the T-Rex GOLIATH is ready for the recording studio and stage…or just about anywhere else for that matter!
In the box, you'll find a pedalboard mounting plate plus just about every right-angled power cable you could think of, including mini-jack, polarity inverter and current-doubler options.
While other pedal power supplies offer more isolated outputs, the GOLIATH produces enough milliamps to allow you to daisy-chain multiple pedals from one output and a link cable is included for this purpose.
It is virtually impossible to overload the GOLIATH (we daren't say "fool-Proof" as anyone that believes in the notion of "fool-proof" has seriously underestimated the ingenuity of fools!).
It copes beautifully with power-guzzling digital delay units, valve-powered drives and daisy-chained analogue pedals – all without hum or hiss. The 18-volt output is a also a huge bonus for anyone who likes increased headroom on their compatible overdrive pedals.
The 12 volt AC output is a useful addition for those obscure pedals requiring the same.
There is enough power on tap from the other six outputs to satisfy most pedal setups.
A worthy flag ship model, the T-Rex Fuel Tank GOLIATH is a fabulous example of T-Rex's unending comittment to excellence.
The T-REX Fuel Tank GOLIATH delivers AC and/or DC power without fuss and no sign of dangerous overheating.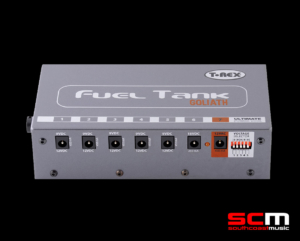 o T-REX FUEL TANK GOLIATH TECHNICAL SPECIFICATIONS

o T-REX GOLIATH CONNECTIONS
o 5 x 9V or 12V DC – 450mA
o 1 x 18V DC – 250mA
o 1 x 12V AC – 450mA
o T-REX GOLIATH CABLES
o 1 x Red 50cm AC cable with 2.1mm – 2.5mm connectors for use on the 12V AC outlet
o 1 x Blue 50cm AC cable with 2.5mm – 2.5mm connectors for use on the 12V AC outlet
o 1 x Orange 10cm polarity inverter cable with 2.1mm connector – 2.1mm female connector
o 1 x Green current doubler cable, 2 x 2.1mm connectors – 2.1mm connector
o 1 x Black link DC cable with five 2.1mm – 2.1mm connectors
o 2 x Black 20cm DC cable with 2.1mm – 2.1mm connector
o 4 x Black 50cm DC cable with 2.1mm – 2.1mm connector
o 2 x Black 75cm DC cable with 2.1mm – 2.1mm connector
1 x IEC Mains power cable
o T-REX GOLIATH DIMENSIONS
o 180 x 92 x 48 mm / 7.1 x 3.6 x 1.9″
o T-REX GOLIATH WEIGHT
o Weight excluding battery and packaging: 1.4kg
FREE SHIPPING with TRACKING Australia-Wide is INCLUDED!