Live stream your audio to the Internet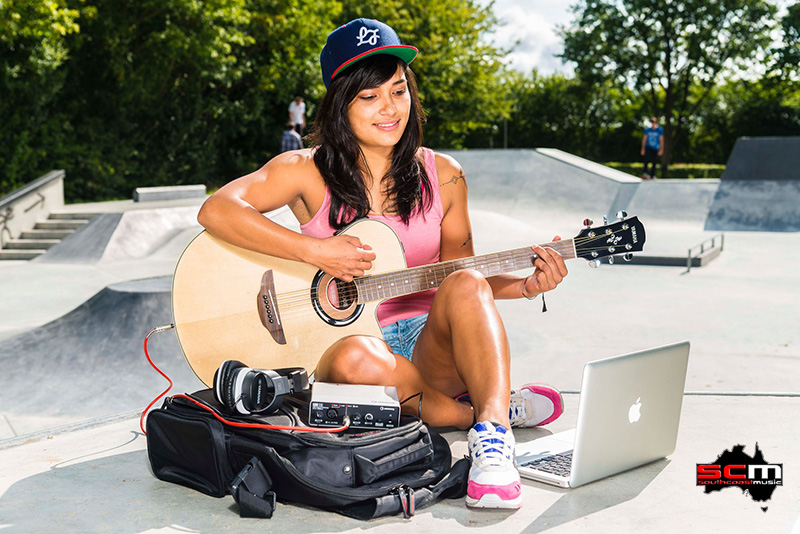 Do you want to join the thousands of people successfully streaming audio online? The UR12's loopback function lets you broadcast your audio production live on the internet. You can combine a live microphone signal into the UR12's mic input with the audio from any recording and stream both live to the web.
You could add a live voice-over or vocal to a music backing track or sing live with your guitar or keyboard input to the UR12's input 2, with both signals merged and looped back to your internet broadcasting software. The world is waiting for you…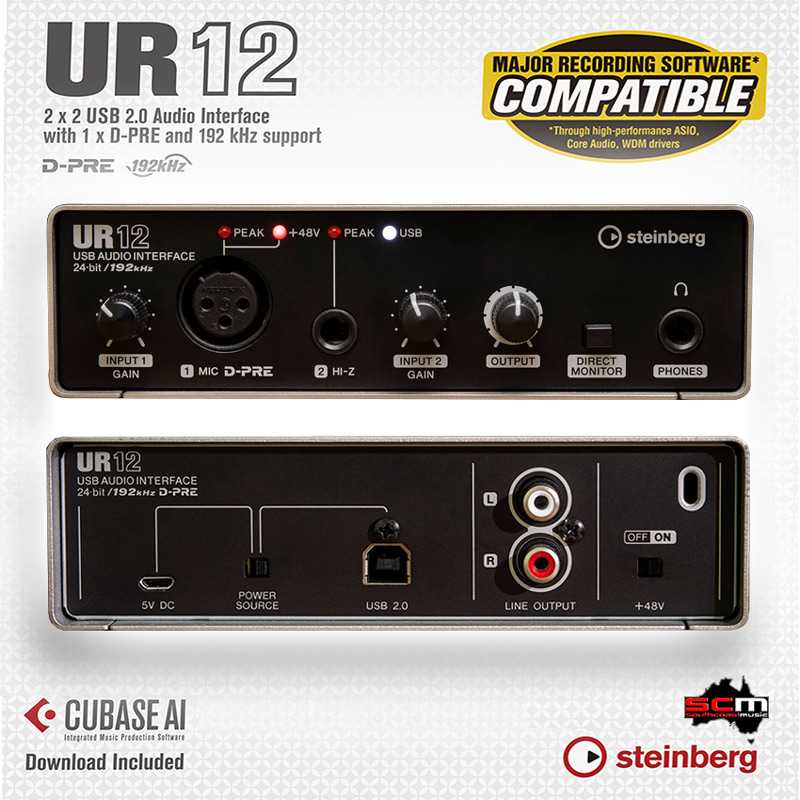 Start recording your music in great quality
If you are a newcomer to digital music production, the UR12 is the ideal audio interface to start your musical journey, record your first tracks and begin a potentially lifelong adventure of writing, recording and mixing your music on computer.
Offering the inputs and outputs you need to record vocals and instruments in outstanding quality, the UR12 also includes a streamlined and upgradable version of Cubase, Steinberg's legendary music production system.
At this price you get remarkable value for making your first foray into computer recording, the UR12 is built to very high standards, very rugged and ultra-portable.
Ultra-rugged build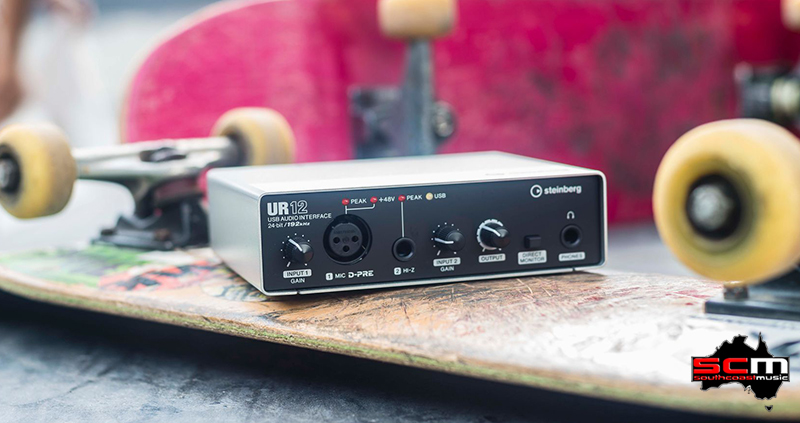 The robust metal casing and exceptional build quality of Steinberg's UR interfaces makes them rugged enough to withstand all the rigors of the road. Whether you are location recording or just moving your gear from one place to another, you don't need to worry about the risk of damage to your interface. They are rugged enough to ensure that, when you are ready to record, they will work perfectly every time.
High speed USB 2.0

UR interfaces feature high speed USB 2.0, which provides fast, reliable and seamless connectivity to Mac and PC computers, iPads and iPhones. Together with the enhanced low latency of Steinberg's SSP2 chip and the latest drivers, the UR series gives you peace of mind wherever you are recording.
24-bit/192 kHz audio resolution
The premium converters used in the UR-series deliver great audio quality, thanks to a maximum sampling rate of 192 kHz with 24-bit resolution*. High-quality conversion is a crucial first step for any audio production and, with the UR interfaces, Steinberg's designers researched the best combination of components for optimized analog to digital conversion.
Alongside great build quality, the sound quality of the UR models is refined by the inclusion of 24-bit converters. These accurately capture the detail of every recorded signal, ensuring that the fidelity of sound throughout the recording process is maintained.
Latency-free hardware monitoring with switch
The UR12 features latency-free hardware monitoring with an easy-to-use monitor source switch that lets you choose between the direct signal and the output of your host application.
Class-A D-PRE mic preamps

The UR series features Yamaha's highly acclaimed D-PRE preamps, offering recording quality unmatched in this price class. D-PRE preamps deliver beautifully transparent and detailed sound, with remarkably detailed high end, rich low frequencies and exceptional dynamic response.
Praised by industry professionals and media alike, D-PRE is a very special, class-leading preamp. And to faithfully capture and replay that warm, transparent sound, UR interfaces feature AD and DA conversion stages with up to 24-bit/192 kHz resolution*.
Compatible with all major audio software
The UR12 interface is compatible with all major audio software which supports the ASIO, Core Audio or WDM standard.
iOS ready via CC Mode
You can combine UR units with an audio application like Steinberg's Cubasis for iPhone and iPad, giving you a fully mobile audio recording solution. All UR interfaces can switch to Class Compliant (CC) mode* when connected to an iOS device, providing an effortlessly intuitive, ultra-portable production experience.
Loopback function for streaming
The Loopback function of the UR interfaces offers an easy way to stream performances live to the internet. Often used by hosts of live online broadcasts, when the function is active, incoming audio signals to the UR (such as microphone, guitar or line source) are merged with the signal coming from audio playback software like Cubase or another DAW inside the computer.
The merged signal will then be sent back to the computer for online streaming via your software of choice.
Cubasis LE included
The UR seamless integration with iPhone and iPad is enhanced by the inclusion of Cubasis LE, for creating professional audio productions in the most portable, convenient way possible. Featuring the same look and feel of its bigger brother Cubasis, Cubasis LE is especially designed for quick and easy operation, making recording, editing and mixing a breeze, and opening up a new world of possibilities for your creativity. It supports up to four audio and four MIDI tracks, features a mixer with studio-grade effects processors and also includes MicroSonic, a virtual instrument with 25 virtual instrument sounds, a virtual keyboard, sample editor and key editor.
Cubase AI
Based on Steinberg's award-winning advanced music production system Cubase Pro, Cubase AI is a powerful, one-stop music software solution for studio-quality recording.
Combining audio and MIDI recording, editing, mixing and scoring in a single, integrated software package, Cubase AI is the perfect entry into the world of computer-based music production. Featuring Steinberg's advanced audio engine, flexible routing and full automatic delay compensation, it supports 48 MIDI, 16 instrument, 32 audio tracks and 16 physical inputs.
Cubase AI comes with a range of high-quality audio effect processors, the HALion Sonic SE workstation instrument and MixConsole for an intuitive mixing experience.
Record priceless family moments in professional studio quality
Have you ever wanted to record and relive those wonderful, once-in-a-lifetime moments you share with the people closest to you? But then been so disappointed when you realize that your child's first words or Grandpa's singing have been spoiled by the poor sound quality of a mobile phone or dictation device?
Do not worry! The UR12 has everything you need to build an easy-to-use personal recording station in your own home, with a first-class microphone preamp, sumptuous 24-bit/192 kHz recording quality and a straightforward recording program based on that used by professional recording engineers around the world.