SpongeBob SquarePants SBE34OFT
o Spongebob ¾-size electric guitar with built in amplifier
o Gig Bag, Lead, Strap, Pick and DVD included
o Professional Set-Up inhouse at scm with Fender Bullet Guitar Strings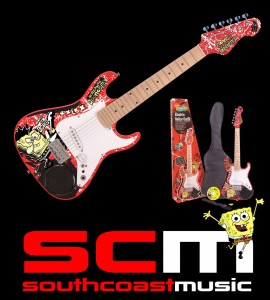 Hey…SPONGEBOB guitars go electric…turn this guitar way UP loud! Warning! This is not a toy – your Spongebob Electric Guitar has undergone a full professional setup in our workshop and plays fabulous!
How about the brilliant SPONGEBOB graphics on this fab-u-lous guitar?
Featuring the twin offset cutaway body style, smooth forearm chamfer and rear ribcage contour, the SPONGEBOB ¾-size electric guitar is super comfortable to hold – an important factor for little people.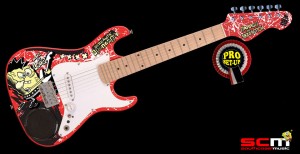 The Hard Rock Maple neck and fretboard features 21 frets which along with a genuine single coil pickup and single rotary Volume control combine to make this an exciting guitar to get into the SPONGEBOB groove with.
The accent is on fun and portability and that's really easy to do because this SPONGEBOB ¾-size electric guitar features its own inbuilt amplifier and speaker powered by a 9 volt battery!
This nifty outfit also includes the essential accessories. There's a SPONGEBOB guitar Gig Bag, Guitar Lead, Strap, Pick along with a SPONGEBOB tutorial DVD.
We are delighted to be able to offer these SPONGEBOB ¾-size electric guitars. They are solidly built and look fabulous. The do however require setting up and every guitar undergoes this process in our workshop: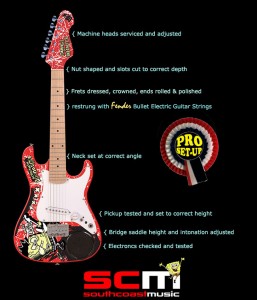 o We hand roll the fret ends making them smooth and slinky
o The frets are then dressed, crowned and polished for enhanced playability
o The tuners are checked and service for smooth operation
o We restring with genuine Fender Bullet electric guitar strings
o The neck is checked for correct angle
o The nut is shaped and nut slots cut to the correct height
o We then adjust the height of the bridge saddles
o Intonation is adjusted at this point – without this vital adjustment the guitar      will not play in tune
o The Guitar is tuned, the electronics checked and it's ready to rock!
The value of this setup including the fretwork is more than $200.
Be the first with a Screamin' southcoastmusic SPONGEBOB electric guitar!
© 2007 Viacom International Inc. All rights reserved.
SPONGEBOB ¾-size electric guitar Outfit is in stock now!
TWELVE MONTH WARRANTY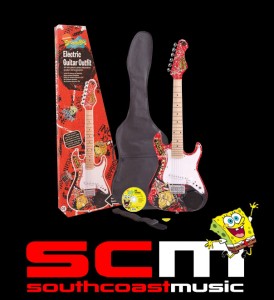 Spongebob Squarepants
SPONGEBOB ¾-size electric guitar Outfit – built in Amp and Speaker!
AUSTRALIA-WIDE POSTAGE & HANDLING ARE INCLUDED!