SMART ACOUSTIC SHS50MP Headset Microphone Pack
• Flesh Coloured Headset Microphone for use with a variety of Wireless Beltpack Systems
• Comes in a handy carry case with a variety of different Connectors – 3.5mm Jack, mini-XLR, TAF-4 and AT4
• Suits most Manufacturers Belt Packs
• Professional Sound and Build Quality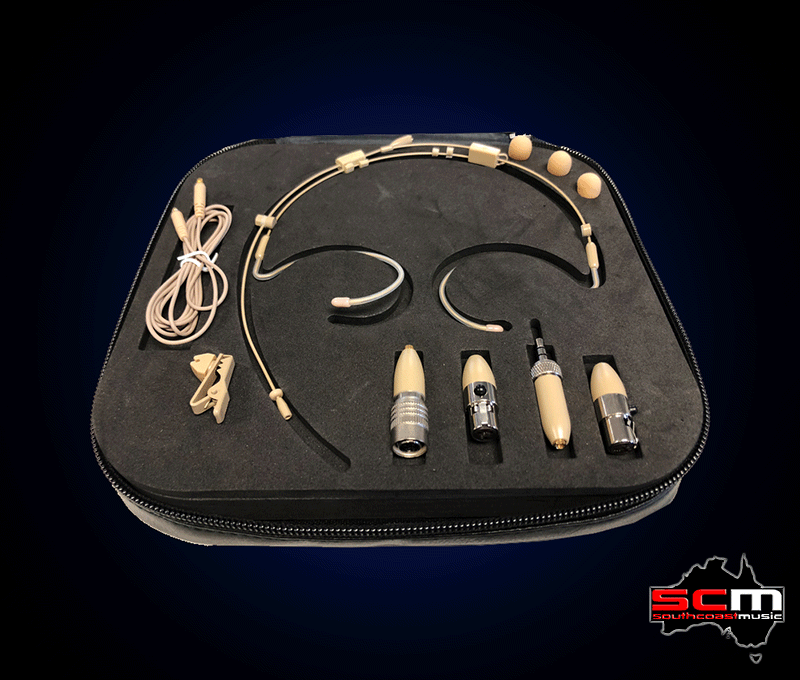 The SMART ACOUSTIC SHS50MP Headset Microphone Pack is a high quality, cost effective solution for a variety of situations where a headset microphone is required.
Designed for use with a variety of Wireless Beltpack Systems, the SHS50MP includes a headset microphone, three acoustic foam windsocks, a lapel clip, detachable cable and four adaptors. The components are all housed in a handy, water-resistant zippered PU pouch.
The miniature microphone capsule features an omni-directional polar pattern and low noise floor, delivering high fidelity sound.
The SHS50 Headset is flesh coloured providing a discrete look , perfect for theatre, celebrant and live performance duties. Its head band is fully adjustable and is designed to fit most head sizes.
The pack features a number of removeable connectors including a 3.5mm Jack, mini-XLR, TAF-4 and AT4 connectors that are compatible with most major brands of wireless belt pack transmitters.
SMART ACOUSTIC SHS50MP Headset Microphone Pack Features & Specifications:
• SKU: 358215
• Model: SHS50MP
• Brand: Smart Acoustic
• UPC: 9356790026883
• Capsule: Miniature omni-directional capsule
• Windsocks: 3 x flesh coloured wind socks
• Connectors: 3.5mm Jack, mini-XLR, TAF-4 and AT4
• Cable: Detachable flesh coloured cable
• Lapel: Flesh coloured lapel clip included
• Case: Water-resistant zippered PU pouch
• Package Weight: 0.2 kg
• Dimensions: 19.5 × 4 × 21.5 cm