Samson Graphite 49 key USB MIDI Keyboard Controller
SAMSON GRAPHITE 49 MIDI – USB CONTROLLER KEYBOARD
o 49 Key Semi-Weighted Velocity Sensitive Keyboard
o Aftertouch
o 9 Programmable Faders, 8 Encoders and 16 Buttons for hands-on control over your DAW and virtual instruments
o 4 Velocity-Sensitive Trigger Pads with Aftertouch for drum sounds and samples
o Large LCD Display provides Real-Time Feedback
o Includes MIDI Out, USB and Sustain Pedal connections
o Compact design, perfect for Live Performance and Studio applications
o Dedicated Transpose and Octave buttons, Pitch Bend and Modulation wheels
o 4 Zones for creating splits and layering sounds
o Adjustable Velocity Curve for both Keys and Pads
o iPad and USB bus powered
o Bundled with Native Instrument's Komplete Elements software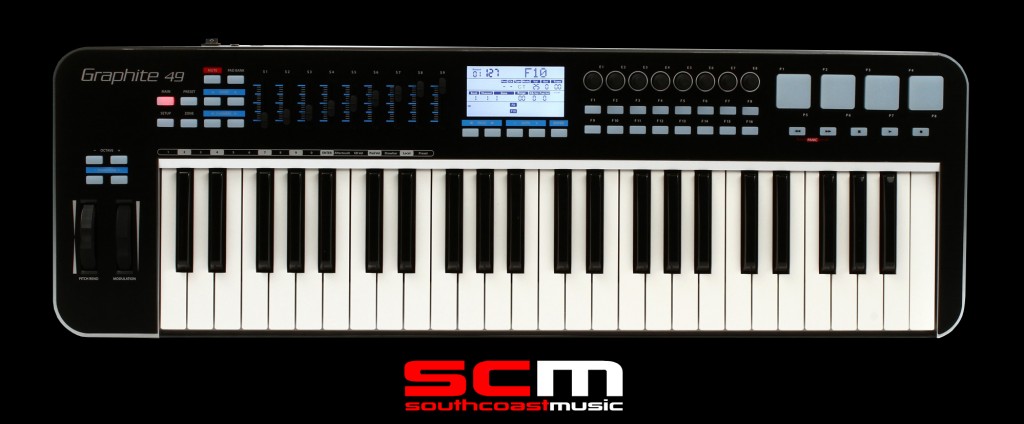 GREAT FEEL AND TOTAL CONTROL
The Graphite® 49 USB MIDI Controller from Samson gives you all the performance and production control you need to get the most out of your music software. Combining an intuitive 49-key semi-weighted keyboard with a feature set that is both useful and accessible, the Graphite 49 is a sleek, powerful tool that allows you to express your most dynamic musical ideas.
A QUICK EXPLANATION ABOUT MIDI CONTROLLERS
The term MIDI, is an acronym for Musical Instrument Digital Interface.
MIDI is a universal protocol that enables any MIDI equipped device to communicate with another such as a synthesiser or drum machine as well as other devices such as computers and sequencers.
A MIDI controller is a device that may be used to send commands to a MIDI-equipped device such as triggering notes on a keyboard workstation, turning functions on and off within a computer program, changing presets on a multi-effects processor along with countless other applications.
The amount of control required will vary from application to application and by its intended use. Because of this there are a wide range of MIDI controllers available, all able to interact with any MIDI-equipped device.
MIDI Controllers are simply that – a controller – and as such do not generate sound on their own – they all require a sound source such as a synthesiser, sound card or computer generated VST instrument.
TACTILE KEYBOARD THAT FEELS MORE LIKE AN INSTRUMENT
The Graphite 49's semi-weighted keyboard provides musicians with a responsive and expressive platform that is designed to feel more like an instrument than a controller.
It comes equipped with velocity-sensitive keys that accurately capture the dynamics of a performance.
Aftertouch offers customisable control over a variety of effects and parameters, for example the addition of growl to a saxophone or vibrato to strings. With 49 keys, the Graphite 49's pitch range is perfect for performing, while remaining highly portable.
EXPAND WITH EASE
The Graphite 49 is easy to use. With dedicated Transpose and Octave buttons, you can change the key of any given instrument, as well as expand the keyboard to a full 4-octave range, without using any sub menus or shift keys.
With all of these comprehensive features, not to mention classic Pitch Bend and Modulation wheels, the Graphite 49 puts a wide range of musical expression and tone manipulation at your fingertips.
YOUR CUSTOM CONTROLLER
With the Graphite 49 you can take full control of your DAW and virtual instruments with comprehensive controller functions. At your fingertips ares 9 faders, 8 encoders and 16 buttons, all customisable for the ultimate in hands-on control.
Not only are they customisable, they can be programmed on-the-fly without the need for editor software.
The Graphite 49's large LCD screen displays the behavior of every function in real-time, enabling intuitive mapping with any software you're using.
Taking full control of your next musical project or composition doesn't get much easier – the Graphite 49 comes with presets for the following DAWs:
o Logic
o Pro Tools
o Cubase
o Ableton
o Cakewalk
o Reason
o Traktion
o Motu
o Mk Control
o Acid Pro
o Audition
o FL Studio
o Nuendo
o Magix
o Presonus
ROOM TO CREATE
Another way players can make the Graphite 49 truly their own is to utilise up to 4 zones on the keyboard for creating splits and layering sounds. This function allows different sounds to be assigned to different sections of keys for a completely personalised setup.
With the keyboard divided into sections, the Graphite 49 lets you control 2, 3 or 4 unique voices simultaneously. Record your bass, string, pad and lead tones all to a single track and leave room for your creative ideas to run wild.
TRIGGER HAPPY
The Graphite 49 features 4 large velocity-sensitive trigger pads with aftertouch that can be easily programmed and assigned. Use them to tap out drum beats, cue one-shot samples or start and stop sequences.
Expand your options further with a second bank of triggers, bringing the total to 8. With such versatility, the trigger pads are a vital performance and recording feature of the Graphite 49.
ELEMENTS OF DESIGN
With a compact body design that is thinner than most controllers in its class, the Graphite 49 is perfect for live performance and studio applications.
It's constructed for optimal playability whether it's placed on a solid surface or mounted to a keyboard stand. And its sleek, angled top panel offers easy viewing in any environment.
ON THE GO WITH THE iPAD
When combined with the iPad using Apple's iPad Camera Connection Kit or Lightning to USB Camera Adapter, the Graphite 49 is a great tool for making music on-the-go.
Use it with your favorite music and synth iPad apps that support MIDI controllers. For additional mobility, the Graphite 49 can be powered directly by the iPad when you are away from your desktop computer.
GRAPHITE COMES KOMPLETE
Bundled with the Graphite 49, Native Instrument's Komplete Elements 8 software offers a comprehensive selection of studio-quality sounds, effects and tools for modern music production, composition and sound design. With over 3GB of samples, Komplete provides you with more than 1,000 premium sounds and 3 mighty player engines – all carefully compiled to provide a strong toolkit for both stage and studio. It's a ready-to-roll professional software package for all production styles.
With the great feel and total control that keyboard players and studio professionals everywhere crave, the Samson Graphite® 49 USB MIDI Controller brings out the best in performance and production capability.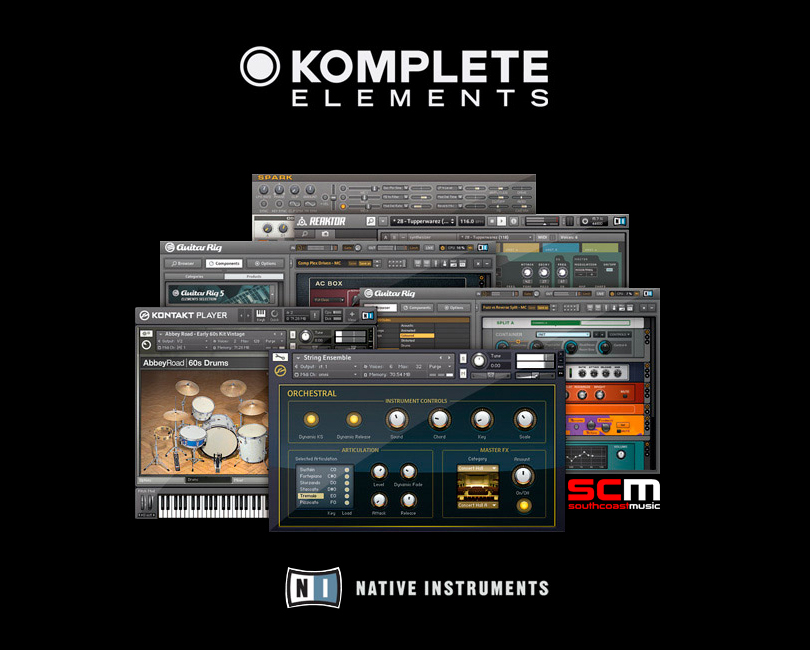 LIMITED STOCK AVAILABLE AT THIS PRICE – FREE SHIPPING WITH TRACKING INCLUDED!