ROLAND V-DRUMS TD-1KV ELECTRONIC DRUM SET
ROLAND V-DRUMS . . . THE IDEAL SOLUTION FOR SILENT PRACTICE, LEARNING, GIGGING AND FUN!
Roland's V-Drums are the world's most popular electronic drums for one reason: they're the best. Blending superior sound, authentic feel, and rugged durability, each kit in the V-Drums lineup performs at the highest level, a testament to more than three decades of developing electronic drums.
Acclaimed V-Drums sound and performance in an entry-level set
Enjoy drumming in any musical style with 15 expressive drum kits
Mesh-head PDX-8 V-Pad provides realistic snare drum feel with head/rim triggering
Supports essential acoustic drum techniques, including cymbal choke, advanced hi-hat playing, and more
Build playing skills with the onboard Coach function, metronome, and recorder
Practice along with onboard audio songs or your own tracks played from a smartphone or music player connected to the Mix In jack
Beater-less kick pedal provides low noise for playing without disturbing others, ideal for practicing at home
Space-saving, ergonomic design and stylish looks to suit any room in your home
Sturdy drum rack with quick and easy height adjustment for every drummer, from kids to adults
Many upgrade options for enhanced performance, including OP-TD1C for an additional crash cymbal, KT-10 or KD-9 for kick, and more
USB-MIDI for using the TD-1KV with the DT-1 Drum Tutor, V-Drums Friend Jam series, and other popular computer music software
Intuitive user interface for easy operation
The compact yet fully featured TD-1KV is a great introduction to the ROLAND V-Drums family with a quality, space-saving kit that keeps up with you as your playing evolves.
Ideal for everyone that wants to enjoy drums at home, the TD-1KV offers a wide selection of expressive drum kits for playing any musical style, plus fun onboard training and recording functions for building your skills and checking your progress.
And as a Roland TD-1KV owner, you're not just starting an exciting musical journey — you're also joining the V-Drums family, a group of discerning players that includes the world's finest drummers and percussionists.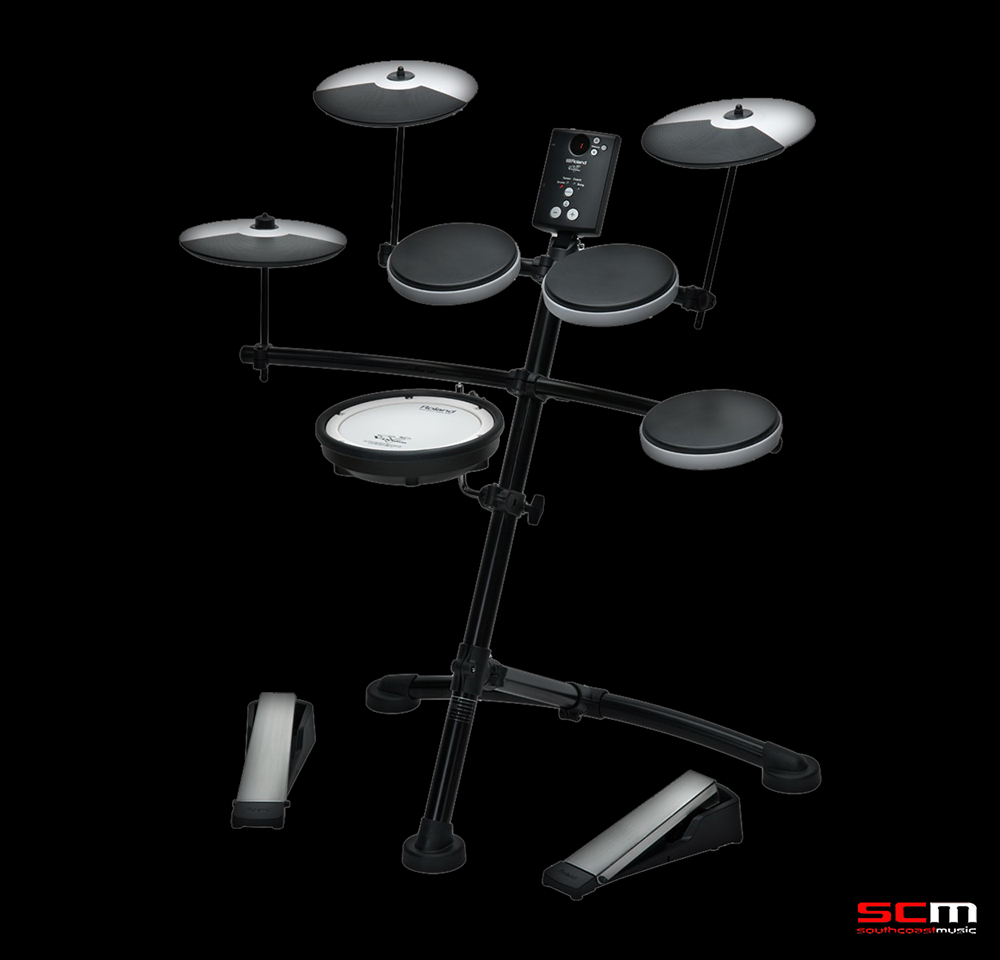 ROLAND V-DRUMS TD-1KV – 15 Drum Kits For Playing Any Style Of Music
An acoustic drum kit needs to be set up to play a specific style of music, so you're stuck with one type of sound. But that's not the case with the TD-1KV—it includes 15 quality drum kits on board, so you can play any kind of music you want at the touch of a button, from rock and blues to jazz, world music, EDM, and beyond.
At one practice session, you can rock hard with a heavy bottom-end sound, then instantly change kits to recreate the sound of your favorite band. Every kit reacts just like the acoustic and electronic kits they emulate, giving you a huge range of variety in one compact, standalone instrument.
ROLAND V-DRUMS TD-1KV – Develop Authentic Techniques With Responsive Pads And Cymbals
Some drummers avoid electronic drums; worried they won't play like their acoustic counterparts. There's no need for concern with the Roland TD-1KV—it fully supports essential acoustic playing techniques, which is especially important for beginners to learn to play correctly.
Every drum sound offers a wide dynamic range and natural tone, and the PDX-8 mesh-head snare provides an authentic feel with independent head and rim triggering.
Unlike typical entry-level sets, the TD-1KV's cymbals include the advanced expressiveness found in all TD-series V-Drums modules, including bow and edge sounds and support for cymbal chokes.
The hi-hat reacts to the nuances of your footwork, bringing personality and character to your playing. Great drumming is all about feel and so is the TD-1KV.
ROLAND V-DRUMS TD-1KV – Stay Motivated With Onboard Training – Functions That Make Learning Fun
Built right into the TD-1KV is a wealth of enjoyable functions to encourage learning, no matter whether you're teaching yourself to play, studying regularly with an instructor, or simply want to keep your skills polished. Think of this kit as your own live-in drum teacher and personal backing band, packed with tutorial features that develop technique, boost motivation, and help you get the most out of practice time.
Play along with the onboard metronome to tighten your timing, and use Coach mode to build and maintain speed, stamina, and accuracy. Get ready for your first band by jamming with the internal songs in the sound module, or connect a smartphone or music player via the Mix In jack and drum along with your favorite tunes.
With the onboard recording function, you'll get instant fee
dback of your progress as well as quickly capture and playback a new fill or creative groove.
ROLAND V-DRUMS TD-1KV – Practice At Home With Headphones And Ultra-Quiet, Beater-Free Kick Drum
Traditional acoustic drums are extremely loud. Playing them at home is fun for you, but can be a problem for everyone else around! Quieter operation is a major benefit of electronic drums and the Roland TD-1KV is particularly quiet where it counts, thanks to the sound module's headphone jack and the noise-reducing design of the mesh-head PDX-8 snare and the tom/cymbal pads.
While many electronic drum kits annoy the neighbors as the beater strikes the kick drum, the TD-1KV reduces volume with a special beater-less pedal design. Optional NE-10 Noise Eater units can be used under the kick and hi-hat pedals to further reduce noise transfer to other rooms below.
ROLAND V-DRUMS TD-1KV – Fits In Your Practice Space And Adjusts To Your Playing Style
Inviting a supersize acoustic drum kit into your home is a big deal. Do you lose the spare room upstairs, or try and cram it into your living room? The space-saving TD-1KV is a far more practical choice, fitting into the tightest living spaces with a stylish, modern look that lets life carry on around it.
For added functionality, the sturdy, ergonomic drum rack is easily adjustable, allowing the drum positions to be set up for everyone from children to adults. In addition, the height of each cymbal and the angle of the snare pad can also be fine-tuned for your comfort and playing style.
Yes, its true that the TD-1KV is the perfect drum kit for students, but it's also much more than that – the Roland TD-1KV is a great choice for an experienced drummer who needs a kit for home practicing or backstage warm-up.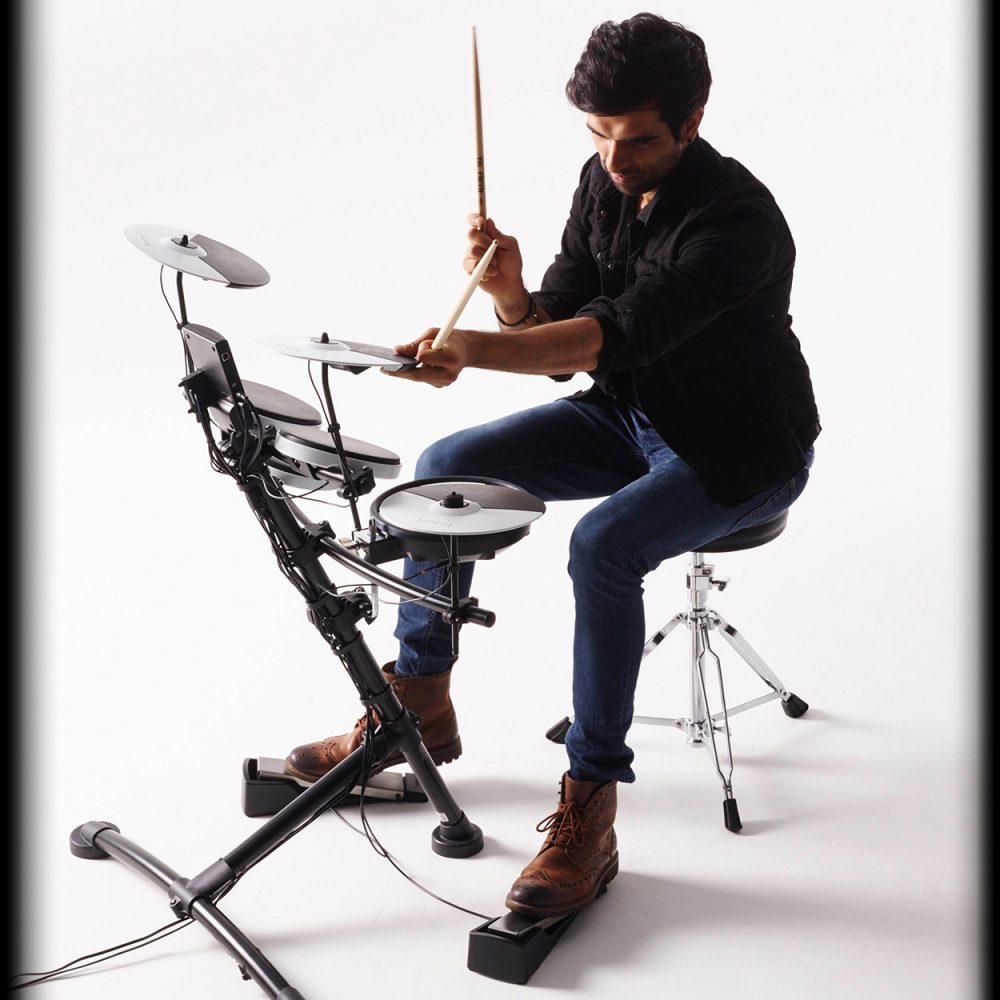 ROLAND V-DRUMS TD-1KV – A Drum Set That Evolves With Your Playing
As your playing takes off, you don't want your drum kit to hold you back. The Roland TD-1KV can grow with you, thanks to a range of optional extras that let the kit advance with you. You can add an extra cymbal with the additional OP-TD1C Cymbal Pad, or swap out the standard kick pedal for the KT-10 or KD-9 models used in Roland's more advanced V-Drums.
With other accessories including the NE-10 Noise Eater, TDM-3 V-Drums Mat and PM-03 Personal Drum Monitor, the TD-1KV is an electronic kit that will go the distance – call us during business hours or email us for pricing and availability.
ROLAND V-DRUMS TD-1KV – Record On Your Computer Using One Standard USB Cable
The TD-1KV is not just fun to play by itself — it's also a great way to make music with your computer. Included is a built-in USB-MIDI interface, making it simple to communicate with music software via just a USB cable, with no extra hardware needed. Maybe you'll transfer your playing into your computer-based recording software, capturing a live drum feel in your latest masterpiece. Perhaps you'll use Roland's free V-Drums Friend Jam series applications, which offer jam tracks, practice features and the ability to compete with V-Drums users across the planet.
For more in-depth education, the powerful DT-1 V-Drums Tutor provides a fun, dynamic platform for learning notation and essential drum techniques. Whatever application you chose, the TD-1KV is a drum kit that lets you go places.
ROLAND V-DRUMS TD-1KV – Simple Operation Lets You Start Rocking In Minutes
If you think that electronic drums are complicated, think again . . . using the TD-1KV is as simple as it gets. With its clear layout, the control panel lets you access all functions quickly and easily, you can also see info at a glance with the LED display and the metronome's flashing tempo indicator.