ADJUSTABLE STUDIO MONITOR SPEAKER STANDS – PAIR ON SALE!

iCON SB100 Vasorb Studio Monitor Speaker Stands
• Universal monitor stand
• Extremely stable and robust
Monitor stands are an essential piece of studio equipment for anyone who is serious about their music. Producers and Recording Engineers are obvious users but their use is also on the increase by home enthusiasts – especially those into vinyl.
Monitor stands fulfill several functions including placing the placement of the monitor speakers at their optimum listening "sweet spot" level as well as eradicating any possible comb filtering effects caused by small vibrations between the monitors and the surface on which they are sitting such as a workstation desk.
Where space permits, stand mounted monitor speakers are the ideal because the monitors will be supported solely by the stands.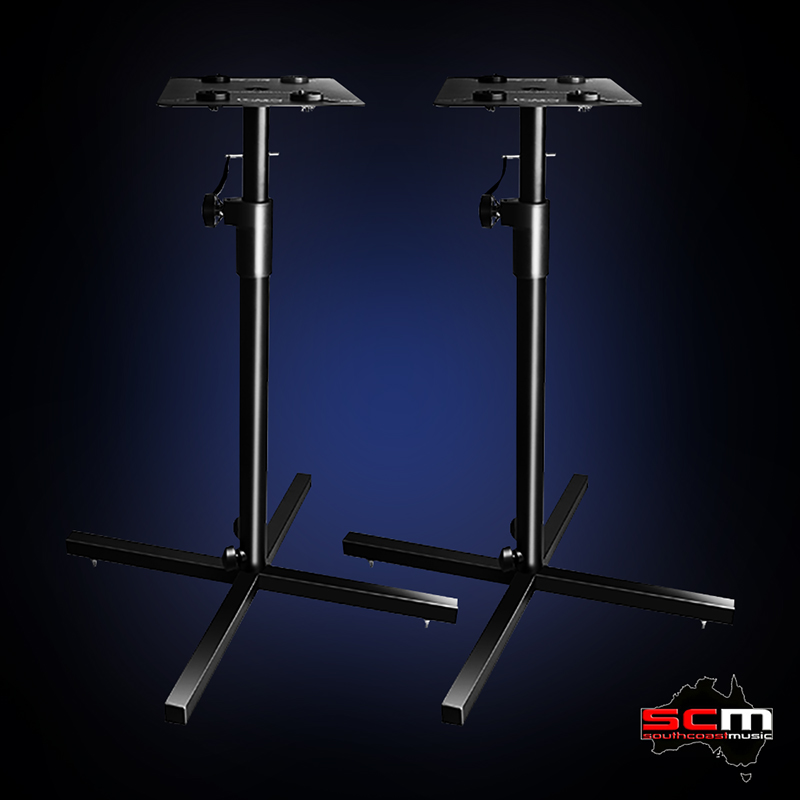 The iCON SB100 Speaker stands are simply superb, beautifully engineered and universally suited for a wide range of studio monitors including:
• iCON Studio Monitors
• ADAM A5X
• ADAM T5V
• Genelec 8030
• JBL LSR305P
• JBL ONE Series 104BT
• KRK ROKIT RP5G4
• KRK Classic 5
• M-Audio BX-5
• Neumann KH120AG
• Pioneer DM40
• Presonus Eris E3.5
• Presonus Eris E5 XT5
• Yamaha HS5
• and many more!
They are incredibly stable, robust and height adjustable from 70cm up to 110cm.
iCON SB100 Studio Monitor Speaker Stands Specifications:
• Two Height Adjustable Monitor Speaker Stands
• Top Metal Plate Area: W23cm (9″) x D32cm (12.6″)
• Top Metal Plate Thickness: 3.5mm (0.14″)
• Load Capacity: Each stand can hold up to 30kg (66lbs)
• Height Adjustment: From 70cm (27″) to 110cm (43.3″)
• Base Dimensions: 46cm x 46cm (18.1″ x 18.1″)
• Finish: Black
• Warranty: Two Years