The Essential keyboard controller with everything you need to make music, collaborate and jam in Ableton Live
The Launchkey 25MKII is Novation's easy-to-use MIDI keyboard controller. It's pretty much the quickest and easiest way to produce and perform electronic music, especially in Ableton Live – because they designed it specifically for the purpose. You just plug in via USB and the keys, faders, knobs and pads immediately spring into life, giving you hands-on control of your grid, instruments, effects and mixer.
Of course, if you don't use Ableton, it'll automatically map to other major music software too!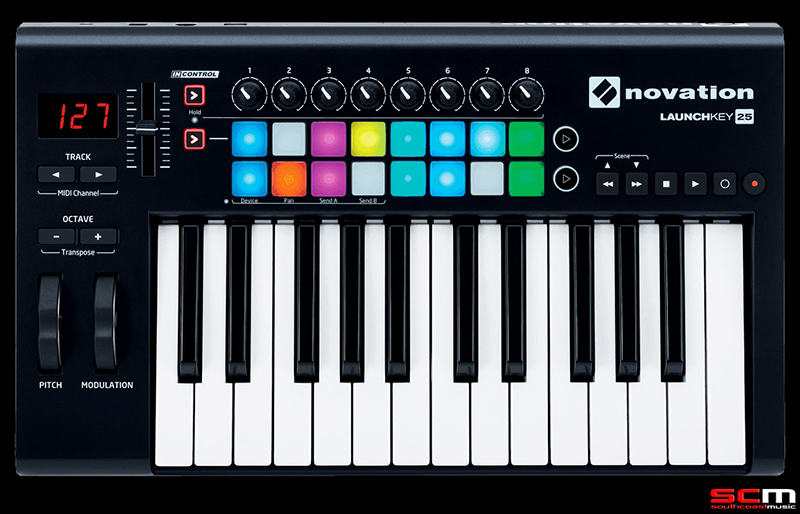 Everything You Need
Your Launchkey 25 MKII controller comes complete with Loopmasters sounds, Bass Station and V-Station synths from Novation aas well as your choice of one of Addictive Keys' pro-grade virtual keyboard instruments. Free lessons from Melodics help you hone your pad drumming and keyboard skills to make you a better player. In addition to Ableton Live Lite 9, this bundle of software gives you loads of inspiration for making new music and jamming out live with your gear.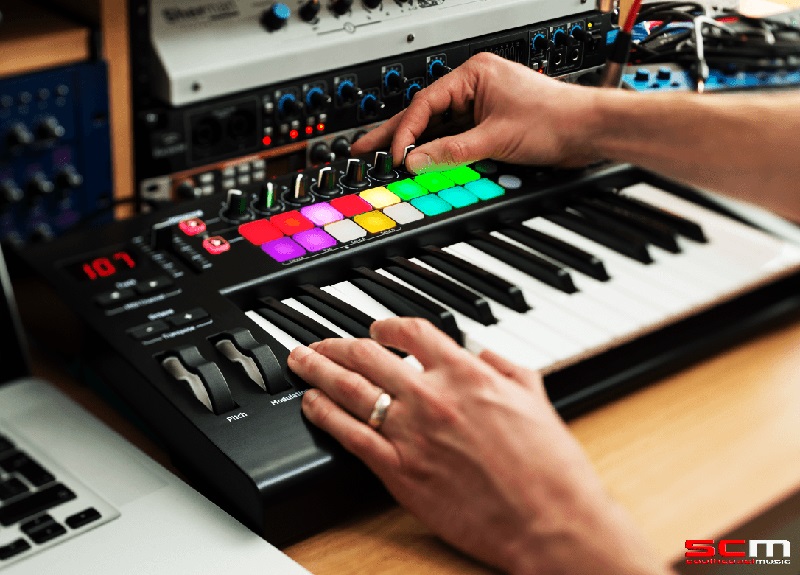 Play with Feeling
The heart of any MIDI keyboard controller is the keyboard itself. The Launchkey synth-style keyboard is lightweight, fast and very easy to play, but also velocity-sensitive so you can create truly expressive performances.
Take Control of Ableton Live
The less time you spend messing with your mouse, the more time you have for making music. If you want immediate hands-on control of your session grid, instruments and effects, you should use a MIDI keyboard controller that integrates immediately and automatically with Ableton Live. Like this one! That's what it's designed for.
Find out more about why Launchkey is the perfect keyboard controller for Ableton Live: click here.

Melodics is an innovative learning app for your desktop that takes mastering your Novation Launchkey to a whole new level.
Novation teamed up with Melodics to bring Launchkey users a very special offer, including free lessons and huge discounts on Melodics subscriptions!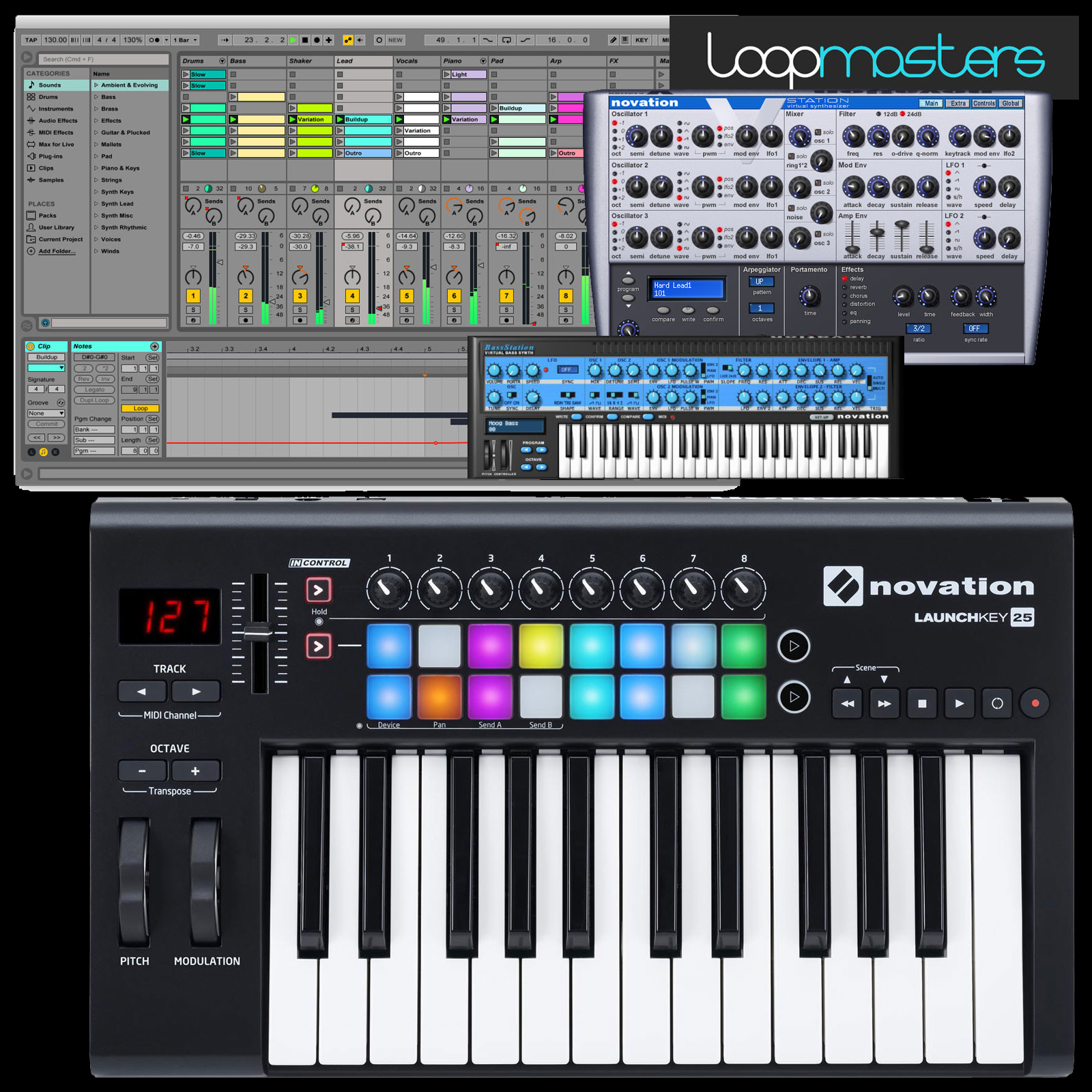 Although designed with Ableton Live in mind, Launchkey also works with any HUI-compatible DAW. The premium quality synth-action keyboard and RGB backlit pads make playing virtual synths, samplers and drum machines a dream, while the rock-solid sliders, knobs and buttons enable tactile mixer control, automatically configured via InControl.
Easily Make Beats and Trigger Loops
Sixteen RGB pads provide clip colour-matched feedback to enhance your workflow, letting you create and launch clips, trigger samples, control FX and loads more; all whilst playing your keys. They're also velocity-sensitive, so you can really put some feeling into your beats.
Tweak and Mix Your Tracks
Launchkey is designed to let you shape your sound however you like. The eight rotary knobs are rock solid, designed to give you confidence when tweaking your instruments and effects. The 49 and 61-note versions give you hands-on control of your mixer too, with nine dedicated faders. However many controls you opt for, they will all integrate seamlessly and immediately with Ableton Live, and can be reassigned to anything.
Control All Major Music Software
Your choice of music software is crucial to your creativity. Although designed Launchkey for Ableton Live, its pads, buttons, faders and knobs take control of all other major music software too using InControl.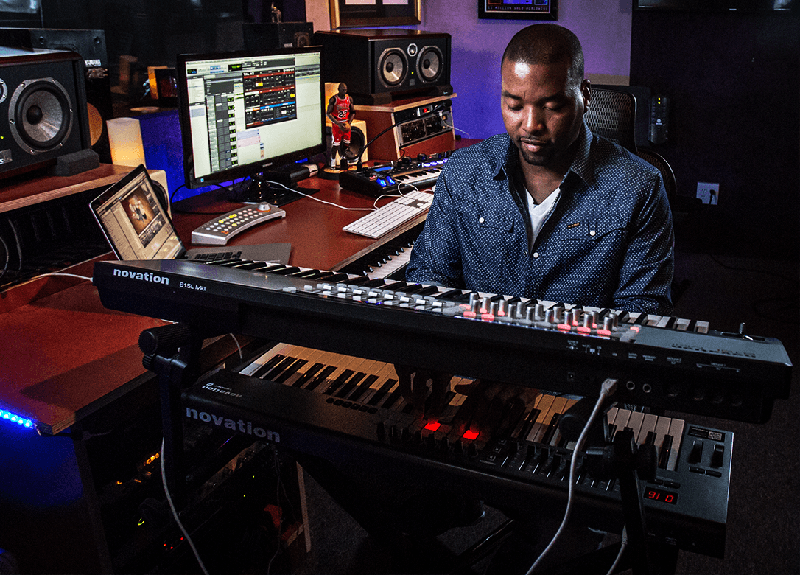 "Launchkey 25 packs loads of features into a compact size, and the Launchpad is my main session controller. Both are perfect for life on the road."
Keith Harris, Producer – will.i.am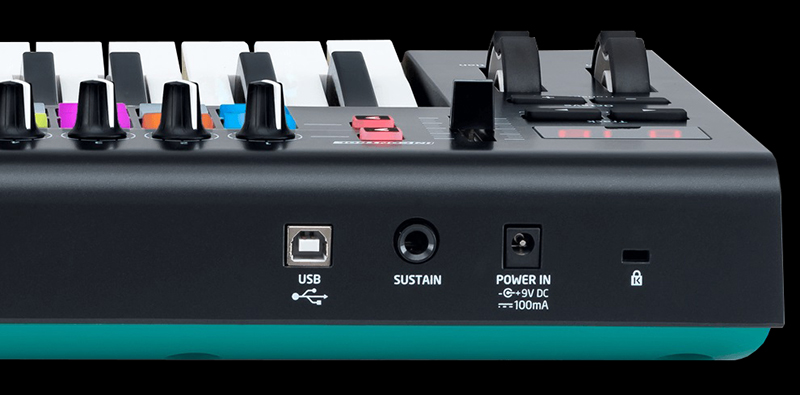 Start Immediately
Launchkey is fully USB bus-powered and class compliant, so it works straight away without power supplies or drivers on Mac or PC. It also comes with everything you need to start making electronic music. You can find out how by clicking here.
Helping you find your new sound
Music making is all about the journey, and we're always looking for new ways to inspire you along the way. Novation have created the Sound Collective for your enjoyment and inspiration. Receive free versions of the most innovative software instruments and creative FX from high ranking developers, as well as discounts to help you make the most of third-party software, exclusive to Novation customers. All you have to do is register your Novation gear, and one offer will be featured in your Novation account every couple of months.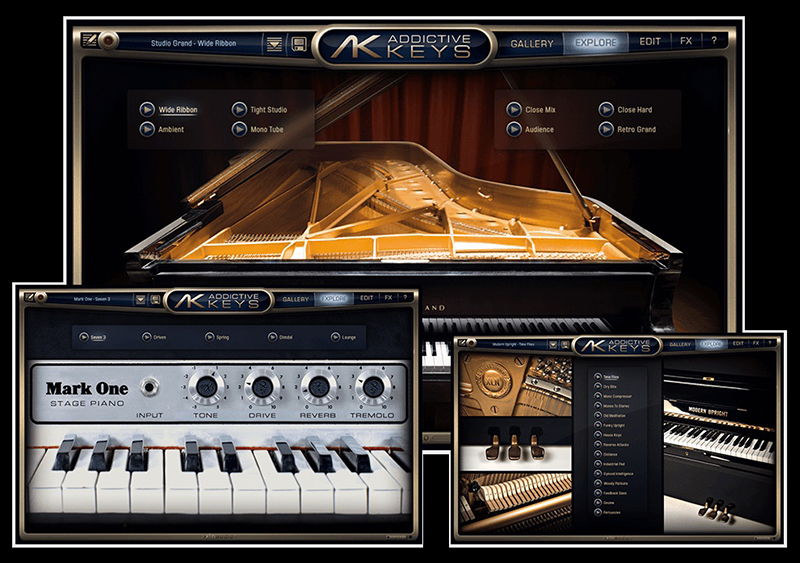 Addictive Keys
The Addictive Keys virtual instrument from XLN Audio is on the house when you register your controller keyboard or the Launchpad Pro. One full license per account is available for existing and new customers.
Loopmasters
Now expanded from 1GB to a whopping 4GB, the Loopmasters sample library included with every Novation Product is packed with professional quality, royalty-free loops and one-shots.
Encompassing all contemporary genres – from blues, funk and hip-hop to bass, techno and all flavours of house – and taking in a huge range of electronic and acoustic instrumentation, it's everything you need to start making music today!
Play with Feeling
25 velocity-sensitive keys for easily creating performances with feeling.
Designed for Ableton Live
Integrate immediately Ableton Live to quickly and easily produce and perform music.
Make Beats in Glorious RGB Colour
16 RGB velocity-sensitive pads for both colour-matched feedback when launching clips and creating expressive drum beats.
Control All Major Software
Get automatic hands-on control of other music software using InControl.
Plug In and Play
USB bus-powered and totally class-compliant, so it works straight away without any drivers on Mac or PC.
Make Music Immediately
Comes with everything you need to start performing your music.
Learn with Melodics
Free keys and pad drumming lessons with Melodics makes you get the most out of your controller straight out of the box.
Computer Music "Possibly the best controller keyboard in its price bracket" // "a solid and dependable 25-note controller keyboard"
Ableton Live Expert  "it just gets down to business, and especially for live performance, that is a good thing"
Pro Tools Expert  "If you are looking for a new MIDI controller and want a lot of bang for your buck then check out the Novation Launchkey 25, 49, or 61 they represent outstanding value for money."
Wire Realm  "…the Novation Launchkey is our pick"