NOVATION AUDIOHUB 2×4 – THE ULTIMATE ELECTRONIC MUSIC PRODUCTION HUB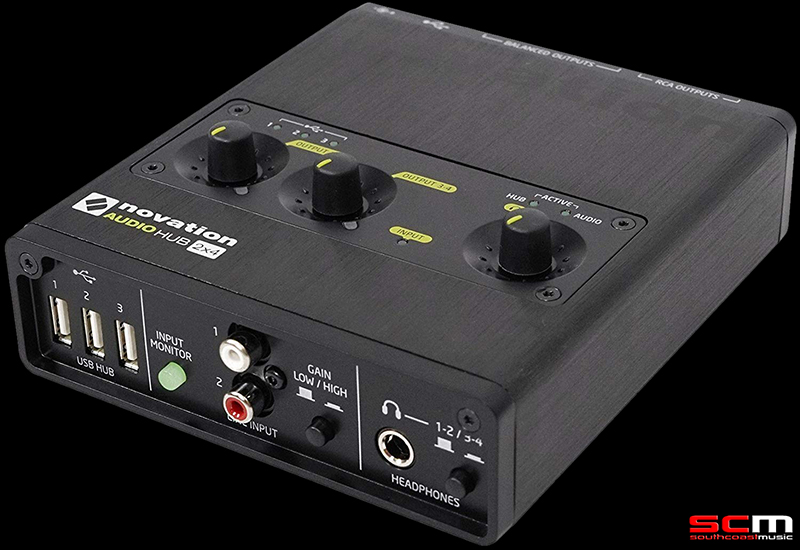 • 3 x integrated USB 2.0 ports allow you to connect your keyboard controller, NI Machine, Novation Launchpad or any other USB gear to your computer at the same time
• Includes Focusrite audio interface to raise sound quality with exceptional 96 kHz, 24-bit audio performance
• Pro connectivity with four RCAs, the two balanced jacks and the headphone outputs
• Premium matched stereo RCA inputs capture pristine stereo sound and synth recordings at perfectly matched levels
• Compact, reliable with a tough aluminium case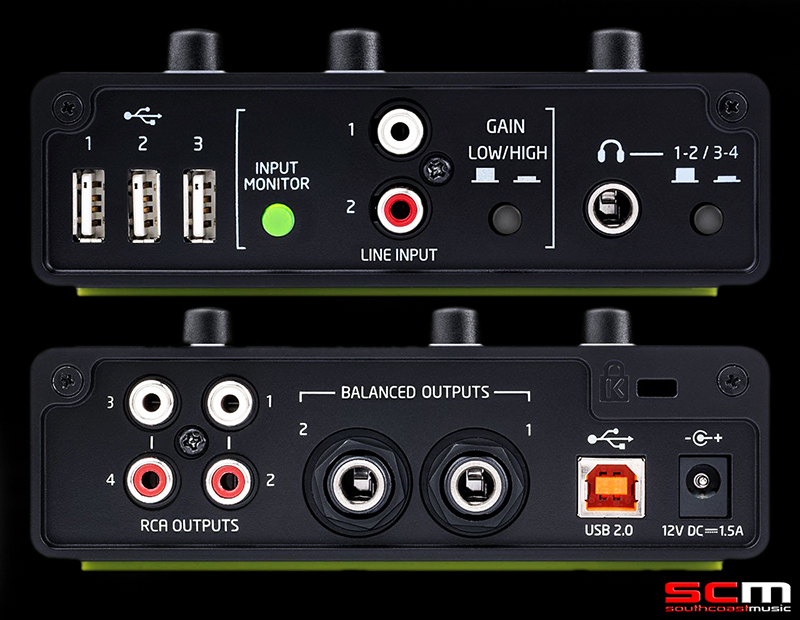 Audiohub 2×4 is a combined audio interface and USB hub for electronic music production and more. Featuring world renowned Focusrite sound quality, the Audiohub 2×4 allows you to connect and power all your USB gear at once along with ultra-low latency audio performance and super loud output.
It has three USB 2.0 ports for bus-powering your whole setup, matched stereo inputs for sampling pristine audio and four line RCAs along with two balanced 6.35mm TRS jack outputs with studio quality sound.
Sick of having USB hubs, interfaces, cables and power supplies cluttering up your studio desk space? You are not alone. That's why Novation designed a single unit that does it all. Simply connect all your USB and audio gear to Audiohub 2×4.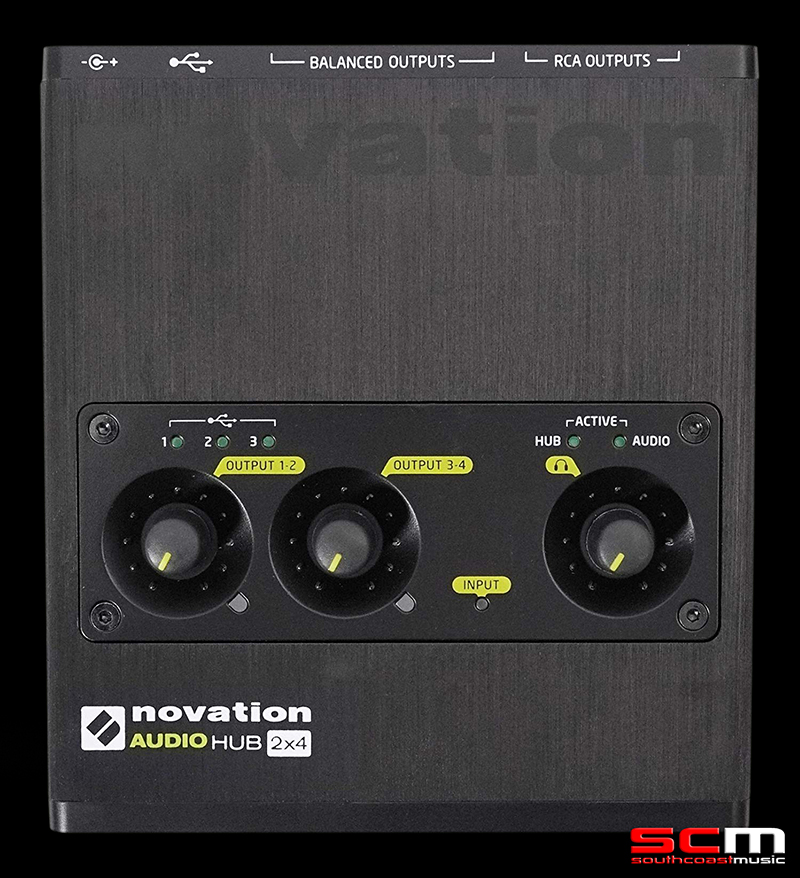 FOCUSRITE STUDIO QUALITY SOUND
This isn't just a USB hub; it's a powerful audio interface too. Novation partnered with Focusrite, who make the best sounding audio interfaces in the world, to make sure Audiohub 2×4 gives you extraordinary quality 96 kHz, 24-bit audio performance. This allows you to sample and capture pristine quality audio and listen back with zero latency at the push of a button.
IDEAL FOR LIVE PERFORMANCE
Connect your main speakers and cue sub to high quality balanced and unbalanced outputs, with totally independent level control. The headphone output is also ludicrously loud, which is essential. The volume and status controls are on the top, to make them easy to access in the darkest environments, then housed the whole thing in a rock solid metal case.
BEAT MAKING AND SAMPLING WITH NI MASCHINE
Sample pristine audio through matched stereo inputs and Focusrite audio conversion, then play it back with the same exceptional quality audio, ultra-low latency and super-loud outputs. You can do it all whilst bus-powering all your USB gear, so you don't have the usual cable and power supply clutter.
CONVERT PRECIOUS VINYL TO DIGITAL USING YOUR OWN PREMIUM TURNTABLE
Audiohub offers far superior sound quality to the sound stage built into most laptop and desktop computers. With 24 bit 96khz sampling, the sound quality is superb.
YOU'RE THE PRODUCER
Using your Novation Audiohub 2×4 to to produce or perform electronic music is easy, simply connect and power all your Novation USB and MIDI gear using a single unit. Audio hub 2×4 will blast your music out as loud as you like, while capturing your synth performances with exceptional Focusrite-quality audio and play them back with zero latency.
You can plug all your USB and audio gear into Audio hub 2×4, then connect that to your iPad using a single camera connection kit (not included). Simply play your music in and output it live, all while powering your gear without draining your iPad battery as quickly.
NOVATION AUDIOHUB 2×4 SPECIFICATIONS
REAR PANEL
• 2 TRS Balanced jack outputs
• 4 Unbalanced RCA outputs
• USB type B socket for connection to computer
• Power jack for included power supply
• Kensington security slot
FRONT PANEL
• 2 RCA Line Inputs with selectable gain switch
• Input Monitor switch
• Headphone socket with output select switch
• 3 USB type A sockets for connecting USB devices to the hub
TOP PANEL
• 2 Volume controls for outputs 1 & 2 and 3 & 4
• Signal/clip LEDs for outputs 1 & 2 and 3 & 4
• Input signal/clip LED
• Headphone volume control
• LEDs to indicate USB ports in use
• LEDs to indicate Audio interface and USB hub function
SOFTWARE COMPATIBILITY
• Ableton Live Lite 9 is included
POWER REQUIREMENTS
• USB bus powered (audio interface only)
• Audiohub 2×4 requires the included power supply in most cases, however USB bus powering is possible for the audio interface only
• The included power supply is required for USB hub operation
• Also strongly advise the use of the included power supply for optimal performance with audio streaming and output level operation
DIMENSIONS
• Dimensions: 134mm x 150mm x 51mm (7″ x 12″ x 3″)
• Weight: 1.1 kg (2.43 lbs)