MICHAEL JACKSON STYLE
by Stacey Appel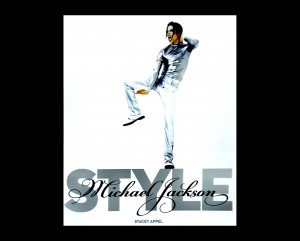 Michael Jackson remains one of the World's most celebrated and enigmatic Artists of all time.
This beautifully illustrated book is a must have for any musicologist or fan of contemporary music.
Michael Jackson fans will delight at the detail the author, Stacey Appel has gone to.
Here at last is a dazzling style exploration of the King of Pop. Every visual aspect of Michael Jackson is shown. The result is a stunning photographic feast spanning nearly half a century.
This fabulous book covers his style metamorphoses from his makeover as a little boy in the Jackson 5 at Motown, his early TV appearances and Saturday morning cartoon to worldwide superstardom.
It features his album images from Off the Wall to Thriller to Invincible and the outfits from all his record breaking World tours and explores the origins of the crystal glove and the white socks.
This book also explores Michael's work with stylist Rushka Bergman and designers Andre Kim and Andre van Pier as well as Balmain and Givenchy.
It looks at how his dancing and clothing style has influenced other artists including Justin Timberlake, Beyonce, and many more.
MICHAEL JACKSON STYLE:
o Paperback: 160 pages
o Publisher: Omnibus Press (Oct. 1 2012)
o Language: English
o ISBN-10: 1849388199
o ISBN-13: 978-1849388191
o Product Dimensions: 1.6 x 24.6 x 30.6 cm
o Shipping Weight: 862 g
About Stacey Appel
Stacey Appel is a freelance fashion writer and wardrobe stylist with an extensive background in fashion design
and theatrical costuming. For over a decade, she has also run the popular online magazine The Dedicated Follower
of Fashion (www.fashionfollower.com), which explores the inextricable link between rock music, fashion and pop culture.
Stacey's work has been featured in such publications as Entertainment Weekly, Venus Magazine, Knit Scene, Eliza Magazine
and around the web at NEET Magazine, Univision, FashionWindows, ShopGossipGirl.com and TrendCentral.
At southcoastmusic we stock the largest range of Learn-to-Play Music DVDs and Print Music Books in Australia spanning a wide range of artists and styles. Let us know if there is a particular book that you would like to buy from us that is not currently listed on our site and yes, you can even pay with Paypal!