Marshall Minor FX
PRO STEREO STUDIO / PERSONAL USE / DJ
EAR BUD HEADPHONES
White Finish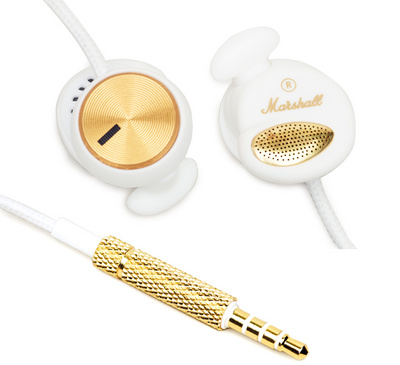 The Minor FX is an advanced and hard working in-ear model. In addition to its good looks it incorporates quite a few exciting features. EarClick is a patent that ingeniously secures the earphone into position in your ear. The Minor comes equipped with microphone and remote for use with your cell phone*. Combined with excellent audio and a tangle resistant fabric cord the Minor is in it for the long haul.


FX = Volume Control On The Remote
Compact and Lightweight: Ideal for mobile lifestyles, the headphones are small and lightweight
Stylish Design: The white housings with gold accents provide timeless elegance and style
High-Quality Audio: Large moving coil dynamic speakers to provide crisp, detailed audio with a wide frequency response
Stable Fit: Patented EarClick technology and 4 different sizes of interchangeable silicone earpads ensure a comfortable, stable fit that won't accidentally fall out.
Mic and Remote: The integrated mic and remote allow you to make phone calls, take voice notes, and control music playback on compatible smartphones and MP3 players, such as the iPhone and iPod touch
Durable Cable: The fabric-covered cable is durable and resistant to tangles, and comes with a clothing clip to reduce snags
Compatibility: The 3.5mm plug is smartphone-compatible and includes a neutral adapter for use with a wide variety of MP3 players, CD players, computers, and more
Type: In-Ear, Dynamic
Driver: 15.4mm Moving Coil Driver
Frequency Range: 20Hz – 20kHz
Impedance:32 Ohm
Sensitivity: 115dB
Color: White/Gold
Maximum Input Power: 2mW Rated, 5mW Max
southcoastmusic s a real music store! We carry a huge range of PRO AUDIO and Instruments!

Marshall Minor FX  
PRO STEREO STUDIO / PERSONAL USE / DJ
EAR BUD HEADPHONES
White Finish