southcoast

music

exceptional instrument

s at exc

eptional prices…

e

ver

yday!
MARK BASS CMD-102P MKII
500 watt rms bass amplifier combo

The  Mark Bass CMD102P MKII combo has earned its stripes as one of the most soulful, powerful and portable bass combo amplifiers on the planet! Perfect for any situation, any musical genre…the tilt-back cabinet design allows the unit to be used either as a floor monitor or in standard vertical position.
This second generation front-ported 2×10″ loaded combo is an amazing Bass Amplification option in its own right that will hold its own in virtually any situation. The Amp delivers 300 watts RMS into 8 ohms. Please be aware that there is much "witchcraft and voodoo" when it comes to amplifier output ratings. Let's just say that with MarkBass, less is definitely more and that they underate their Amplifiers in the time honoured tradition of "under-promise and over-deliver".
In the rare event that you need top "move some more air", simply add another 8 ohm Mark Bass Traveler or Standard Speaker Cab.
This is a beast, bring your favourite Bass Guitar in and try it for yourself…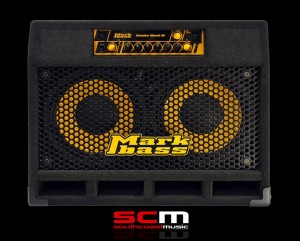 ONE YEAR WARRANTY
Mark Bass CMD-102P MKII physical aspects:
o Chassis in wedge shape (18mm plywood)
o Bass reflex hole
o Industrial Strength metal grill
o Stackable edges
o Durable and hard wearing carpet covering
Mark Bass CMD-102P Technical Specifications:
o Low frequency Drivers: 2×10″
o High Frequency Driver: Piezo Tweeter
o Bass Port: front
o Impedance: 8 ohms
o Sensitivity: 101 dB SPL
o Speaker Power Handling: 400W RMS (AES Standard)
o AMP Output Power: 500W @ 4 ohm / 300W @ 8 ohm
o Frequency Response: 40 Hz to 18 kHz
o Crossover Frequency: 3 kHz
o Weight: 44 lbs / 19.9 kg
o Height: 18.9 in. / 47.9 cm
o Width: 23.4 in. / 59.4 cm
o Depth: 18.7 in. / 47.5 cm
o PREAMP: solid state
Mark Bass CMD-102P Amplifier controls and configuration:
o Gain control
o Clip LED
o 4 band EQ
o VLE/VPF filter
o Master control
o Adjustable line out
o Jack input / XLR input
o Tuner out
o Effect send/return
o Pre/Post EQ switch
o Ground (Earth) lift
o Line out (XLR)
Mark Bass  CMD-102P 500 watts rms bass amplifier combo