KALA UBASS Hutch Hutchinson Signature Model Ukulele Bass UKE U-Bass with Gig Bag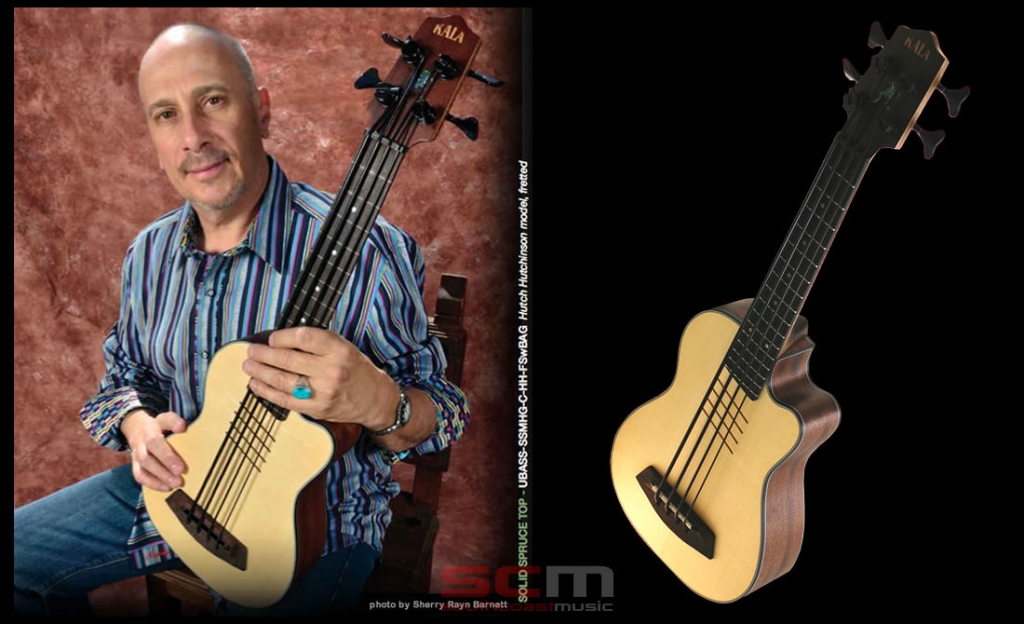 Kala HUTCH HUTCHISON UBASS UBASS-2FS-CHH Hutch Hutchinson Signature Model Ukulele Bass with Gig Bag
Hutch Hutchinson's Kala UBASS is a truly ground breaking, short-scale, fun and massive-sounding travel size acoustic-electric bass guitar you can take anywhere!
The Kala Hutch Hutchison UBASS is tuned to traditional bass tuning (E-A-D-G) and produces the same pitch as a standard bass instrument. The Polyurethane Polymer strings deliver deep resonant bass tones that simply come alive when plugged into an Amplifier.
Kala Hutch Hutchinson UBASS features:
o Hutch Hutchinson Signature Model
o Solid Spruce Top
o Natural finish
o Mahogany back and sides
o Mahogany neck
o Cutaway
o Rosewood fingerboard
o 16 Nickel Silver Frets
o Rosewood bridge
o 21 inch scale length
o Custom Die Cast Tuners
o Proprietary Polyurethane polymer strings deliver deep resonant bass
o Custom Kala and Road Toad logo inlays
o Custom Shadow Electronics with Active EQ
o Built-in Tuner
o Separate compensated saddles for each string
o Includes a Deluxe Custom U-Bass Embroidered Logo Gig Bag
o Meets all airline carry-on requirements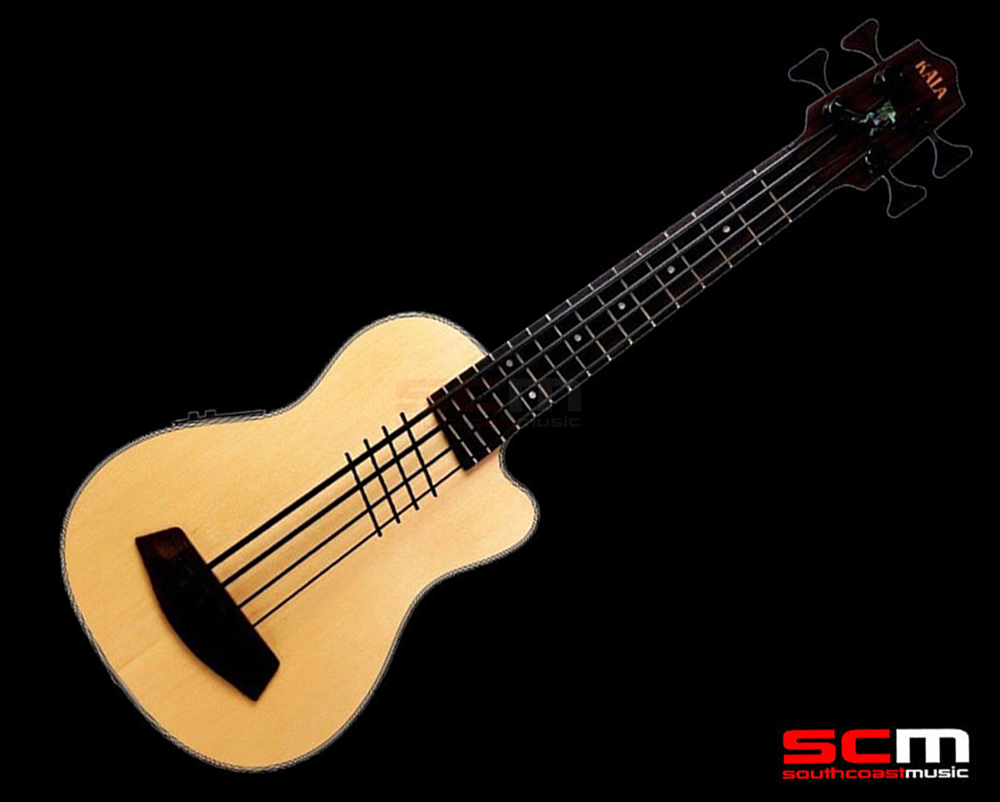 Deigned in conjunction with American Bass Guitar Legend Hutch Hutchison, The Kala UBASS is an amazing instrument. Despite its diminutive size and ultra-portable format, the Kala UBASS packs plenty of low frequency oomph.
The combination of carefully selected tonewoods and Kala's unique polyurethane strings deliver a tone that is deep and rich with a "woody" quality that's reminiscent of an upright double bass yet coloured with the uniquely musical UBASS tonality.
The selection of tonewoods that Kala and Hutch have chosen go a long way in determining the final sound of this little wonder. The solid Spruce top adds a touch of extra midrange definition to your tone while the Mahogany body and mahogany neck provide a warm and darker fundamental tone.
Custom Kala electronics designed and built by Shadow feature active EQ and a built in chromatic tuner. The electronics translate the tone of the UBASS beautifully making it perfect for amplified on-stage use or in the studio.
southcoastmusic is an authorised Australian KALA Reseller and this is a genuine KALA product complete with a ONE YEAR Australia wide warranty.
Every Kala Hutch Hutchinson UBASS goes through a rigororous checkover and setup in our workshop before we release them for sale. Don't misunderstand us, this is a fabulous instrument but we still polish the frets, hand roll the fret ends, adjust the nut and saddle height, trim the string length, check the electronics…… you may find cheaper but you won't buy better!
And for those who don't think they have heard Hutch Hutchison play, how about these . . .
Hutch Hutchinson has recorded and/or performed with Bonnie Raitt, Brian Wilson, Willie Nelson, BB King, Al Green, Etta James, Boz Scaggs, Delbert McClinton, Marc Cohn, Stevie Nicks, David Crosby, Rickie Lee Jones, Toots Hibbert, The Proclaimers, Maria Muldaur, Neil Diamond, The Grouch & Eligh, Jerry Lee Lewis, Steve Cropper, Ivan Neville, Ryan Adams, Bryan Adams, Ringo Starr, Richie Sambora, Ziggy Marley, Crosby, Stills, Nash & Young, Jackson Browne, Charles Brown, Ruth Brown, The Chieftains, Joe Cocker, The Neville Brothers, The Doobie Brothers, The Chieftains, Altan (band), Paul Brady and many other diverse and notable musicians!