IBANEZ SA960QM Premium Topaz Burst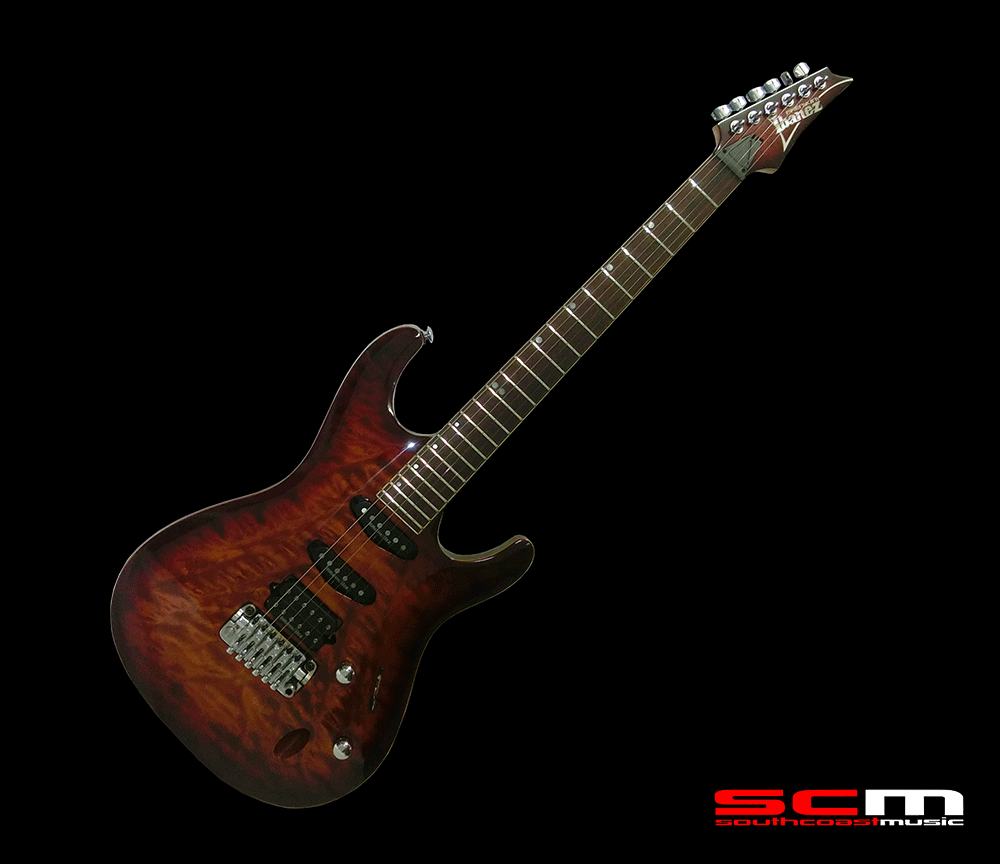 There's an old adage that goes "you can't be all things to all people". Obviously the Ibanez SA960QM wasn't around then! This is one V.E.R.S.A.T.I.L.E. guitar, a musical chameleon. From crystal clean chiming clean rhythm tones to crunchy blues and all the way out to the most molten of metal, the SA960QM shines in every genre. With its SSH pickup configuration and simple but accurate synchronised tremolo, the SA960QMis at home in any musical territory.
The SA960QM is not just a workhorse though, this has got to be one of the most stunningly beautiful Ibanez guitars that we have ever seen (and we've seen a few!).
The carved quilted maple top is finished in the glorious colour combination that Ibanez have named Topaz Burst and its a beauty.
This is a guitar that ticks all the boxes. You won't want to put it down and when you do, it will be to look at it it…simply stunning!
Features
Premium Fret Edge Treatment
Ibanez's insane attention to detail is evidenced by the Premium's hand-rolled fret edges. This slow, demanding process makes for a smooth, fast playing neck.
DiMarzio® IBZ pickups (S-S-H)
SynchroniZR
The SynchroniZR provides all the innovations of the ZR tremolo in a non-locking design. The tremolo arm is made of lightweight Duralumin for increased balance. The same intonation and adjustment features of the ZR-2 make this a top-notch choice for any kind of player.
ZPS-FX
The ZPS-FX is the simplified alternative to the ZPS3 system. This spring system allows switching from floating to non-floating tremolos with the turn of a knob on the back. Coupled with the SynchroniZR the ZPS-FX offers total sonic control and the pinnacle of tuning stability.
Recessed control knobs
Recessed control knobs for better playability.