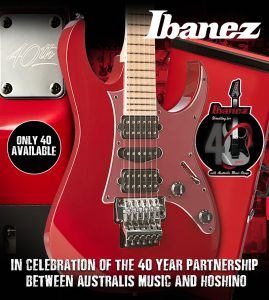 LIMITED EDITION 40TH ANNIVERSARY IBANEZ MODEL RG40AH-RR ELECTRIC GUITAR RUBY RED FINISH with RED LEATHER CASE

LIMITED EDITION 40TH ANNIVERSARY IBANEZ MODEL RG40AH-RR ELECTRIC GUITAR RUBY RED FINISH
EXCLUSIVE TO AUSTRALIA ONLY!
Only 40 Limited Edition 40th Anniversary Ibanez electric guitars have been produced and they have now landed in Australia.
The 40th Anniversary Ibanez guitar has a Super Wizard HP 5 piece Maple/Walnut neck with a Bound Birdseye Maple fretboard with a custom 40th Anniversary designed platejoint.
The Ruby Red guitar features a trio of amazing DiMarzio® pickups with Edge Tremolo.
This one-time only model comes fitted with a transparent acrylic pickguard and is supplied with a second optional black pickguard all held within a matching Custom Ruby Red leather case.
Made In Japan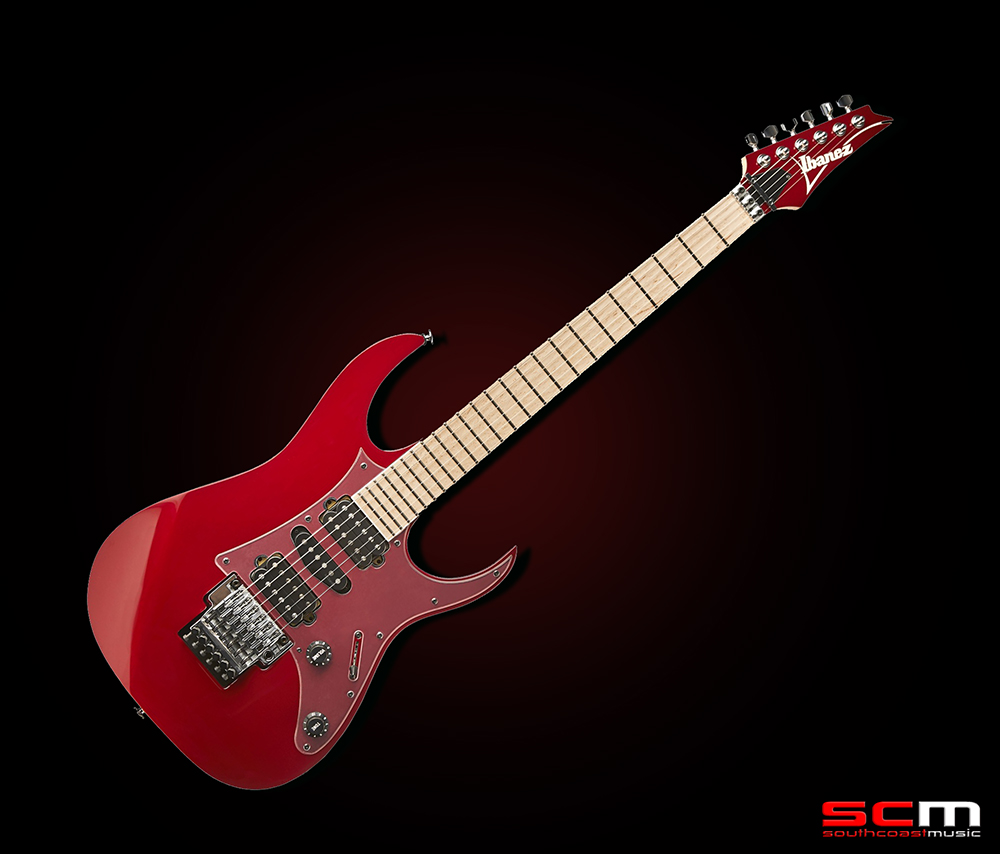 HARDWARE: Edge Chrome with black tremolo arm.
NECK PICKUP: DiMarzio® Air Norton™ Humbucker (Passive/Alnico) Black.
MIDDLE PICKUP: DiMarzio® True Velvet™ Single Coil (Passive/Alnico) Black.
BRIDGE PICKUP: DiMarzio® The Tone Zone® Humbucker (Passive/Alnico) Black.
NECK: Super Wizard HP 5p Maple/Walnut neck.
FRET POSITION MARKERS: No dots on fretboard with Luminescent side dot inlay ONLY.
FRETBOARD: Bound Birdseye Maple fretboard with exclusive 40th Anniversary designed platejoint.
PICKGUARD:  Comes fitted with a transparent Acrylic pickguard plus an extra Black pickguard.
CASE: Matching Custom Ruby Red Leather case with black corners.
Our Pro-SCM setup includes:
Check that the action meets factory or your specifications
•
Check and rectify any buzzing, intonation or playability issues
•
Check and adjust the nut and bridge string heights
•
Hand roll the fret ends to deburr the sharp edges and polish the frets
•
Test electronics, pots and switches for correct function
•
Inspect instrument construction and condition of the strings
•
Tune to pitch
As a paid service this setup can easily cost $200 or more – it's included in our price.
Now, that's real value!