THE HOHNER 364C MARINE BAND SOLOIST HARMONICA
• Solo Tuning
• Extended Tonal Range with Four additional notes extended upwards
• Double Lacquered Pearwood Comb sealed with 2 layers of clear lacquer to reduce swelling
• Polished Stainless Steel Cover Plates mounted with screws for ease of maintenance
• Arched Cover Plates guarantee the authentic blues sound
• 24 Classic reeds / 12 channels
• 0.9mm Brass Reed Plates mounted with nails in the traditional style
• Made in Germany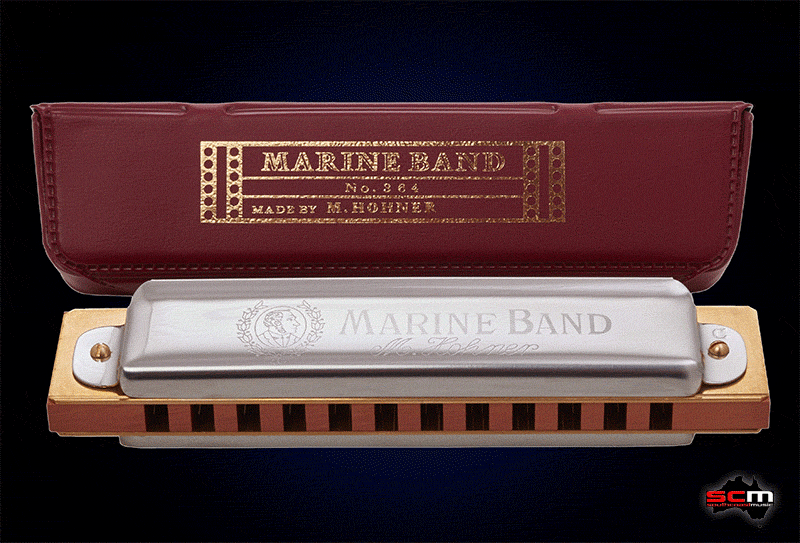 Music is a universal language, transcending rules and regulations, age, gender and national boundaries. Musicians manage to articulate our emotions and feelings, not even necessarily with words but with notes and sounds. Some artists resonate with more people than others, but all of them simultaneously manage to influence our perception of music, the world and ultimately, ourselves.
When Jacob Hohner filed the patent application for his new harmonica design on January 30th 1896 in New York, nobody could have dreamed of the extent to which he would affect the future of music. Originally conceived as a folk instrument, the influence of the Marine Band on the development of blues, folk, rock and pop music cannot be overstated.
In the early 20th century, huge numbers of Marine Band harmonicas were already being exported to the USA where they were eagerly adopted by African Americans, who discovered hitherto unknown playing techniques which enabled them to find their own new forms of musical expression on this amazing musical instrument.
The music which today we call the blues evolved out of their work songs. The Marine Band can be heard on virtually every recording by blues legends such as Little Walter Jacobs, Sonny Boy Williamson I & II, Big Walter Horton, Sonny Terry, Jimmy Reed or Big Mama Thornton.
While the blues would not be what it is today without the Marine Band harmonica, it eventually found its way into pop culture too. Not unsurprisingly, the Marine Band harmonica was also the first choice of artists such as Johnny Cash, John Lennon, Bob Dylan and more.
The Marine Band became a true people's instrument and was played in every conceivable situation, from the back porch to the street corner to the concert hall. It contributed to the success of countless hit records, TV and film themes and has even been immortalised in literature. This astonishingly compact little instrument defines how the majority of people perceive the harmonica to this day.
All Marine Bands are made in Germany.
THE HOHNER 364C MARINE BAND SOLOIST HARMONICA
Sometimes you just need a little bit more to fully express how you feel. When Sonny Boy Williamson II discovered the rich, deep toned sound of the 12 hole Echo Vamper harmonica, it inspired him to record one of his best known pieces, Bye Bye Bird, dedicated to the great Charlie Parker.
Now known as the Marine Band 364/24, very little has changed since Sonny Boy first played this classic harp except the engraving on the top cover and the colour of the comb. Unlike the typical Richter tuning of the Marine Band diatonic harmonicas, the Hohner 364C utilises a variation on this layout called Solo Tuning, which places a complete diatonic scale in each octave of the harmonica.
You always felt there was something missing from your perfect blues tune? The 364/24 may just be it!

THE HOHNER 364C MARINE BAND SOLOIST HARMONICA SPECIFICATIONS:
• Brand: Hohner
• Model: Marine Band 364/24
• Key: C
• Tuning: Solo
• Number of Holes: 12
• Series: Hohner Marine Band
• Reed Plates Material: Brass
• Reed Plate Thickness: 0.9mm
• Reed plates Surface: Brass
• Number of Reeds: 24,
• Reed Material: Brass
• Comb Material: Pearwood
• Comb Colour: Brown
• Comb Finish: Double lacquered
• Mouthpiece Surface: Pearwood
• Cover Plates Material: Polished Stainless Steel
• Tonal range: 3 1/2 octaves
• Length: 13.7 cm / 5.4"
• Barcode: 930037001283
• UPC: 400912600860
• Shipping Weight: 0.5kg